Amy x Mr Fox (F1 Cockapoo Litter)
This Litter is Now Fully Reserved
Amy has had a huge litter for a first time mum, with 9 puppies! She's been a super mum right from the first pup and is doing a really good job rearing them all by herself. Included in the litter was a slightly smaller sable boy who we were a little worried might get pushed out by the rest of the pups, but he is now just as big and strong as his brothers & sisters! What a good Mum! In the litter there are 2 sable girls and 2 gold girls, 3 sable boys and 2 gold boys.
Although we don't take deposits until the pups are 14 days+ we are happy to receive visitors, or make a connection with prospective owners over the phone, and make verbal reservations.
Verbal reservations are made on;
The gold boy without white on his face - (KC)
The gold girl without white on her face - (JB)
The light gold boy with the white stripe on his face (DC)
The gold girl with the small white star and pink nose - (CK)
The sable boy with the big white markings - (WP)
The sable boy without any white in the middle of the picture (DH)
The sable girls without any white (Mrs F)
The sable boy without any white (N&S).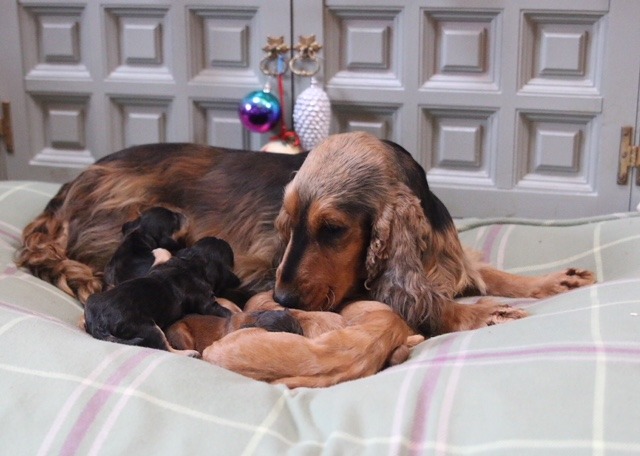 Above are the 4 girls, below are the 5 boys.
Below are some updated pictures taken 14th dec. If you look closely you can see their eyes are just starting to open!