Farley
Following on from the huge success of the charity auction of Florence Nightingale, Captain Tom & Willow, we are going to do the same again with Farley!
Over the past 2 years we are hugely proud to have managed to raise over FIFTY THOUSAND POUNDS for charity! We have been able to support the NHS, our local North Devon Hospital, and our local community through some very difficult times. This time, we are looking to support the charity Over & Above who are raising money in Barnstaple Hospital to provide overnight accommodation for the families of cancer patients, to enable family units to be able to be there to emotionally support each other, through what must be one of the most worrying times any family could face.
More about Farley...
Farley is a drop dead gorgeous, house trained, lead trained, fantastic natured, calm but playful, affectionate, intelligent, F1 black & gold sable, 10 month old spayed Cockapoo bitch! Her mother & Father (Phoeby x Paddy) are fully health tested and hip scored as you would expect, so Farley will not have any hereditary health conditions that could affect her, and has a very bright future ahead of her. She loves children, is very happy to be part of a family, she is calm and well behaved inside the house, and bouncy and playful when outside. She has good recall and is well behaved both on and off the lead. She loves fetching a ball, or playing chase around the garden, she is very good with other dogs as well as all the other animals here on the farm, and is thoroughly well socialised. She enjoys mirroring her owners activity levels, and will happily accompany me out with the horses running for miles, or is equally happy to walk quietly up the lane to the post box and then sleep the rest of the day by the sofa. She just loves being with you.
We have fantastic news about Farley! The charity 'Over & Above' who we were supporting through the sale of Farley, have contacted us directly, as they are looking for a dog that can both live with the boss, but more importantly also travel to work with him each day to work within the hospitals Wellbeing Center as a support dog! We are delighted to be able to donate Farley to able to help so many people. We feel she has just the right happy & friendly temperment to absolutely excel in her new role, where she will spend her days going on walks around the grounds, free ranging around the Well Being Center, or recieving endless attention from poorly people and their familys, not to mention the staff!
A dog as lovely as Farley couldn't fail to cheer anyone up.
We are delighted.
Below are the details of Captain Tom, and Florence Nightingale.
Oh my goodness that was so exciting!! F.S is the winning bidder at £15,600! Thank you SO much to everyone who helped the bidding, we are just over the moon at the support we have recieved and how much happiness we are going to be able to share! THANK YOU!!
Current Winning £15600.00 F.S
£15221.00 I.M
£11000 F.S
£10,750 L.V
£8250! Return bidder F.C!
Captain Tom finishes tonight!! 7pm!!
Exciting stuff!
If I can't update the website quickly enough in the last few minutes then the highest bid received on our phone before the end of the minute of 19:00 will be the winner!
Following on from the huge success of the charity auction of Florence Nightingale, we are going to do the same again with a puppy from Nutty's litter. A gorgeous golden boy. This time the puppy will be called 'Captain Tom'................!
We are inviting private offers to be made for Captain Tom via Whatsapp 07870 213 012 with the HIGHEST BIDDER being not being announced on Saturday 20th June 2020 at 7pm. We will only be accepting bids made via message, so please do not call as we may not be able to keep track of things unless they are all done the same way.
ALSO
In addition to the bids process, we are also going to offer an obscenely high 'Buy It Now' price for this puppy of £48,800.00!
Of course we are not expecting anyone to pay this price, and so long as the highest bidder is a suitable home they will secure this lovely puppy, however if you do happen to have these sort of funds available, and were willing to donate them to our charitable cause to secure this puppy, the difference you could make would be just amazing. You would not only be giving hundreds of NHS workers a welcome and well deserved break on Exmoor, but on top of that, this very specific exact amount of money would enable us to make an advance payment to every single B&B, or Guest House in our local tourist town of Lynton & Lynmouth. This much needed cash input would support small businesses in this very hard financial time. Many of our local friends are 100% reliant on the tourist trade, and with the lockdown many are unsure if they are going to be able to weather the storm. To be able to offer these bookings in advance in this torrid time could just possibly make all the difference to some businesses, as well as bringing a ray of sunshine to our hero's in the NHS.
Current Winning Bid £8250! Return bidder F.C!
£8000! K.B is not giving up without a fight!
£7900 - back to an under bidder on Florence Nightingale! S.J
£7750 K.B just doesn't want to be beaten!
£7500 New bidder I.McD Welcome to the race!
£7250 back to F.C!
£7000 K.B is doing her best to stay at the top!
£6500 from fresh bidder F.C! Thankyou!
£5500!! K.B is (was) back in front!
£4500 new bidder C.J.J! Welcome to the Auction!
£4250! K.B doesn't want to be beaten!
£4050! Back to S.M.A!!
£3800! K.B... head to head now!
£3505! S.M.A is back in front!
£3400 K.B again! She doesn't look like she wants to be beaten!
£3300 from new bidder S.M.A! So Exciting!
£3100 return bid from K.B! Will anyone rise to the challenge?!
£3000 (S.A)! This is amazing! Will it be enough? :)
£2850 (K.B) So exciting! Who's next?!
£2500 (R.A) Amazing! Lets keep going!
1st bid received; £2200 (L.V) Fantastic! Thanks so much!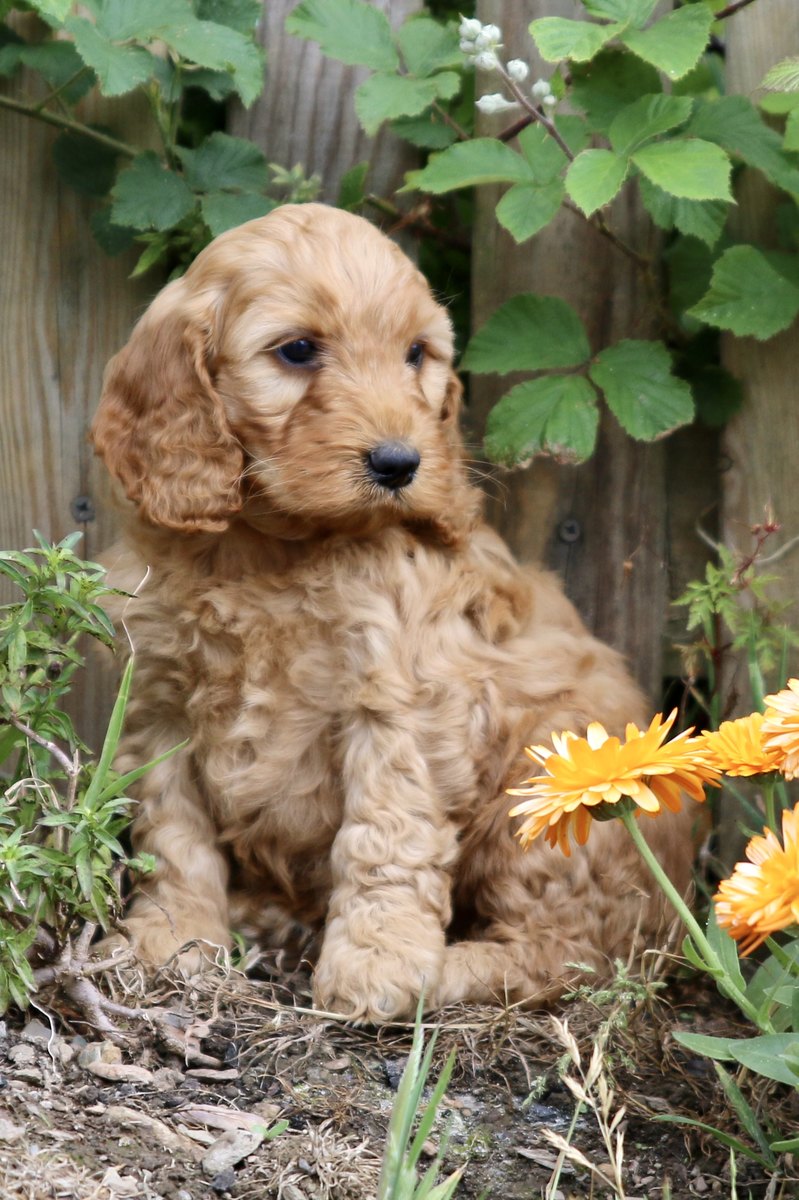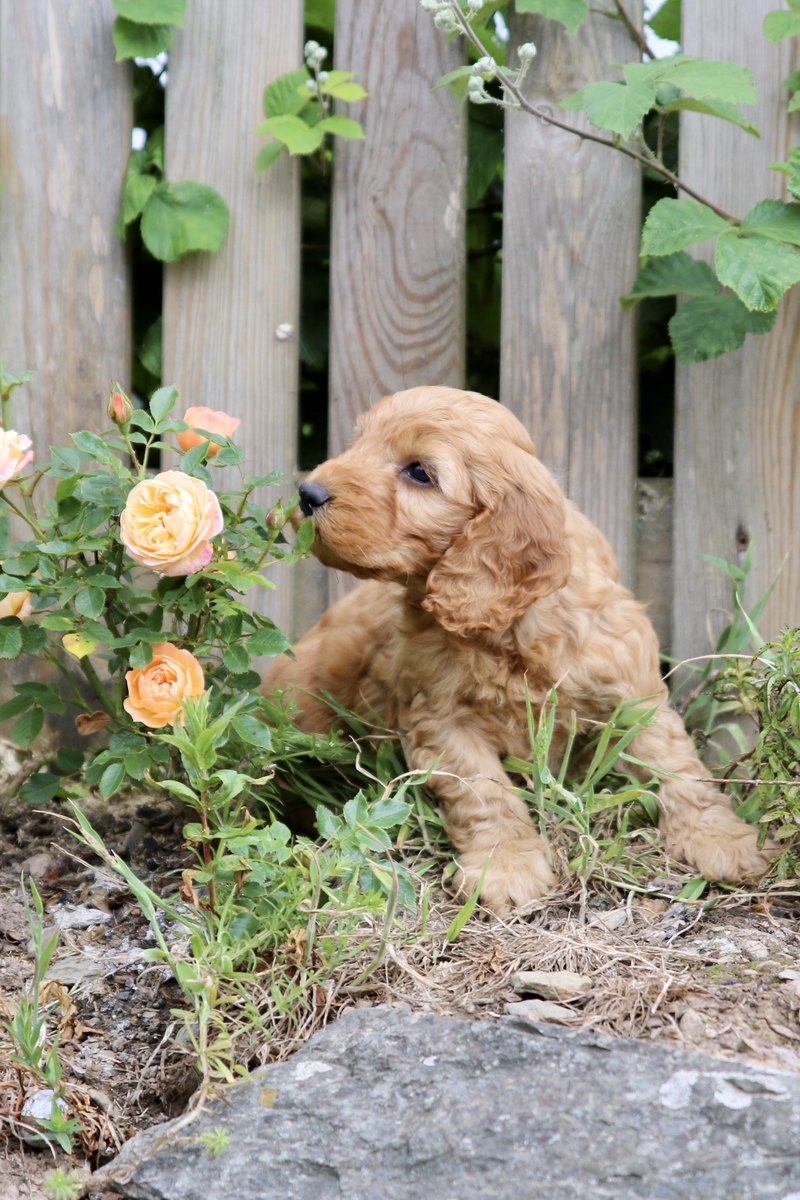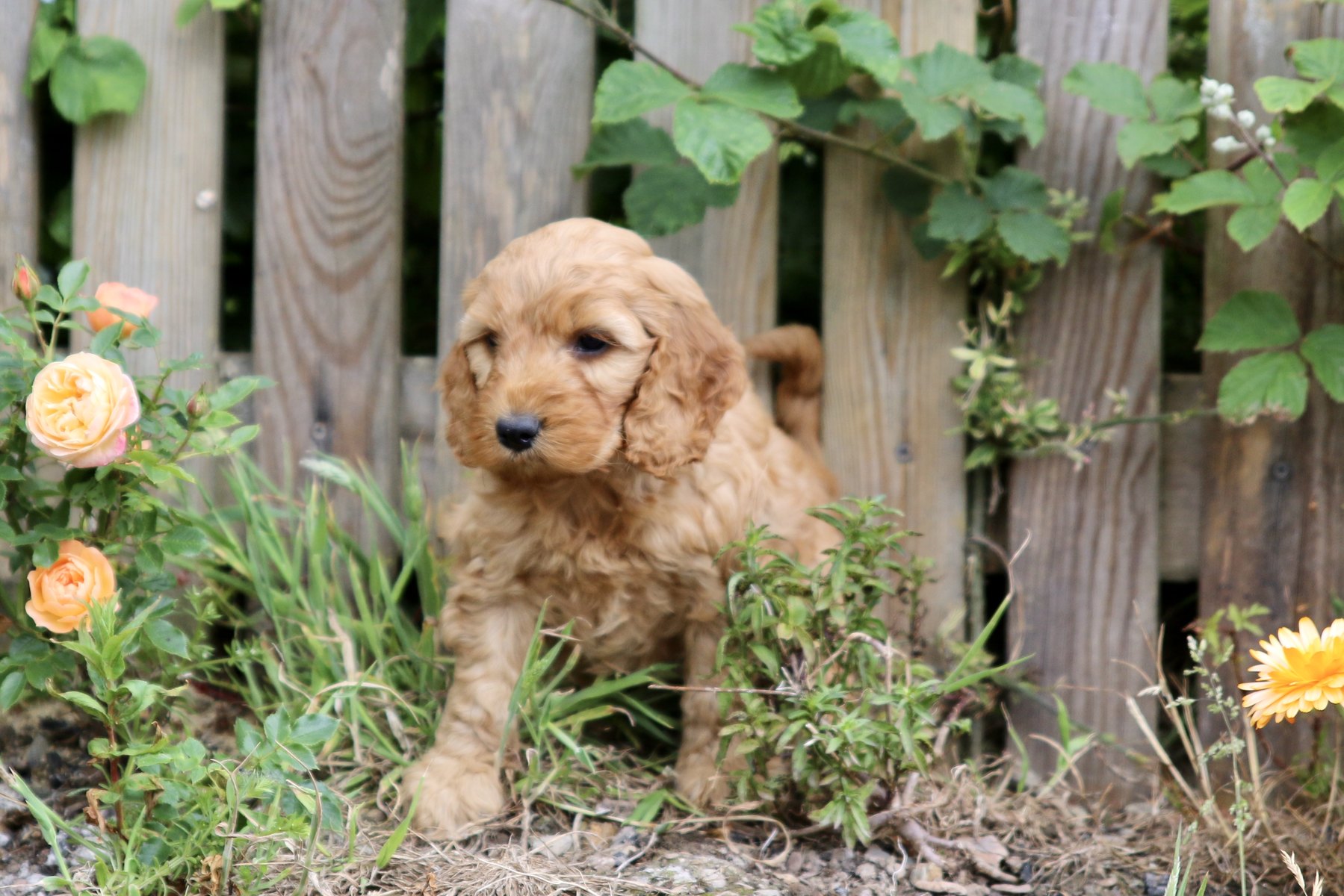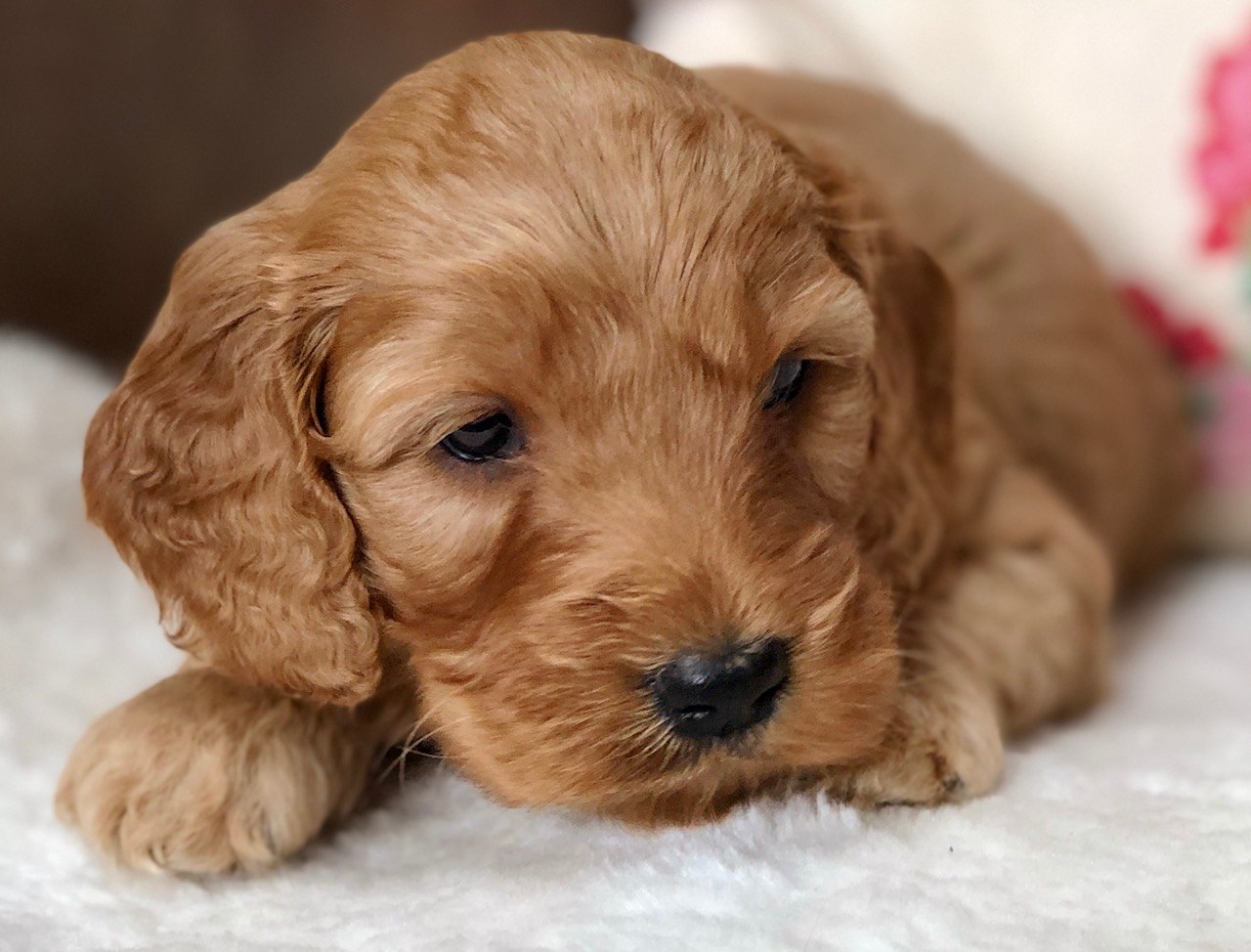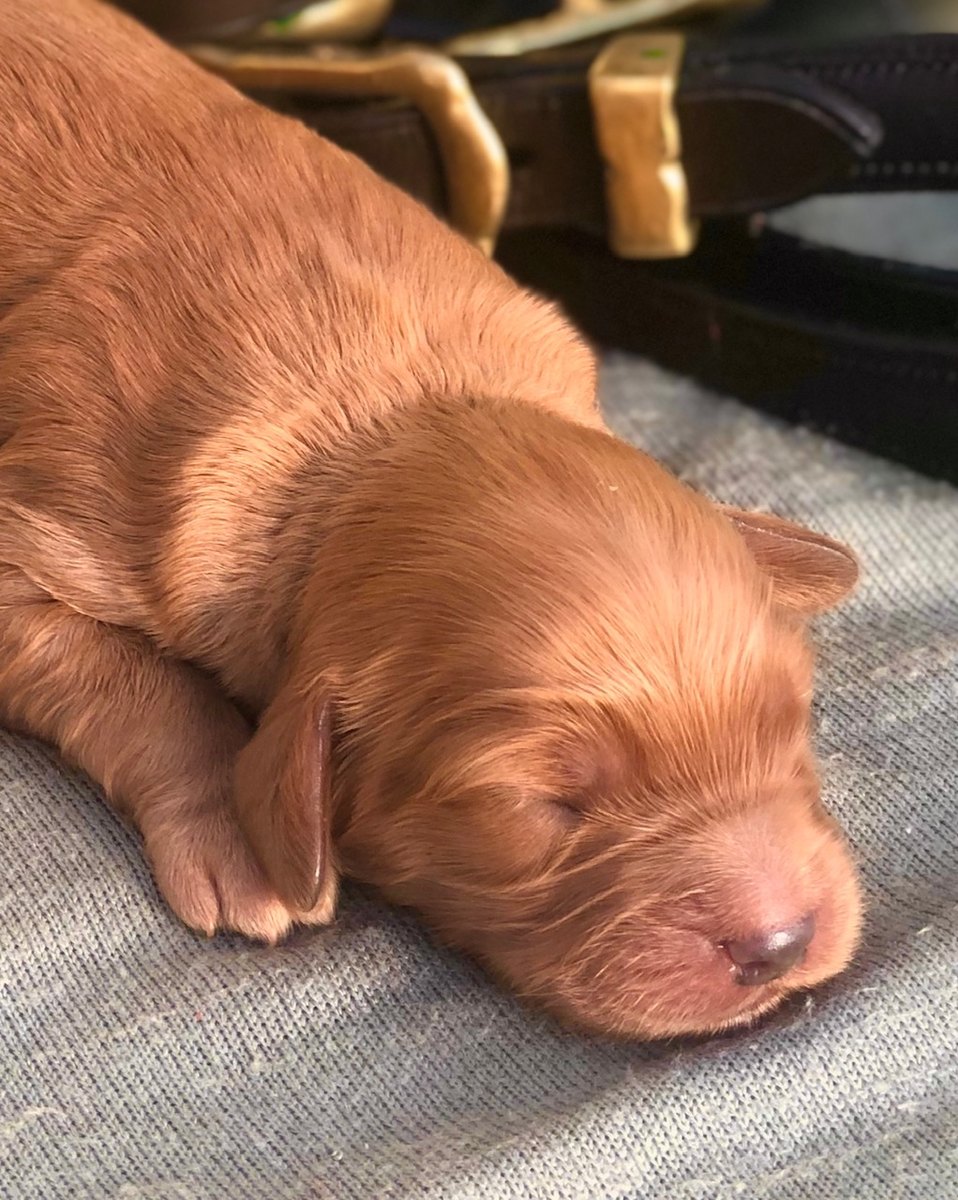 In support of the amazing job being done by the NHS at the moment, we are going to offer one of Nutty's puppies to be bought by private bid, with all proceeds (as we have done with Florence Nightingale) going to NHS workers in the form of fully paid breaks to Exmoor once this horrid time with Covid19 has passed.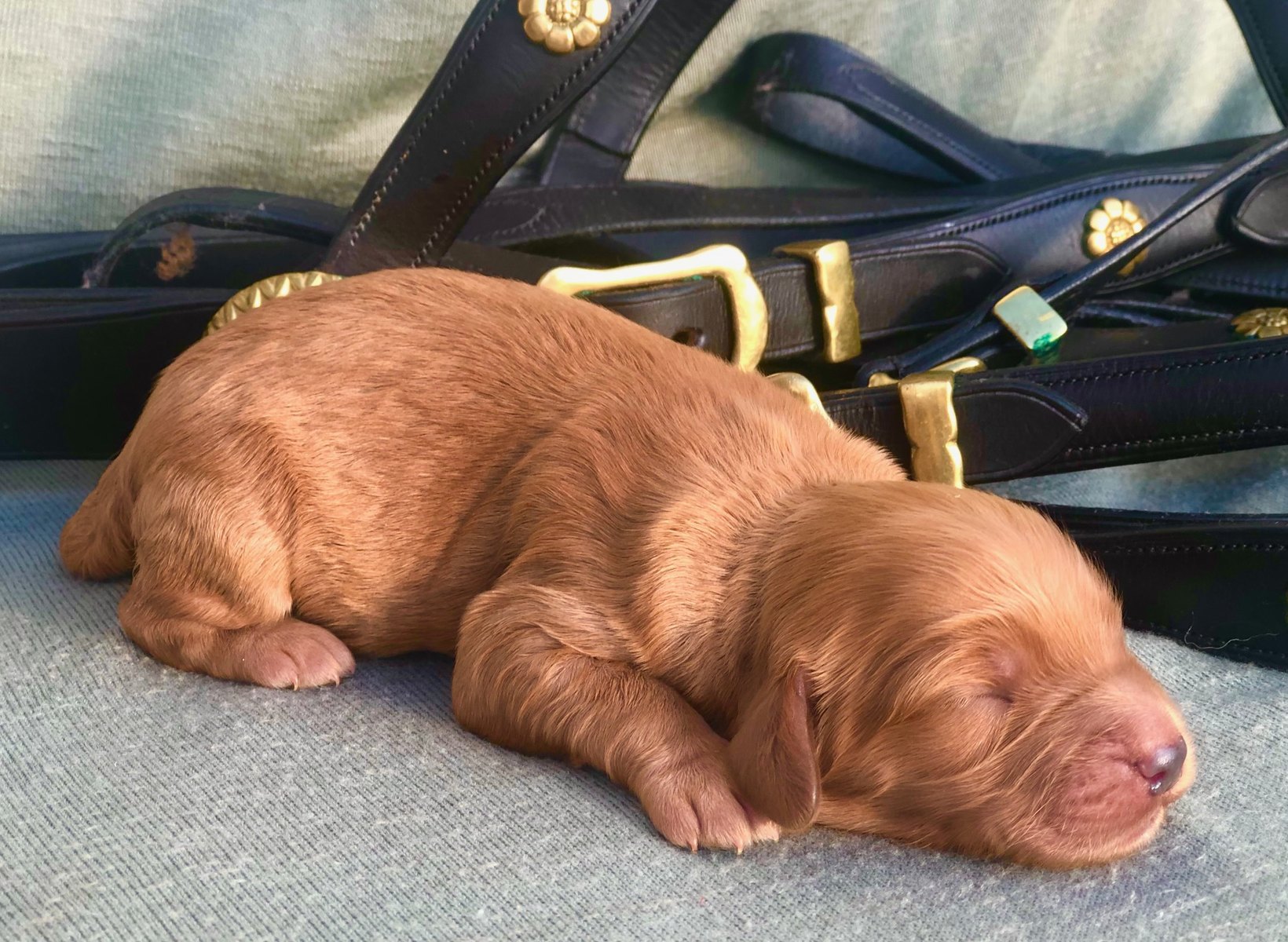 The puppy we have the pleasure of offering is 'Captain Tom'. He is a beautiful, Gold, F1 cockapoo puppy, who is currently just days old, and won't be ready to leave us until 30th June onwards. Captain Tom's mum is our very unusually coloured chocolate sable Show Type Cocker Spaniel 'Nutty' (named with her sister 'Ginger' after the biscuit, not because she is bonkers). She has a gentle nature, is intelligent and kind. She is always looking to please and has a trainable, biddable personality. His dad is Paddy, our stunning Miniature Poodle, who is a brilliant, animated, bubbly poodle with loads of character. Both parents are fully health checked, DNA screened and X-Ray'd as you would expect from all puppies sold here at Hallslake. Captain Tom, along with all his littermates, has had great socilaisation from birth, that will continue until he is old enough to leave us. We would expect Tom to grow to have the long & wavy haired coat typical of an F1 cross, and as well as being beautiful, he should have a wonderful temperament and trainable mind.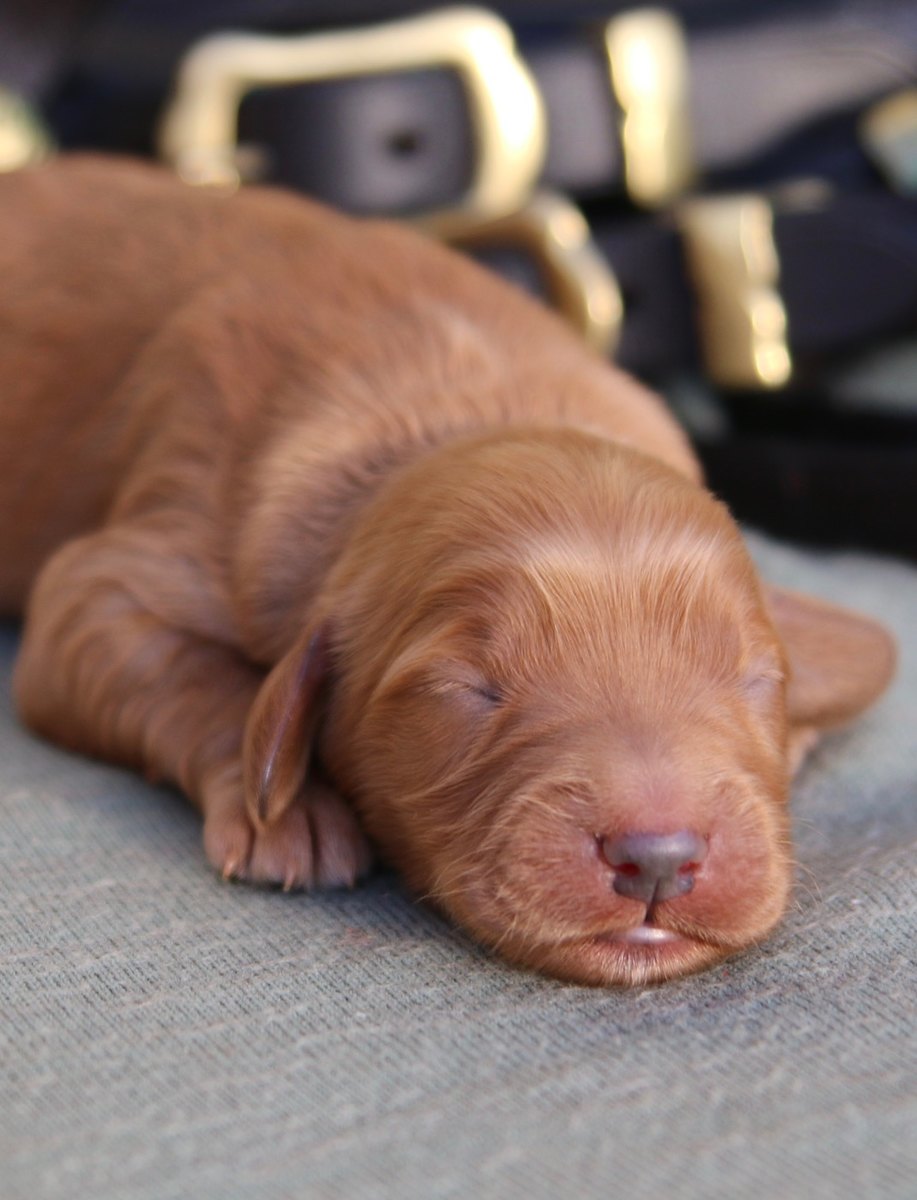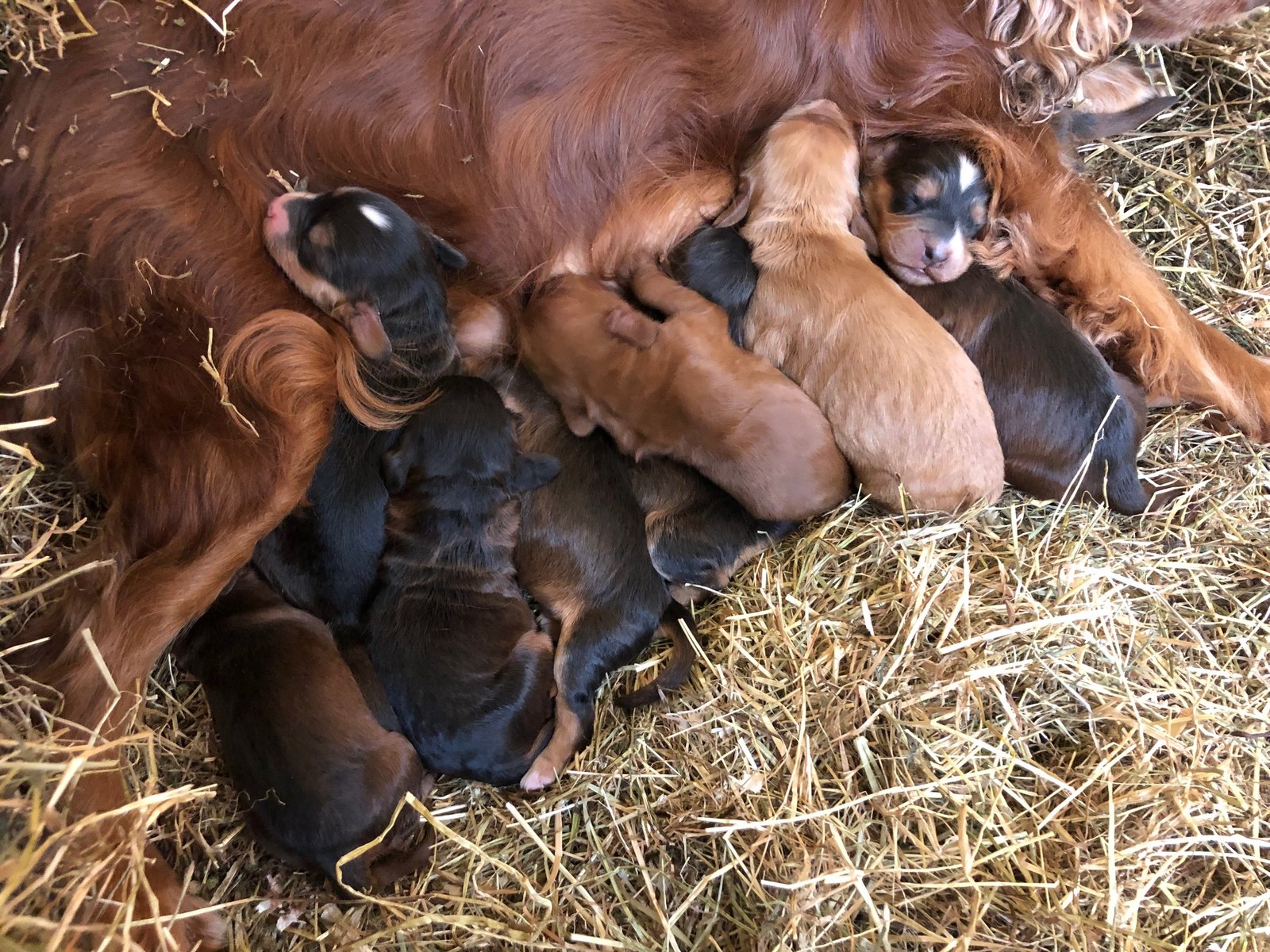 Please start all messages with; I --------(your name)--------- pledge my bid of ---------(the amount you wish to offer)----- for Captain Tom.
That is all that is needed!
All other details will be discussed in full with the winning bidder on Saturdays night. If for any reason the winning bidder is not suitable, the 2nd highest bidder will be contacted.
The conditions of this sale will still require that the winning bidder is a suitable home, that the acquisition of a new puppy has been well considered and prepared for, and we will require the new owner to sign our Puppy-Pack agreement that does not allow the resale of any Hallslake dog, and requires that any dog sold from here, will always come back here, should they ever need to be rehomed for any reason.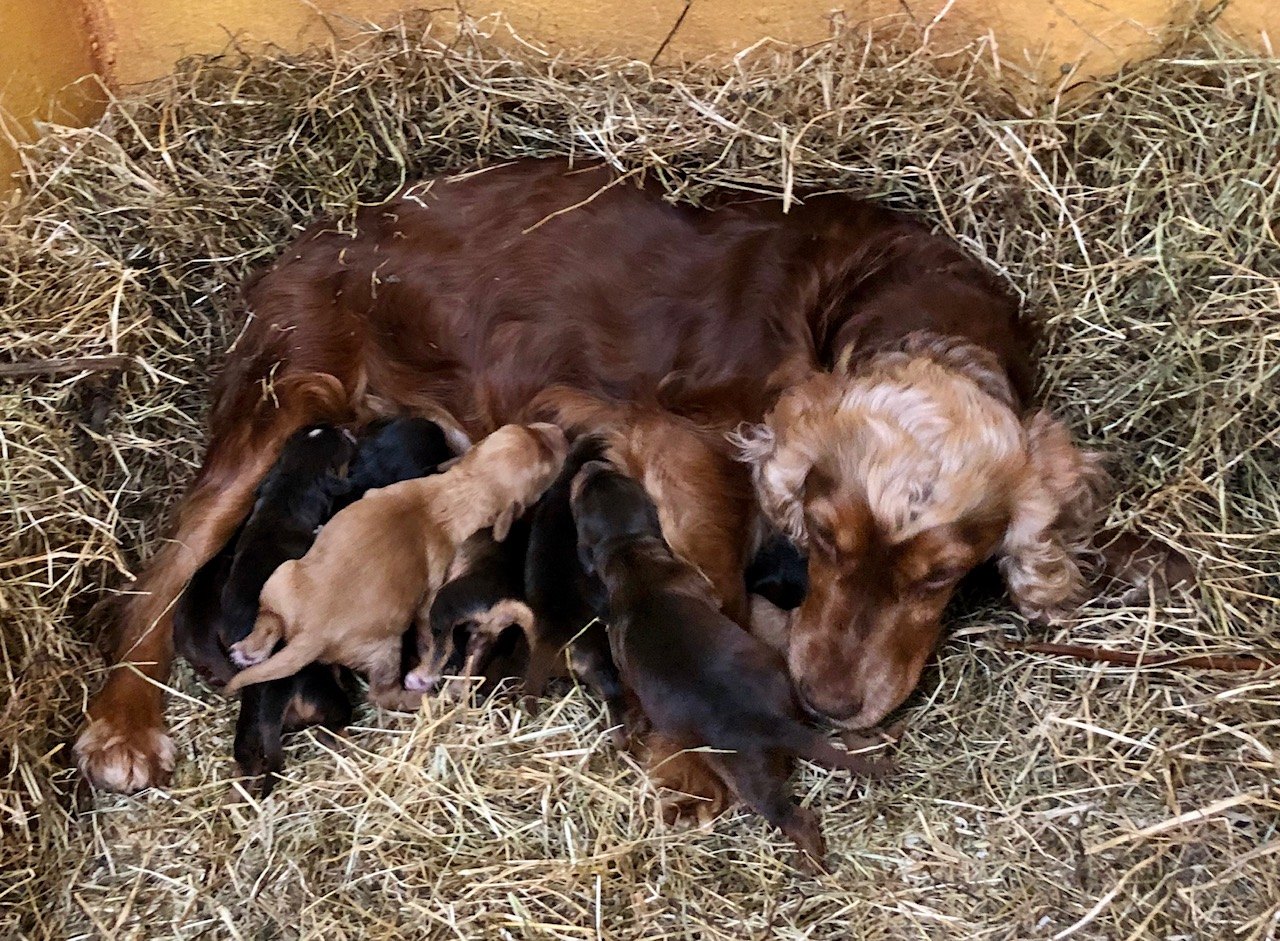 We are also very happy to accept any charity donations towards this cause if you choose to donate without bidding.
This picture below is a photo of Nutty's last litter in 2018 when they were around 7 weeks old, just before leaving for their new homes... Just so you can see what Captain Tom is likely to look like when he's ready to leave Hallslake.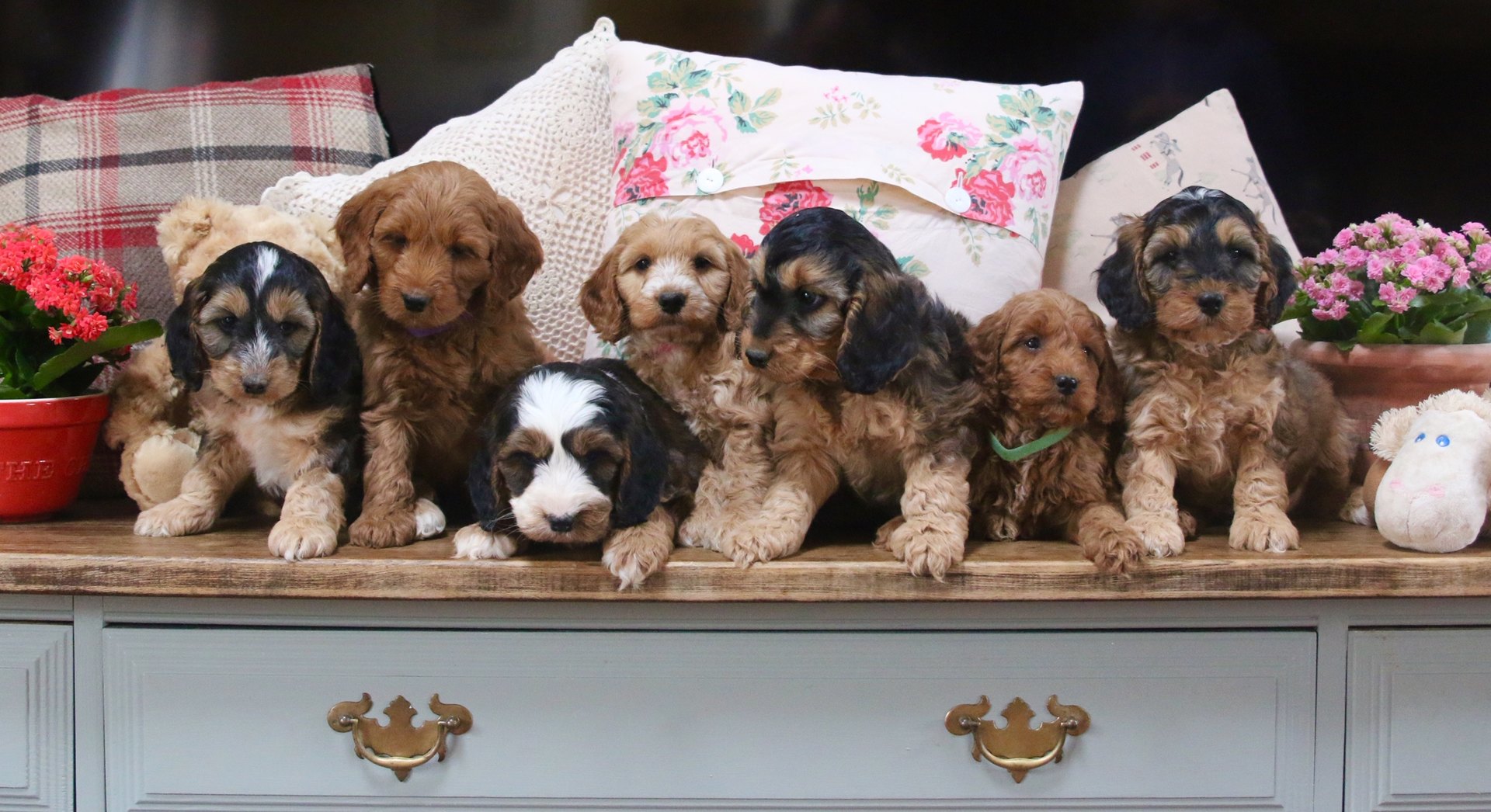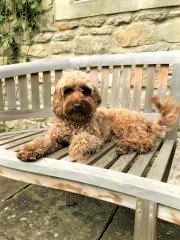 It's a little small, but here is the lovely 'Molly' who was the gorgeous green collar, red puppy from Nutty's previous litter, now all grown up! Kindly sent to us by her owners who love her to bits. This is just what Captain Tom is likely to end up looking like.
Thank you all so much for your support.
*********************************************************************************************************
25th April 2020
We are ectatically happy to be able to say with the sale of 'Florence Nightingale', combined with all the other very generous contributions we received, we have raised a total of £13,025.00 for charity!!
This equates to 45 free weekend breaks away on Exmoor for our frontline NHS workers.
We have been very offered a very kind discount, in the interest of Charity, by our fabulous local Hotel, restaurant and pub The Rising Sun - Lynmouth, and are proud to be able to donate these breaks to those who will appreciate them the most. The Rising Sun is where we always go for a treat of a meal out, it serves the best fillet steak I've ever eaten, and it's views over Lynmouth Harbor are hard to beat.
Have a look at the website below to see just how lovely it is!
www.risingsunlynmouth.co.uk
WOW, what a response we are having! SO grateful to everyone getting in touch to offer Florence the home of a lifetime!
'Florence Nightingale'
Final bid of £9500! Thank you SO MUCH!
We are SO thrilled to have raised this much!
Absolutely over the moon with the response we have had, how much joy we are going to be able to share, and how much gratitude we are going to be able to show to our amazing NHS staff!