We are delighted to have established a fantastic support opportunity for all our puppies, through our good friend, and excellent dog trainer, Jacqui!
Please read her details below.
We are very happy to be able to give (at our expense) 3 x 20 minute virtual (Zoom / Face Time or over the phone) training sessions with any of the puppies bred here at Hallslake. For people within travelling distance this can also be face to face, and the 3 sessions could be taken as 2 half hour, or 1 hours session.
This may be for a new puppy for advice on how to get going on the right foot. For a juvenile who needs its training polishing, or a dog which has developed issues or hang-ups for any reason.
There is no time limit on this offer, and we are also happy to pay for these sessions for dogs bred by us in the past if it is needed.
We are always there to support the dogs we breed.
We always want a Hallslake dog to be a happy dog!
______________________________________________________________________________________________________________________________________________________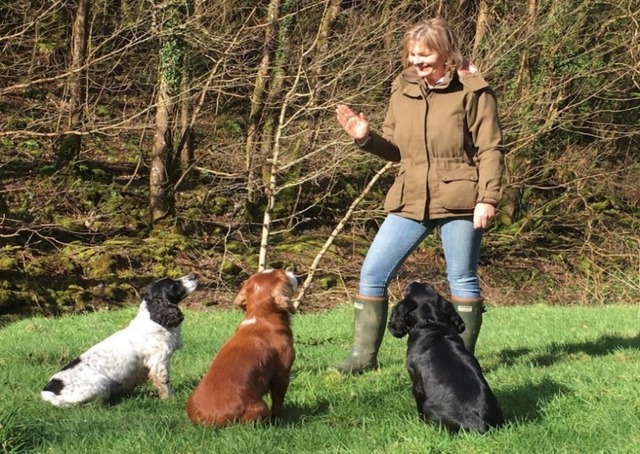 "Tailor made"
DOG TRAINING instructor
As a personal Advisor and Trainer, I can work with you to help educate you and your dog.
For Positive, Kind and Bespoke Training.
Private Training Sessions or Small groups at my training ground on Exmoor or at your home by arrangement.
With over 20 years' experience working with all breed/types and abilities. I can also help with a wide range of behavioural issues.
KC Accredited
Gun dog training a speciality
Please call Jacqui Skelton-Norrish – 07814056635 or email- j.skeltonnorrish231@btinternet.com to discuss your requirements
Instagram - @jacquidogtrainer (take a look at my training videos)
We have received this fab feedback today from one of our puppy parents;
'We were referred to Jacqui after contacting Graham about a barking issue we had with our 6 month old cockapoo. Training was going really well but he had become anxious around other dogs which was something we wanted to address sooner rather than later.
Jacqui was so welcoming both to us and our puppy. She has a very friendly manner and we found her easy to talk to.
She not only gave us the tools to give our pup more confidence around other dogs, but some other useful training tips. We started to see results from day one!
We can't recommend Jacqui highly enough for her professionalism and caring attitude. We wouldn't hesitate to ask for her help again in the future if needed. Thankyou Jacqui'!
Thanks again Graham and Liz for this training, very much appreciated for your continued support. Bailey is doing so well and we absolutely adore him.
Many thanks...