Free Delivery!
After much discussion and thought, we have decided that we are going to offer free delivery on any of our puppies to anywhere in England, Wales, & Scotland (up to Edinburgh) from the beginning of 2022.
We would like to make it clear, that we still very much encourage people to come to our farm to meet Mum & Dad, and see the environment that the puppies are growing up in. This service is not in any way to discourage people from coming to visit us here at Hallslake.
We are offering this service as we believe it is in the interest of the puppies to go to their new home either with their new owners directly, or organised by ourselves. With Covid-19 there has been a huge rise in animal couriers, and people not being able to collect in person for various reasons. Whilst many transporters are very professional, we much prefer to keep the continuity for Puppy, by travelling him (or her) with litter mates, or mum or a nanny. He will be in a familiar smelling bed and with familiar people who can stop and give him a cuddle or clean him up if he needs the loo, is sick or sad, so will not be upset by his first long journey. By offering free delivery we are able to maintain consistently good care & mental wellbeing of our puppies from the moment they are born, until the moment reach the hands of their new owners, which for us as breeders, is very important.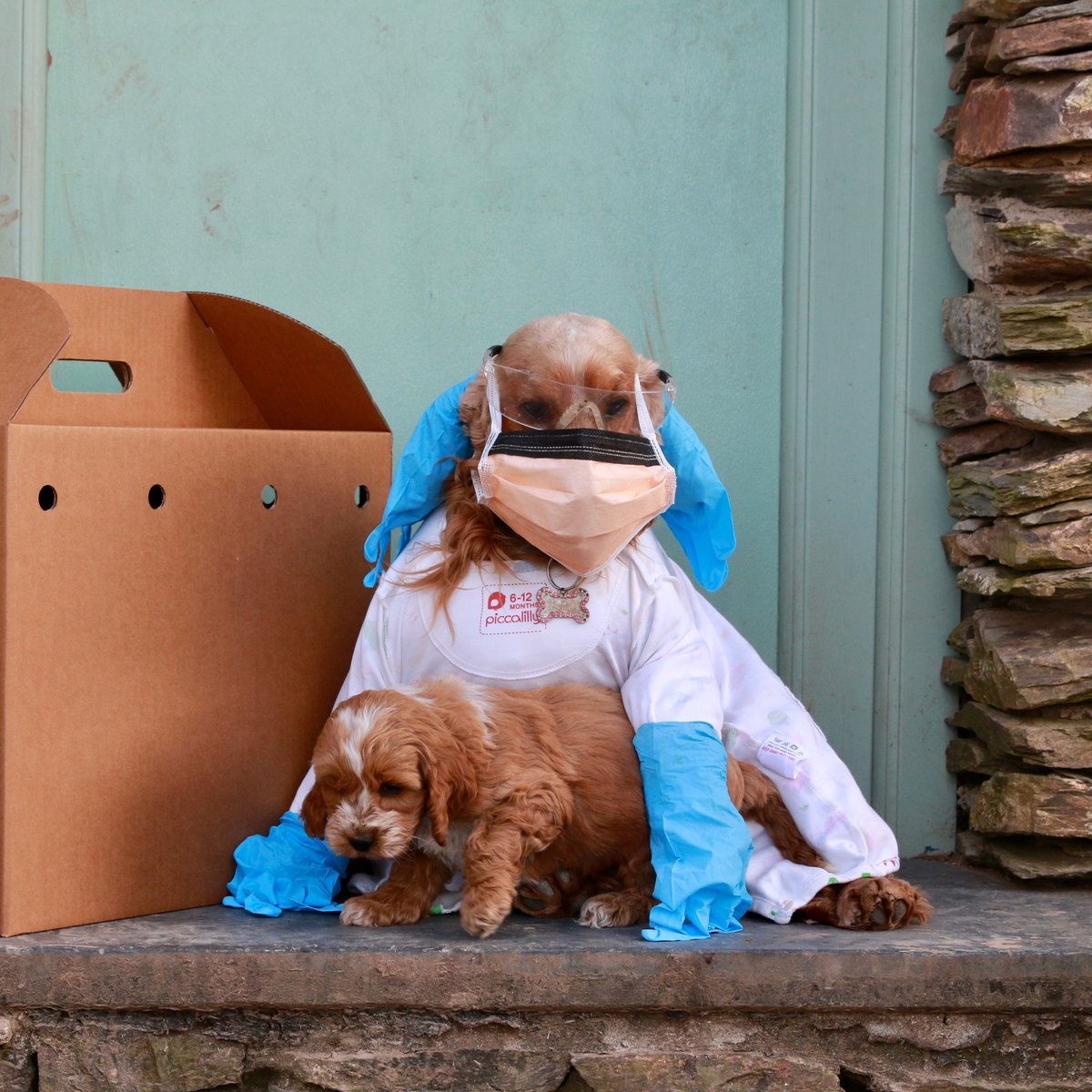 The children thought it would be very sensible to get Dora some PPE when they heard she was going to be assisting with the delivering of puppies-safety first haha! She is SUCH a good (and long suffering) dog!
We use our longstanding friend & employee 'Tom' and his family to help us get all the puppies to their new homes. Tom has had his own dogs for many years & is very competent with handling puppies. He is also a familiar face here at Hallslake, so all the dogs & puppies will feel confident and relaxed with him.
Tom or his daughter Hannah, will contact puppy parents directly a few days prior to our planned delivery date, and will iron out all the fine details.
The cost will be born by us the breeders.
We will travel the puppies together in a crate in the back of the car for the longest part of the journey, (often with Mum, or Dora-Dog going along as nanny, to keep them company), but for the actual drop off we will either carry puppy straight to you, or if you are shielding or at risk, we will put Puppy in cardboard travel box, and will place them along with their full puppy pack, paperwork, food & toys on your doorstep. Tom will then stand well back while you pick everything up, ensuring the transfer is totally contactless where necessary.
All current payment for puppies we are asking to be made via bank transfer, PRIOR to delivery please.