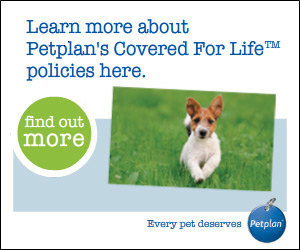 4 weeks' free insurance for new owners
As a Petplan registered breeder, we are able to provide our new owners with 4 weeks' free Petplan insurance.
This provides immediate cover for illness and injury up to £4,000 as soon as we activate the policy

There is no cost to the new owner

Cover is activated by us online at the time you collect your puppy, We don't take any bank details and it is entirely your choice if you choose to continue the policy, or let it expire after the 4 weeks.
The cover we will set you up with includes:
4 weeks' free insurance cover:

Veterinary fees for injury and illness

Up to £4,000

Death from illness or injury

Up to £750

Loss by theft or straying

Up to £750

Advertising and reward if the puppy or kitten is lost or stolen

Up to £200
We are personally very happy to recommend Petplan after having a devistating accident with one of our Cocker Spaniels, which involced costly operations and, sadly, ultimately the death of one of our dogs. Petplan talked directly with our vets throughout the ordeal, and paid them very promptly. On top of this they also refunded his original purchse price after he had passed without us ever having to ask for a penny. It was a truly upsetting ordeal, but made very much easier by Petplan.
We will give you all the information you should need about Petplan insurance in your puppy pack, but should you wish to have a look at their website, here is a link;
http://www.petplan.co.uk/home.asp?Campaign=BREWEB&BRAV=1400003449