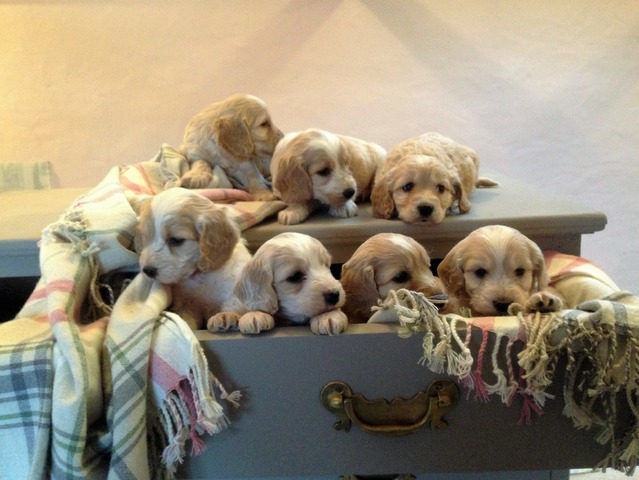 Please do a great deal of research and give it a lot of careful thought before looking to obtain a puppy from Hallslake Cockers & Cockapoos.
We will want to discuss your suitability before agreeing to the sale of one of our puppies.
All of the puppies bred here at Hallslake can be registered either with the Kennel Club or with the Cockapoo Club GB.
The cost of a Hallslake Puppy is £1850 (including VAT) for puppies staying in the UK
or £2500 for Export Puppies. This includes board up to 4 months old, all export vaccinations and the puppies passport.
Please have a alook at our pricing page for full details.
When we have a litter born, I will usually post information on here, however due to the frightening rise in dogs theft, we have to be a little careful how much information we post, so it is always worth giving Graham a call, or WhatsApping us.
Once you have reserved a puppy, I will try my best to keep the new owners up to date with litter progress until they're ready to be collected, usually through WhatsApp.
All our puppies leave after they are 8 weeks old. They can stay a little longer, but they can't leave earlier. They will have had a vet check, have had their first vaccination & microchip (documented), they will have a full puppy pack including Mum & Dad's pedigrees & health certificates, loads of written information and advice, details of the worming and flea treatment the pup will have already received, a 3 day worming program to start once the puppy is at home to avoid any transference of parasites to your garden, and advice on current diet and ongoing requirements as well as a bag of food to get you started, and a teddy that smells of home to help get them settled.
Please have a read of the below to understand the reason for the price of our puppies.
Our puppies are by no means the cheapest you will find available for sale, and in some cases may infact be the most expensive. If price is an issue for you, please don't let me put you off looking for a puppy from a GOOD hobby breeder. A hobby breeder will without doubt be able to produce a puppy for a fraction of the price of a professional Approved Status breeder. Hobby or Private breeders are not held accountable to the same rules and standards that we are, For example there is no health testing requirement, no maximum number of litters a bitch may mother, and no minimum age at which she may have her first litter. There are some very good Hobby breeders, but there are also some very bad ones, so be sure to do your homework well before choosing a breeder to go with. As an Approved Status breeder, we are inspected annually by the Local Council, The Kennel Club and The Cockapoo Club of GB, and all expect a very high standard of facilities and care. At our last inspection our local councilor said he believed there should be a 'star system' for Kennel licensing much the same as with catering facilities and restaurants. He said some licensed kennels are only just scraping through so should receive a 1 star, where others which are very good would be a 5 star. He said that our kennels are exceeding all expectation and would definitely receive a 5 star! We were extremely proud of that comment, however it does come at a great cost. On top of the day to day running costs of the kennels (under floor heating, insulated dropped ceiling, double glazed doors and windows to every kennel with indoor and out door runs, hot water and washing / bathing facilities, 2 acres of permanent secure play, dedicated kitchen & feed storage, enriched diet with both top quality dry food and daily raw bones, routine monthly worming, flea and tick prevention, the list could be endless) we also have over night security to ensure we don't have any of our dogs or their puppies stolen, as well as ourselves we have daily help in the kennels with someone washing, walking and grooming the dogs, we have every dog health tested and every February we spend nearly £15,000 with the British Veterinary Association renewing out annual eye tests, glaucoma checks and hip scoring the juvenile dogs. We spend hours and hours socialising the puppies, doing absolutely everything we can think of to prepare them for their life to come. Even down to firing the shotgun in the vicinity of the kennels to accustom them to loud and unexpected bangs, in the hope that they will not be frightened by fireworks, which can cause great stress to some dogs. Our bitches (which we keep for life), will only ever breed 4 litters in their life time, and will not be bred before 18 months of age (rules that hobby breeders may choose to ignore), and we source our bitches from all over the world, looking for the very best dogs we can find to ensure the best of true 'Show Type' characteristics, looks and personality traits. We have dogs here we have directly imported from Serbia, Hungary and Bulgaria, not to mention each corner of the UK. We don't cut any corners in our pursuit of excellence. It's is very important to us that our prospective puppy owners understand the reasons behind or pricing, and that you don't just think we are greedy! We just aim to be the very best that we can.