24/03/2020
Well we are in Lock Down! Who could have ever though the world's daily routines could be altered so much so quickly! I hope all of you out there are taking care of yourselves and staying safe. We are very lucky here on the farm, other than locking the gates, life continues much unchanged. All the puppies are thriving, and this recent glorious weather has meant lots of fun time for the girls and the puppies playing outside. In these days of most people having to stay indoors, we will do our best to keep new pictures posted of the litters here to cheer everyone up! I have added loads of pictures of Pumpkins litter below, they are casual pictures of them playing today with the family, so they don't have their collars on I'm afraid as it was an impromptu shoot.... you will just have to try to work out who's puppy is who's! Sorry about that! :)
We are pleased to have made an agreement with a friend of ours who delivers animals professionally, and he is able to deliver any of our puppies to any address in the country, and will do so in a totally contactless way. We will talk through our puppy packs over the phone with the new owners so everything is made ready before puppy's arrival, and puppy, paperwork & puppy pack will all be delivered to your door. The cost for this is arranged by us with Chris the driver on your behalf, and is very reasonable. Delivery drivers are considered key workers so legally there is no problem with this arrangement, and there is the added benefit of knowing that the job will be carried out safely and professionally.
Although there are troubling times ahead at least we can try to make the best of the situation by staying home and having lots of quality time with your new puppy, bonding, playing and training.
17/03/2020
Coronavirus
We are in a time of declared Global Health Emergency, so sadly we are not allowing visits to the farm at this time.
We are still happy for puppies to to be reserved and will be open to conducting telephone interviews or video calls instead of visits for the time being. We hope very much that the situation will soon be controlled and things will return to normal.
In the mean time, if you already have a puppy reserved we will work hard to keep the website pictures regularly updated, and will happily arrange contactless collection, or a professional pet courier delivery.
14/03/2020
Coco & Pinky's litters go live tonight!
Pumpkins litter are growing really nicely and are lively and playful now. I've posted some pictures on here are they don't have their own page;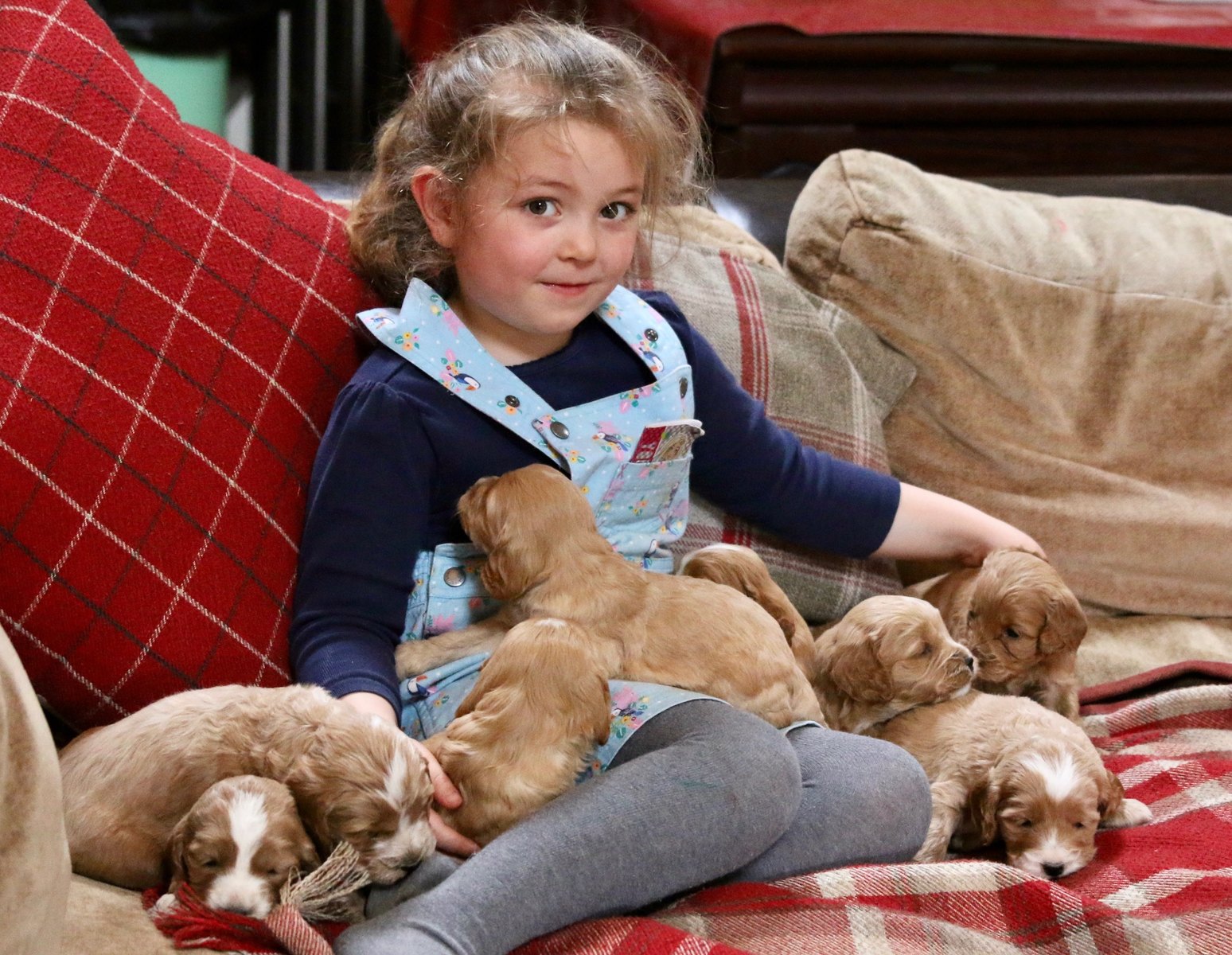 07/03/2020
We plan on making both Pinky's & Coco's litters available for the normal reservation process (see the 'Reservations Process' page), by posting pictures on-line around 10th March, and putting them to be reserved on 14th March, 7pm.
03/03/2020
What a lovely, busy time we are having at the moment!
As we previously said we were going to do, we have allowed people who have been trying to reserve a puppy for sometime without success, to reserve puppies from Pumpkin's and Spot's litters. Pumpkins litter of yellow puppies are all reserved, and Spot just yesterday had her litter of yellows & blacks. There is a waiting list for about 1/2 of that litter, so if you are one of the people who have already visited but have been unsuccessful in reserving a puppy before now please do get in touch with Graham on the phone. 01598 741105.
Pinky has had her litter of pure Cocker Spaniels, she was not impressed by the delivery process and needed a lot of help with the births, but she does love her puppies very much now they're here. She has 7 gorgeous chocolate, and chocolate & tan puppies.
Coco has, as always, effortlessly and perfectly produced a stunning and large litter of sable and yellow (I use the term yellow to cover all the various shades of blonde, gold, red, etc) puppies. Shes is a fabulous mother and all her litter are doing well. As with all large litters there tends to be a couple of puppies which struggle to get as much milk as the others, so we will wait a little longer than normal before making this litter available for the normal reservation process (see the 'Reservations Process' page), but we are hoping to post pictures on-line around 10th March, and will put them to be reserved on 14th March, 7pm.
21/02/2020
Breaking News....! Coco is having her puppies right now!! :) And very thoughtfully-through the day time! What a good girl x
19/02/2020
We have puppies!! Pumpkin has had her babies (14/2/20), a good litter of various shades of yellow, mostly boys, all good and strong puppies. Mum is very proud of herself and is doing a great job with them. Pictures to follow soon!
Coco, Spot & Pinky are growing by the day and should all have their litters with in the next few weeks. We used an outside stud dog called Zulu to breed to Pinky, for a litter of pure Cockers, but we liked the dog so much (when you tickle his tummy he stands up on his back legs and walks around like a bear!) we have actually managed to acquire him to join us here at Hallslake! So he will be here to meet with his puppies. He's a beautiful Chocolate and Tan boy, and also quite small compared to Breed Standard, which we like. The puppies produced by the cross of Zulu and Pinky should be absolutely smashing. They should be quite small & petite, various combinations of chocolate, chocolate roan, chocolate & tan, and should exceptionally beautiful as well as having the MOST fabulous temperaments.
Zippy has been bred to Paddy for a litter of F1b's which will be due mid April. These should be lovely gold & red curly, fluffy bundles of fun! We also have 2 older puppies available which we have posted details of on the Available Now page.
Just a small thing on a different note.....We are auctioning an 'original' artwork made by daughters (aged 2 and 4 years old). It is being sold to raise money for children who are not lucky enough to being able to enjoy the happiness and fun a healthy childhood should bring. 100% of what we make will be donated to Children with Cancer UK to help tackle the thing every parent lives in terror of, and no child deserves. We have put it on eBay and the link is attached, just copy and paste it in to your address bar.
APPARENTLY THE LINK WASN'T WORKING SO I'VE UPDATED IT... PLEASE DO BID, IT FINISHES TOMORROW AND THE GIRLS WILL BE VERY SAD IF IT DOESN'T MAKE MUCH :'(
https://www.ebay.co.uk/itm/Original-artwork-children-s-feet-signed-For-Children-with-Cancer-UK/233491273284?hash=item365d2a1644:g:qakAAOSwqOdeQW3l
Bidding ends 20th Feb 9.30pm. Any bids would be very much appreciated!
31/01/2020
Coronavirus
We are politely asking all our potential visitors if they have recently been abroad, or could have been in contact with anyone exposed to the Coronavirus before booking an appointment? We have young children here and don't want to expose them to any risks, so in this time of a newly declared Global Health Emergency, we are encouraging people to conduct telephone interviews or video calls instead of visits for the time being. We hope very much that the situation will soon be controlled and things will return to normal.
In the mean time, if you already have a puppy reserved and are confident you are of no exposure risk, we would be happy to welcome you to collect, but if in any doubt at all, we will arrange delivery via a professional courier.
02/01/2020
Happy New Year!
We hope all our followers have had a lovely Christmas and a Happy New Year.
We have had a gorgeous litter born to Rio & Mr Fox on Christmas Eve-Eve! A mix of girls & boys, in deep red, red and gold, doing very well for a large litter of 10 (with one tiny one)!
We will post pictures of this litter around the 15th Jan and will make them available for reservations at 7pm Saturday 18th January. If you haven't already done so, please make sure you are familiar with the reservations process before then.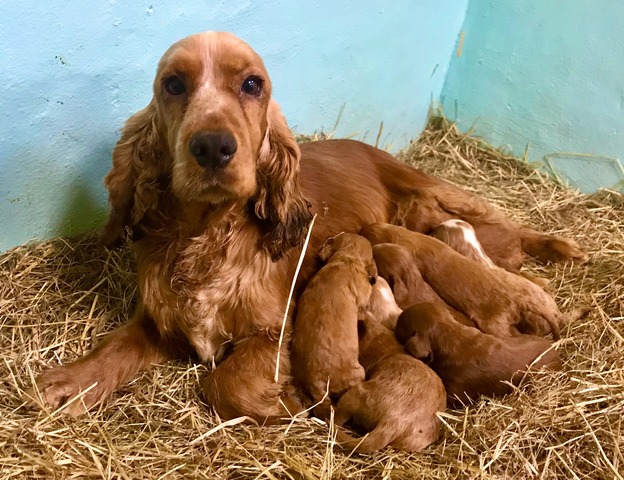 We have had a big flurry of girls coming in to season, all around the same time (as mother nature likes to do when a group of females live together), so we have bred quite a few of the girls for litters due between mid Feb & mid March, ready to leave around the Easter holiday period. We will have F1 Cockapoos & a litter of pure Cockers due all being well.
20/12/2019
With Christmas coming we are not getting much rest from the dogs at the moment! Rio is absolutely huge and due to have her puppies on Christmas eve, although I suspect she may have them early. We also have a flurry of girls coming in to season, which would lead to litters due to be collected at around Easter time. Pumpkin has just beed bred to Paddy (Mr Fox's Dad) for F1 Cockapoos, Coco is just coming in season and is planned to be bred to Mr Fox for a repeat of her gorgeous litter of F1 cockapoos on the 'previous litters' page, and Pinky is booked in to be served by a chocolate and tan stud dog standing nearby for a litter of pure Cockers all being well (Pinky's mum Bella, is full brother to Stud dog Beano, so we wanted to use some outside bloodlines on her).
I have finally got round to adding Paddy to our 'Males' page. Many of you will have met Paddy, he is Mr Fox's dad. We have owned Mr Fox from a puppy and he has been hugely sucesful as a stud dog sire for us. Sometimes, however, his workload is a litte excessive, as in a pack enviroment all the girls tend to come in season at the same time so we were looking for another red poodle dog as backup. When we found out that Paddy was looking for a new home (from the breeder of Mr Fox) it was an obvious decision for us that of course we would love to have him. He is an absolute joy to have around, full of fun, very clever, and it's easy to see where Mr Fox gets his good looks from! As with all our boys, he is of course fully health tested.
11/12/2019
It's busy busy busy here on the farm in the run up to Christmas! The puppies are growing up well and strong, and are all getting playful. As it's cold they're spending a lot of the time in our sitting room & being carried around by our children!
Rio is due her litter on Christmas Eve, and we are very excitedly waiting to see if she prouduces a healthy litter of the Deep Red colour that we love so much. We have also bred my lovely Mable's daughter, Crunchie, to Mr Fox but we are not sure she has concieved yet. Muffin is just coming in to season too, and will be bred to Mr Fox (a repeat of last years puppies) for a litter due around Valentines Day, all being well.
On a different note, some of you may have heard about the changes in the licensing laws for dog breeders which came about this year. We always say the more hoops breeders are required to jump through, the better. Anything that makes life harder for shoddy breeders the better. The new regulation are very tight and scored on a star rating system, from 1 to 5, with 1* being a high risk scrape through pass, up to 4* being kennels that meet expectation, and 5 stars being reserved for the very best of establishments that exceeding expectation. We are pleased to report that we received the 5* rating!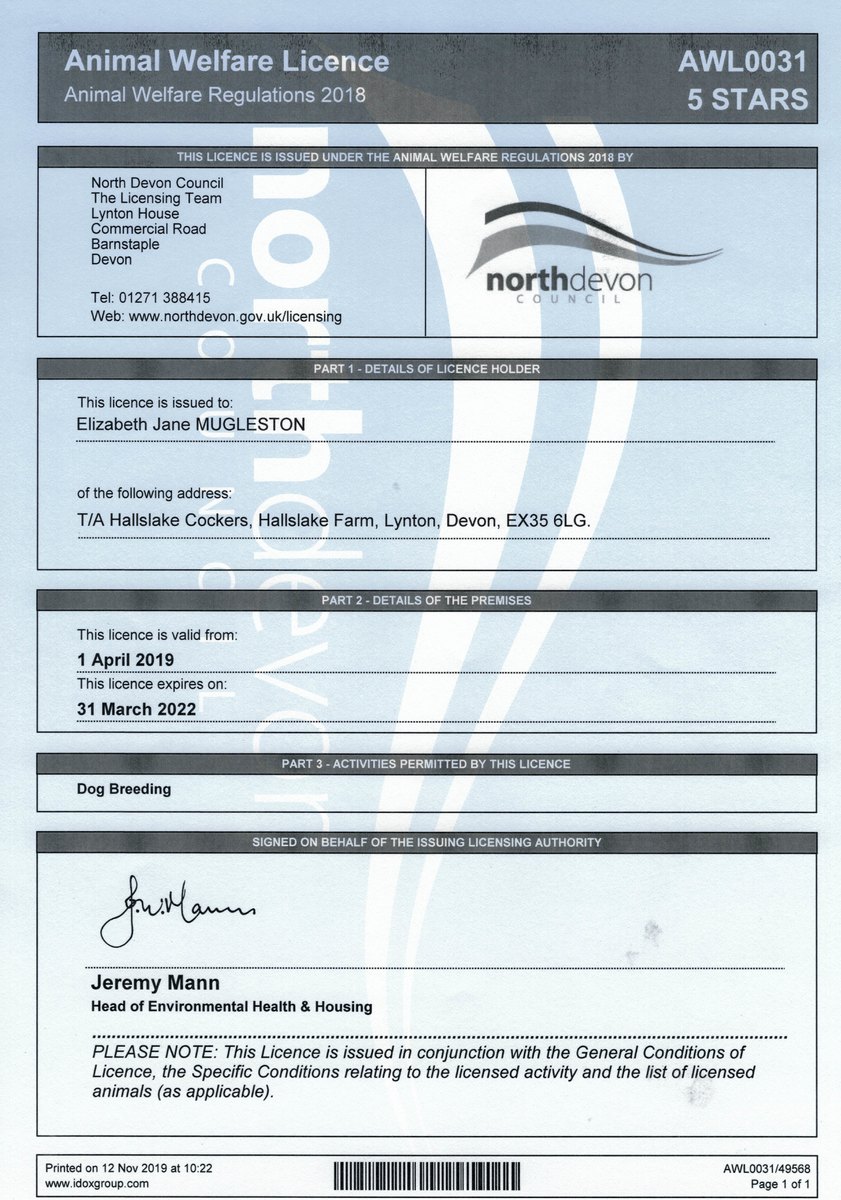 And finally I would like to introduce Willy Wonka!! We have finally found a chocolate miniature poodle to join the boys! He is an absolute delight, well bred and raised to the high standard that we required. He's still a puppy at 4 months old, and we are waiting for all his genetic helth testing to come back, but we are super excited about him, and will look forward to chocolate box litters form some of our brown girls in the future!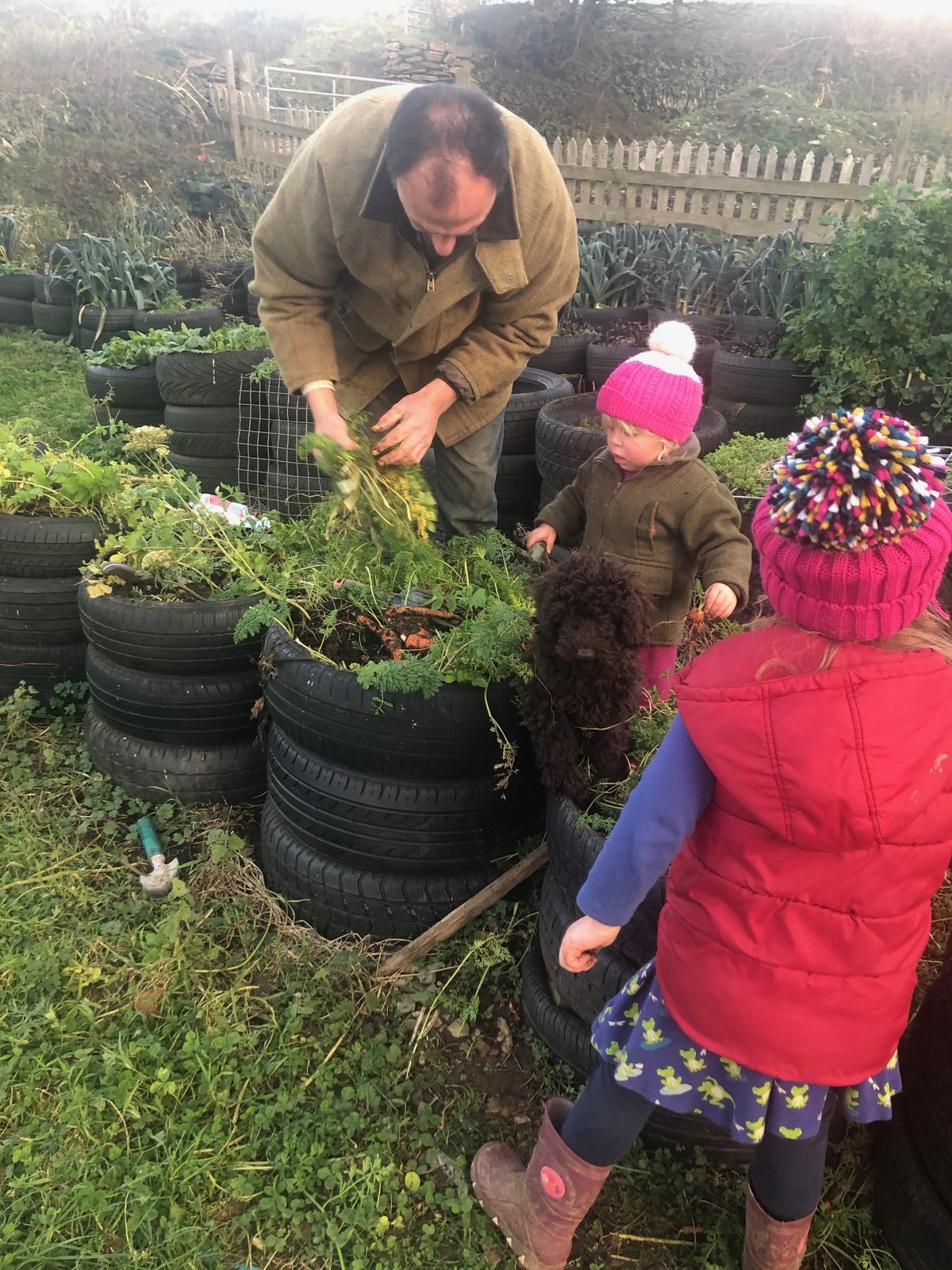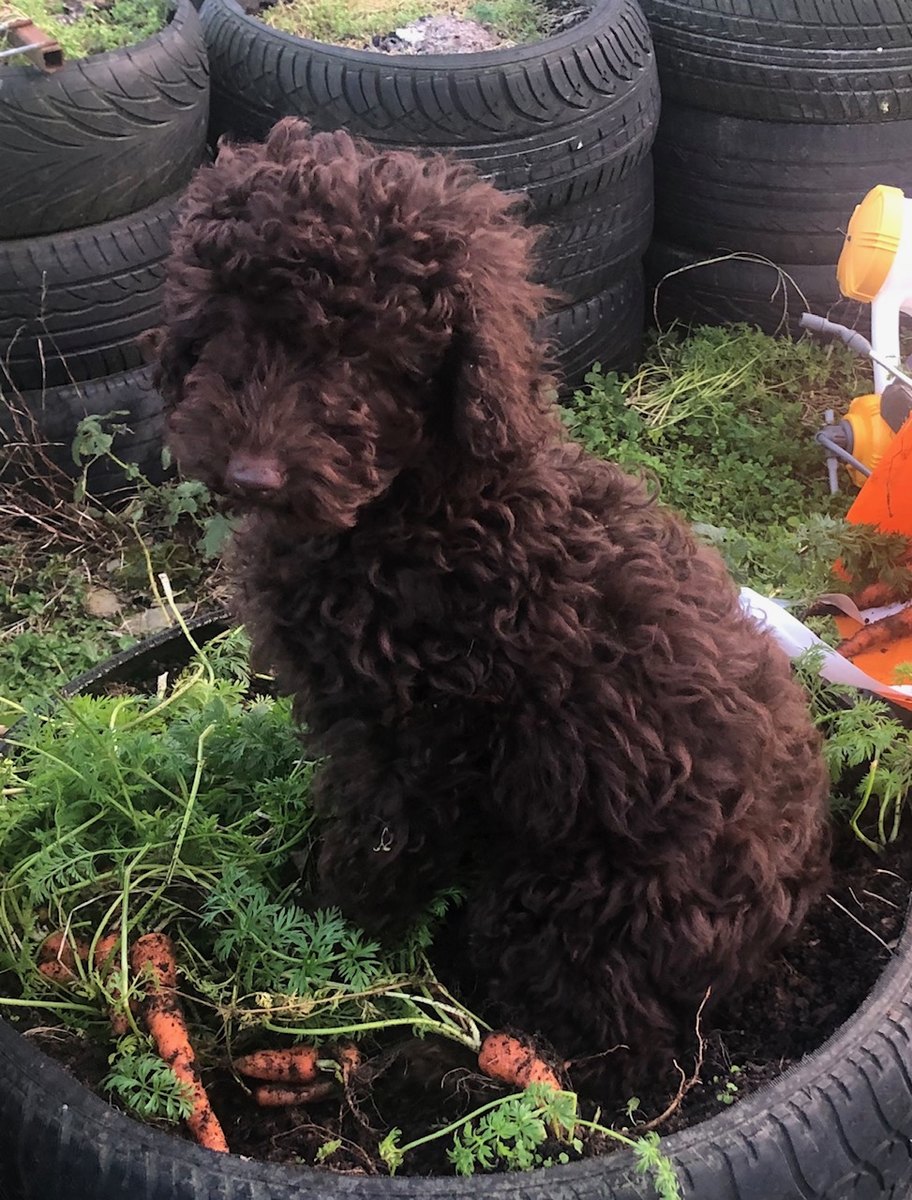 06/11/2019
Dotty has had her litter now, all the puppies are black and as a first time mum she has taken to them very well and is doing a lovely job of looking after them.
We will look to making Dotty's and Alice's puppies available for reservation on the same day, which all being well should be 19th November 2019 at 7pm. We will post photos of the 2 litters a few days in advance of that date, with colours & sexes listed under different collar colours. Please make sure you have a good read of our Reservations Process page if you are not already familliar with it.
29/10/2019
Things are pretty hectic here at Hallslake at the moment! Clancy our new daughter is settling in to farm life nicely and is regularly down in the kennels in the mornings to the great curiosity of the dogs, who all like to jump up the side of the pram to have a sniff of her. Inside the house, sadly Polly our much appreciated PA has moved on to another job, and we were let down at the last minute by her replacment, so email replys have been few and far between, and photo's a little non existent I'm afraid. The dogs are all in great health though, Alice had her puppies in the early hours of this morning, and has had a gorgeous litter of chocolate & tan, and black puppies - all doing very well at this early stage. Dotty is looking imminent too, and we are expecting puppies in the next few days from her.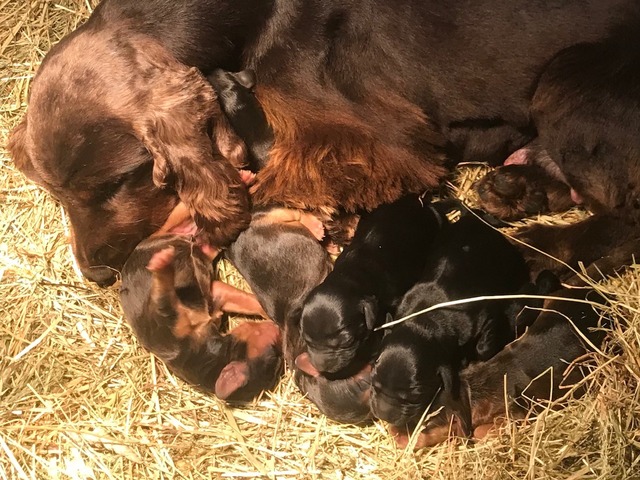 On the forward breeding, we have served one of our younger girls 'Rio' (who I have not yet added to the website) to Mr Fox for a litter of Cockapoos due on Christmas Eve. Rio is a gorgeous deep red with a white nose. She is bred by our Stud Cocker Rudi and was a 'pick of the litter' return for a stud fee, and she has grown to be a beautiful & elegant girl. Chips' litter is doing well and are very sweet and playful. With it being so cold now they are quite often in the sitting room being carried about by my girls! Following such a busy summer of litters, it stands to reason that we should now be having a a quiet time with the breeding, and it's doubtful we will be breeding anymore of the girls this year, although there is a possibility that Amy may soon come in to season.
06/09/2019
Sorry for the lack of updates/photos recently, I've been busy having a baby myself! I'd like to introduce Clancy, our new daughter, born (not without plenty of complications) on 2nd September. As you can see, Dora is already taking her nannying/baby sitting role very seriously!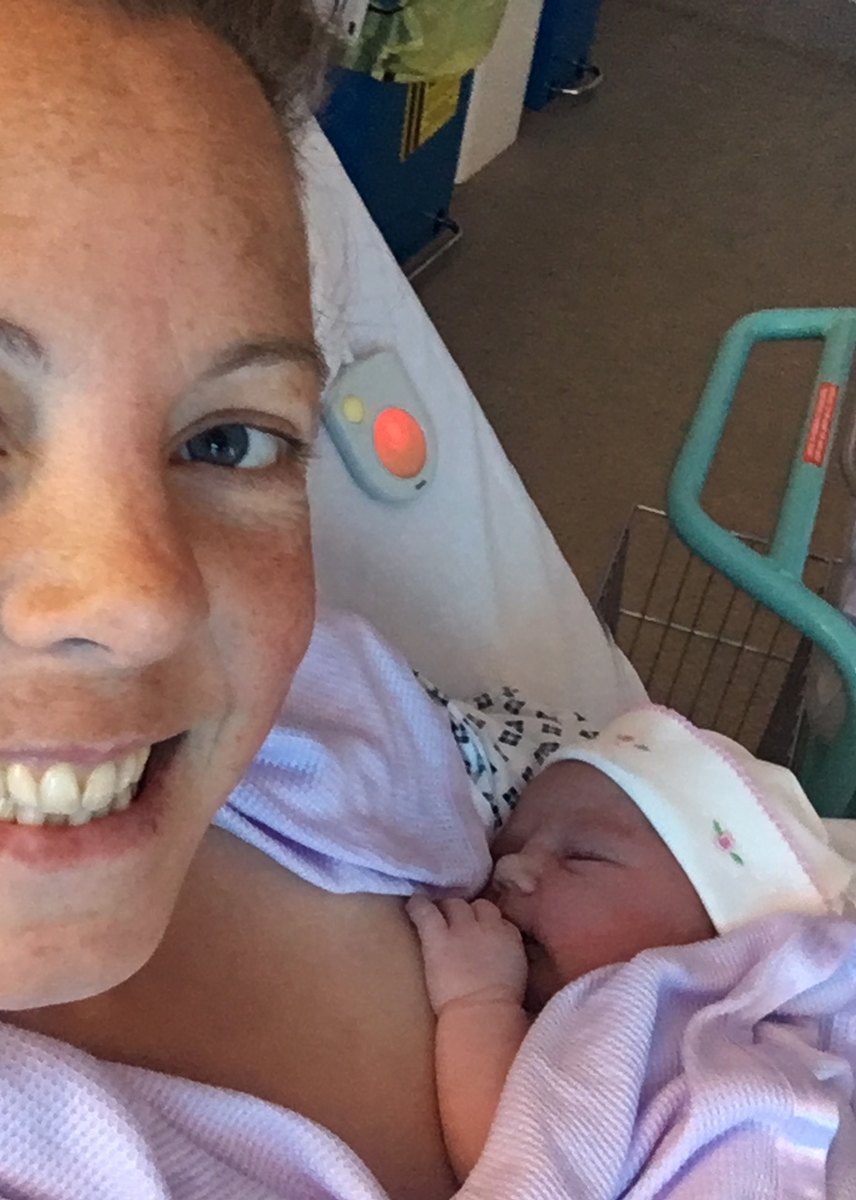 On the Dog side of life, Uno has had her litter, which are a beautiful variation of colours, golds, reds and sables, and Peppa's premature litter are now doing well after a shakey start. Peppa did sadly loose some puppies due to their early arrival, but she now has 5 good strong puppies, 3 black and 2 red, who are growing really well. We will make these 2 litters available to be reserved on Tuesday 17th September at 7pm.
We have also bred Dotty (Purple's full sister) & Alice (Billy's full sister) to Mr Fox for litters due within days of each other at the end of October / begining of November.
2/08/2019
On 31st July Mabel (my favorite girl) & Rudi had a litter of pure KC cockers puppies. This will be Mabel's last litter and she came up trumps giving me 6 puppies, 4 of which are girls (all of which we will keep as we are very keen to keep this line going in our breeding program). All the girls & one of the boys are orange roan / orange and white, and there is one blue roan / black & white boy. She had this same mating last year, and we have kept 3 of the girls from that litter, and they are absolutely beautiful! Hopefully these puppies will be the same. The 2 boys will be made available for reservation in a couple of weeks.
Billy is looking like she is going in to labour tonight... so keep your fingers crossed for a smooth pupping for her, and not too long a night for us!
Peppa & Uno aren't due for ages yet but are absolutely huge, as am I, due my own daughter in 4 weeks!
20/07/2019
Sorry for the lack of updates lately. Along with being very busy with all the animals, my two daughters, and being heavily pregnant and lethargic myself (only 5 weeks left now!), my mother who lives with us has had a fall and broken her hip! So all in all things are quite chaotic at the moment!
On the plus side, everyone is doing well given the circumstances, and things are lovely and rosy here with puppies playing on the lawn, foals galloping around the fields and the girls showing puppies how to dig in their sand pit. It's all quite idyllic!
Trio & Chino have had their litters and all are doing well. Orange is keeping us hanging on but due any time now. We have decided to wait and put the 3 litters all on for reservation at the same time, so depending on when Orange has her babies we will probably be looking at around the 5th August approximately. I will try to take some more pictures of the litters that are born, and will keep the website updated when Orange has hers.
06/07/2019
Trio has had her puppies! A very small litter of only 3, but mum and puppies are all doing very well. Mum has bonded immediately (which is always a worry with a first time mother), and is taking very good care of her babies, while also being very happy showing them off to us while we inspect them. We have 2 sables and one gold.
04/07/2019
Lots going on here with the girls at the moment, I think the sunshine is bringing everybody in to season! Dora's huge litter of pure cockers are mostly doing well. 9 are 100% but there are still a few more which are still small and struggling that we are doing a lot of hand rearing with, that aren't quite out of the woods yet. We will take pictures of the 9 strong puppies later today or tomorrow and will make them available for reserving DATE CHANGE - FRIDAY 12TH JULY AT 7PM (we have been so busy baling and getting the hay in with this fine weather that we have not had a chance to take pictures yet I'm afraid, so we have changed the reservation date from 9th to the 12th July) , the weaker ones we will keep hold of until they are a bit stronger. There will only be boys available to be reserved from this litter (sadly for us they were almost all boys).
On to the other girls, Trio is overdue but quite small still and not acting at all like she's imminent, still running about like normal. She is definitely in pup though so we are keeping a close eye on her as it's her first litter. Chino is looking to be likely to pup in the next week or so, again this is her first litter so we are hoping all goes well. It's still too early to say about Billy as she is quite a small and petite bitch, so will probably not show until the last minute.
We also bred Orange to Mr Fox about 7 weeks ago, but due to her not getting in pup for the past couple of years (infact she's only ever had one litter) we didn't hold out much hope, however it would appear she may have taken this time - which is very exciting! Fingers crossed for a nice healthy litter in a weeks time!
12/06/2019
Both the litters from Jingle & Frazzle have been reserved very quickly this time. If you have missed out on reserving one this time please don't loose heart, we are definitely expecting F1b puppies from Trio fairly soon, possibly a litter of F1's from Chino, we have had a HUGE litter of pure Cockers from Dora, and we have also bred both Ginger to Mr Fox for a litter (for F1's due in about a month) and Billy to Mr Fox (for F1's due in around 7 weeks).
19/06/2019
Jingle & Frazzle's litters will both be made available on Wednesday 12th June at 7pm. We will post pictures of the litter at least 24 hours before making them available. Please make sure you have read our reservations process page.
24/05/2019
Jingle had her puppies a couple of days ago, a huge and lovely litter of gold, blonde and creams. Luckily her sister Frazzle (who only had 3) has taken a few on to raise for her, & between them all the puppies seem to be thriving, which is wonderful. We will wait until Jingle's puppies are a couple of weeks old before making both her and Frazzles litters available at the same time.
On the breeding side, my lovely Mable is just coming in season. We hope to repeat her litter from early 2018 by putting her back to Rudi. They had a stunning litter of Orange & whites, Orange roans, and Blue Roan & Tans last time, 3 of which we retained (and need to add to the website as Juniors). They're stunning! We will likely retain all the female puppies from thins mating if its successful, but there will be boys available.
Dora & Trio are both looking decidedly pregnant which is exciting.
14/05/2019
Purple and Mr Fox's litter have had their pictures posted in advance of making them available to reserve, which will be done at 7pm on Friday 17th May (please see our reservations process).
Frazzle has had her litter of puppies, but had a tiny litter of only 3. They are very nice puppies though, with 2 deep reds and one dark golden. Jingle is also in the maternity ward waiting to have her puppies, and looks likely to have a large litter. We are hoping if she has them soon that Frazzle will help her rear a few, they are sisters after all!
We have had a couple of recent matings, the most recent of which being Chino & Mr Fox. This will be Chino's first litter, but she is full sister to Mocha, and is absolutely identical to her. We are hoping for a similar litter to the stunning litter Mocha produced with Mr Fox, which can be seen on the previous litters page. Trio our F1 cockapoo (who many of you will have met - she is a real character and we originally intended to train her as a therapy dog - which she would have been awesome at) has also been bred to Mr Fox for a litter of F1b's.
30/04/19
There has been lots going on here lately! As well as being pregnant again myself (22 weeks), we have just finished lambing, we have started foaling with 3 thoroughbred fillies born so far, & my youngest daughter has just had her 2nd Birthday. Our internet has also been down since last week and only come back up today - so sorry for the lack of email replies lately, and I will take pictures of Duo & Spot's litters today.
On the dog front, we have had puppies born last night, a lovely litter of a blonde and blacks from Purple and Mr Fox (pic on the planned litter page)! Sadly it isn't looking like Pinky is pregnant (we bred her to Rudi for a pure Cocker litter), but Frazzle & Jingle are both looking round & blooming, so we hope they should have litters over the next few weeks. We have had a bit of a mix up with my daughters adorable Dora... after successfully breeding her twice with Beano for a litter of pure Cockers, Tully (who's 3) decided to take her for a walk and came back without her, telling me she was playing piggy backs with Paddy (Our red poodle - Mr Fox's father)! So her litter is going to have to be DNA tested to see who the daddy is - assuming she does conceive! It is possible for puppies within one litter to have different fathers, so its quite likely we will have a few Cockers and a few Cockapoos - oops!
09/04/2019
We will be making BOTH Spot & Duo's litters available for reservation on the 13th April at 7pm. We will post photographs at around lunch time on Saturday 13th to be viewed before malking them available to be reserved at exactly (and not before) 7pm (please read the reservations process page).
31/03/2019
We have puppies! Spot and Dup have both given birth to their litters of puppies and all are doing very well! Spot had her litter on 25th March, 4 gold and 4 black most with interesting white marking with a mix of boys and girls. Duo had her litter on the 28th with 6 puppies, 3 sable and 3 gold/red, again a mix of boys and girls. We will be making the litters available for reservation around the 13th April and will give a couple of days notice before we anounce them as available (please read the reservations process page).
28/02/19
Our three chocolate sisters (Purple, Pinky & Dotty) are all coming in to season! Purple is the earliest and has (yesterday) been served by Mr Fox for a hopeful litter of F1's, Pinky will be going to Rudi for a pedigree litter of Cocker Spaniels when shes ready, and Dotty will be going to Ted for a litter of F1's. We are using all different fathers as a bit of a colour experiment to see what colours we get from crossing chocolate roan with the 3 different coloured dads, there are a complete multitude of possibilities as mums could carry sable, chocolate, gold, red or black, all of these with or without the roan/white patches! Watch this space too see if they conceive!
SPOT & DUO HAVE BOTH BEEN BRED AND ARE HOPEFULLY BOTH DUE FOR A LITTER OF F1 & F1b's ON THE SAME DAY; 25th MARCH - FINGERS CROSSED!
10/02/19
The snow has thankfully cleared!
Coco has had a gorgeous litter of sables and red/golds, a large litter of 9 puppies and only 1 boy among them! Born a few days prematurely but thankfully Mum and babies are all doing very well.
Red & Bella's litters are growing well (Red had one very small golden girl which Bella is raising for her as Bella has a much smaller litter, and while small, the puppy is showing consistent and healthy growth). We will make both of these litters available to reserve on the same day, 16th Feb at 7pm.
01/02/19
Well the snow has come down thick and fast over Hallslake again leaving the lane to our farm 6 foot under! Luckily the fire is still roaring away in the kennels keeping all the dogs, & new arrivals toasty and warm. Nutty's puppies all all thriving, 29th Jan saw the arrival of Bella & Ted's litter of chocolates and blacks, and Yesterday (31st Jan) Red & Mr Fox had a huge litter of reds and golds. Both mums are doing brilliantly so far, as are all the puppies. Red is up in the kitchen incase she needs any help with her babies, but so far shes coping very well.
28th Jan 2019
Nutty has had her puppies! Born 26th Jan, she has had a mixture of red and sable puppies, and all are doing very well! These puppies are not yet available to reserve, we will make them available around 14th Feb. Correction - Due to a few requests, we will now make this litter available to reserve from 7pm on Monday 11th Feb 2019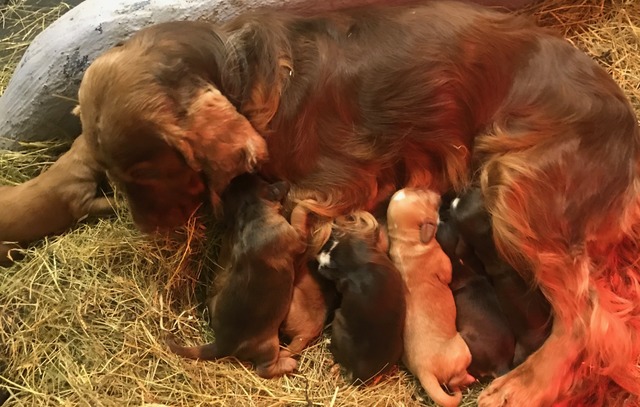 Bella is looking likely to pup in the next 24/48 hours and is nesting well. Red is absolutely huge and looking to be carrying a lot of puppies. Orange sadly does not appear to be in pup after all (and was just fat - haha) but Coco (who we believed was not in pup), infact is! Exciting times ahead!
Graham has finally had his date through for the spinal surgery he has been waiting for. Due to this we will be closing for visits between 13th -25th Feb. Collections that are already arranged will be fine, but we won't be taking any visits during that time I'm afraid.
7th December 2018
Amys (and Pumpkins) puppies are all doing very well! We had a small girl which we feared would not make it, but she is now thriving and we hope through the danger period. We have 7 boys and 4 girls, red, gold, sable and chocolate sable. All being well we hope to make this litter available on Friday 14th December at 6pm. This is a little later than normal as the litter will be nearly 17 day old, but due to them being slightly premature we just want to make double sure they are all in full health.
30th November 2018
Pumpkins puppies become available later tonight on the website! Exciting times!
Amy has had her puppies (on 28th November). She was a few days early so we were a little concerned about the health of the puppies, but she has had 10 and so far they all seem to be doing well. She has had blondes, sables and one of our elusive chocolate and cream sables! They are small puppies and she was struggling with them all a little, so Pumpkin has very kindly taken her 3 biggest ones on as her own and is raising them for her!
As I have mentioned in the past with a big group of females living together, everybody tends to ovulate at the same. This means we end up having eposides of time without any puppies followed by little flurries of 3 or 4 litters together. We have just had one of these flurries and Bella, Uno and Orange are all currently in season. All being well this will mean a few litters due to be born at the begining of Febuary 2019 ready to leave early April.
On a less exciting note, we have started clipping all the dogs in to their winter trousers (short legs and tummies). They have so much outdoor time playing in the muddy puddles this means they stay cleaner, and dry more quickly over the winter. Any visitors from now on will find the dogs looking a little less beautiful than in the summer though...
27/11/2018
Muffins gorgeous litter will be made available tonight at 7pm - Good Luck!
Pumpkin has had her litter, all safe and well.... Very similar to Muffin's litter in colour with 4 boys and 3 girls. More news about their availability date to follow but likely to be 7pm 30th November 2018 !
We would like to announce a successful breeding between Amy and Ted, with a confirmed pregnancy due in the first week of December 2018 with puppies ready to go to new homes around 1st Feb 2019 all being well - Amy is taking her pregnancy VERY seriously and is going for a world record litter size judging by the size of her. She is HUGE!! She's due 2nd Dec but I worry she may pup early due to her size, lets home not!
22/11/18
Muffin has had her Puppies (by Mr fox)! We will make this litter available on 27th November at around 7pm. Born during the day (after 3 nights of sitting up with her) on 8th November. She has Golden and Red in colour, both boys and girls. Mother (first timer) and babies are all doing well! As normal we will not make these available to reserve until they are old enough to be out of the early danger period, and we will give 24 or more hours notice. Please remember for the first 7 days after making the litter available ONLY people who have already visited us are able to ring and reserve the puppies. Pumpkin has also now had her litter, all safe and well.... more news to follow!
13/09/18
Mocha's puppies are doing very well, they all passed their vetting and had their first vaccination, and they are starting to leave for their new homes tomorrow.
We are starting the September flurry of bitches coming in season now, and have so far served Petal, & Muffin (both went to Mr Fox) and Pumpkin should be next, so fingers crossed!
Someone pointed out that I haven't updated the 'Females' page with our younger girls, which is true... I will try to do that this week! We have quite a few lovely young bitches at the moment, some of whom are coming to the age of their first litter now, including Mocha, her litter sister Chino, and Muffin. Some girls who are just over a year old Dotty, Pinky & Purple. Theres Poppy, Billy & Maggie who aren't quite a year yet, and we've kept 5 puppies from Dora's and Mable's litters who are still little! I need to get out with the camera and show them off...
25/07/2018
I'm so sad to have to tell people that after being ill for a few months, Dad passed away on Monday. He was at home with us right until the end, but there is a huge hole in the family at the moment and we are missing him and mourning for him hugely. Life with the animals must continue though, and Mocha's puppies are doing well and growing daily. She has 4 reds and 2 sables and is a brilliant mother. Summer sadly lost one of her puppies, however we have taken pictures of the 6 she has (3 boys and 3 girls) and we will be posting them on the website as open to reserve tomorrow. Zippy's puppies are out romping on the lawn now and are bundles of fluff, curls and fun, and they can't help but cheer you up when you sit with them and they all dive on you for a cuddle!
19/07/2018
Mocha is in labour! We have a long night ahead of us-keep your fingers crossed for a strong and healthy litter!
06/07/2018
Summer has had her puppies! We won't be taking reservations until puppies are around 14-20 days old, and we will give 24 hours notice before posting pictures, details and making the puppies available for reservation. We haven't checked sexes yet, but there are 7 puppies, all golds and blondes and all are looking good and strong so far! Mocha is also settled in to her whelping kennel for her first litter, due in about a week... exciting times!
26/06/18
Things are still a bit fraught here with Dad deteriorating daily, which is hugely upsetting to see. On the bright side, we have today finished foaling
for this season, we have had a fabulous crop of foals, including 1 donkey foal!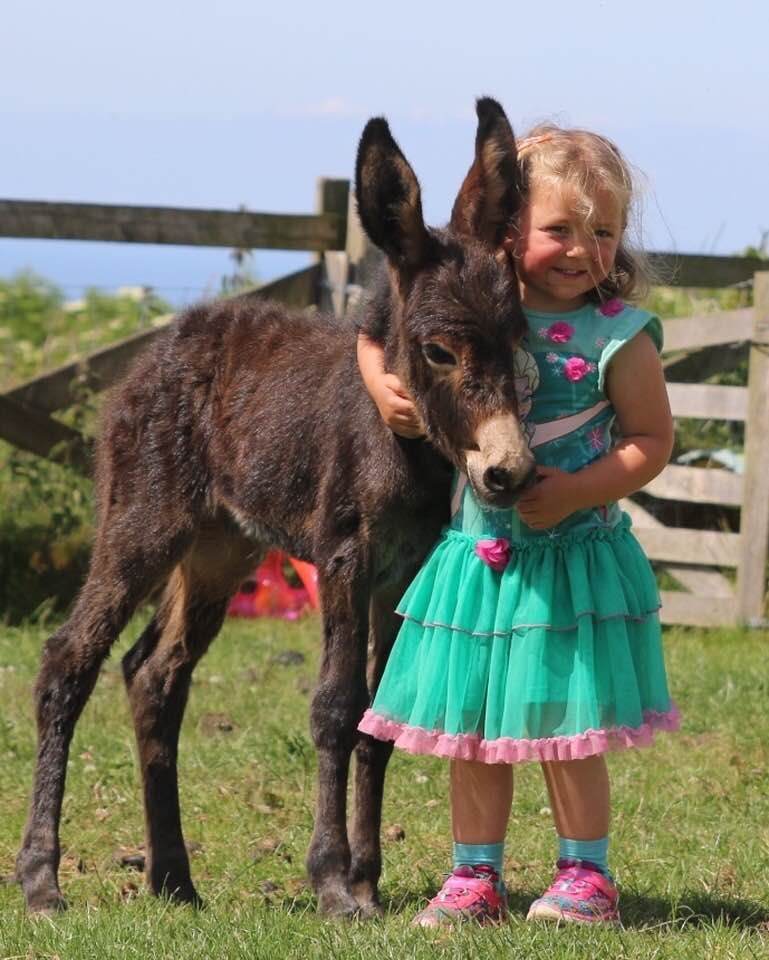 Summer is definitely pregnant, although she isn't huge so we don't expect a very large litter (last time she had 12!), and Mocha (who is one of our home bred girls, a STUNNING chocolate sable who I haven't yet added to the females page) is also confirmed in pup to Mr Fox!
30/05/18
Things are all systems go here at the moment... foaling is in full swing with 6 foals born and 4 left to go. Lots of late nights!
Dad is still hanging on, but is sadly so poorly now that he isn't able to walk without assistance, so we are trying to make the most of the time we have left together.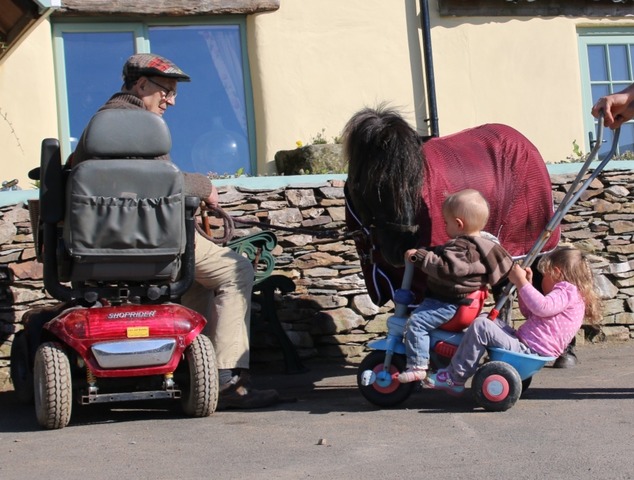 The 2 little boys from Jingles litter (Goldie & Elliot) who are going abroad at 4 months old are doing very well in their socialisation and are now happily walking out on the lead and spending a lot of time in the house.
14/05/18
Mable has had 9 puppies!!! 4 girls and 5 boys, orange roan (like Dad) and blue roan & tan (like Mum). They are all doing very well so far with none looking small or weak. We will ad some pictures of the litter at about 14 days old when they will be open for reservation. We will be keeping a couple of the girls for ourselves though.
11/05/18
Mable STILL hasn't had her puppies! We had the vet scan her yesterday just to confirm all was OK, and all is fine.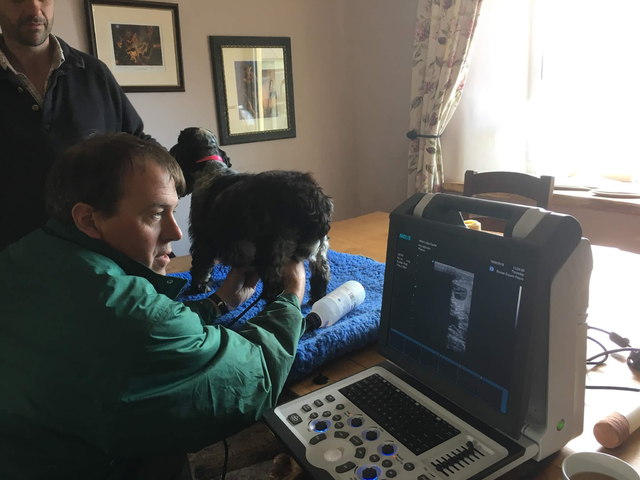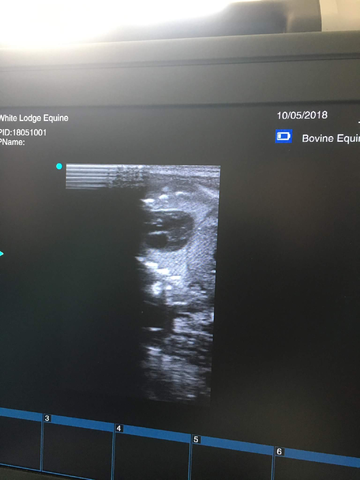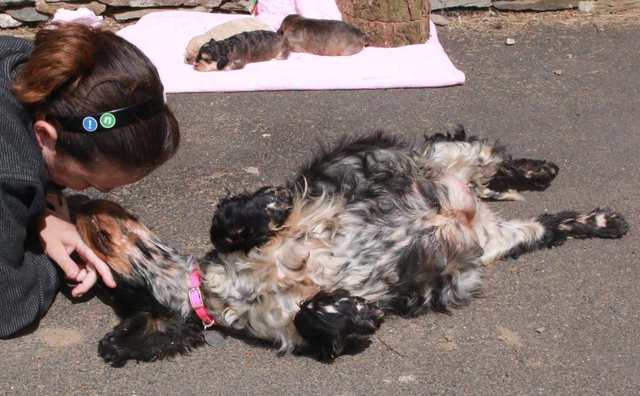 Dora's puppies have FINALLY started eating solid food (Natural Instinct Weaning Paste)! After 3 weeks of bottle rearing (and very sadly loosing 2 puppies) I think the remaining 5 puppies are now on the home straight!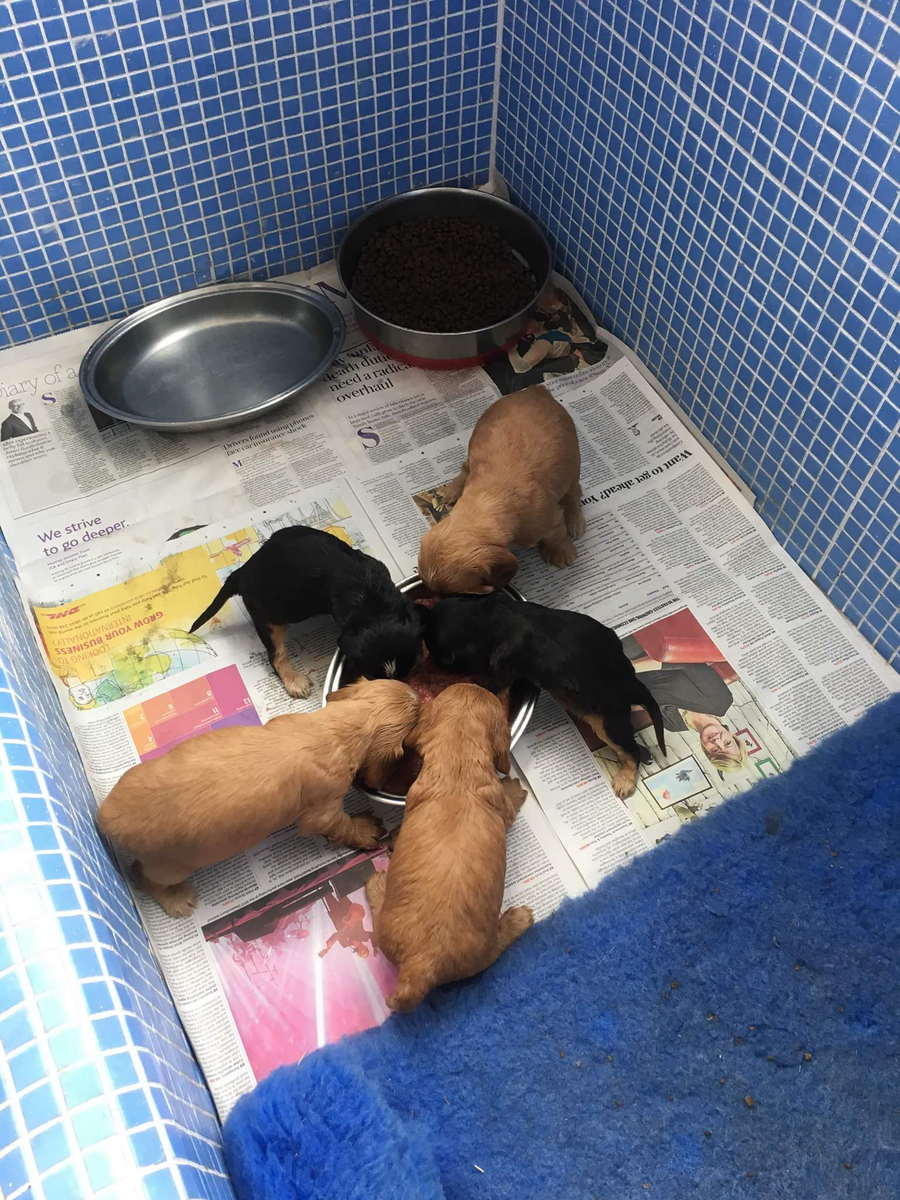 25/04/2018
Dad is still hanging in there but very poorly, and with regular trips in and out of hospital our time is very short at the moment. We have just finished lambing which went well, our mares have started foaling with 3 born so far and another 8 to go, and Purdey celebrated her first borthday last week, so it's busy times.
Dora had had her puppies, but unfortunately her teets were completely flat (they usually poke down as the milk comes) and her puppies were unable to latch on to her properly, meaning much stress, and bottle feeding, and getting up through the night for both Graham and myself. From a litter of 7 we devistatingly lost 2 puppies in the first week, but Dora's teets have finlly dropped enough that she can feed the puppies herself, so we are hopeful for the remaining 5 puppies. 2 red girls which we will keep, a sable girl (the weakest of the remaining 5), a strong gold boy and a sable boy with a lovely white blaze.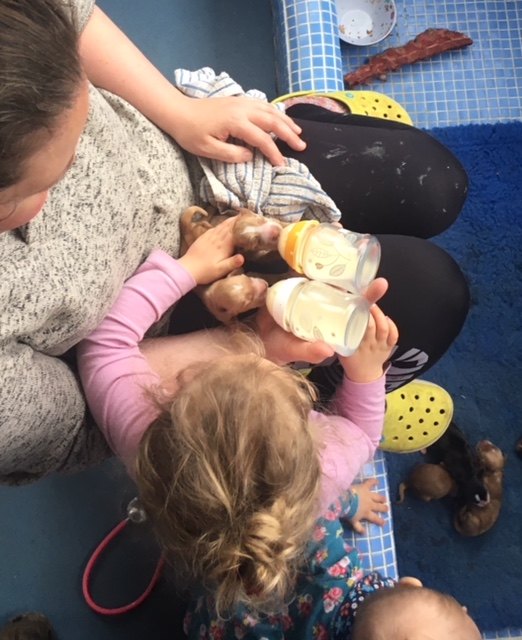 4/4/2018 - Very sorry for the lack of email replys...
Most of you who have visited us here at Hallslake will have met 'Dad' who's 90 & lives with us and works with us most days. Unfortunatley he has had a major health scare this past couple of weeks, and is trying his best to die at the moment, and we are trying to talk him out of it! I've been flat out looking after him at home, so just not had a chance to sit at the computer for long (hence the lack of reply to emails - sorry about that). He has sadly now been taken in to hospital for full medical care (heart faliure), but we are really hoping that the doctors can perform a miracle on him and he can be back with us soon. Life here without him just wouldn't be the same.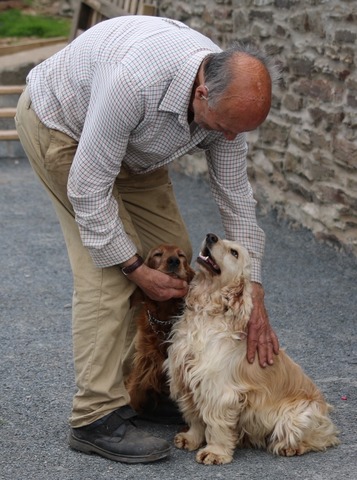 21/03/2018 - The snow is just starting to thaw...
I'm afraid our internet went down with all the snow, but it's back up now so I'll try to catch up with all the emails I haven't been able to answer. All the dogs are absolutely fine and loving the snow, particularly as the underfloor heating in the kennels is on 24 hours a day at the moment, so no body wants to get out of bed!