20/10/2023
We had a very enjoyable and informative visit from top eye specialist John Mould for our annal eye testing once again last week. I attach a quote from the invoice email. John is real treat for us to spend time with, and we are so grateful to ba able to have someone of his caliber willing to travel all the way to us for the day.
The session went very well, good to visit again. Chloe and Saskia were excellent as you predicted, and the dogs of course! Sorry to miss Cat, from what you said I would love to see her playing rugby!
Below are some pictures taken of the eye examinations being carried out.
04/10/2023
Some photographs from the summer.
Rocket practicing her ballroom dancing with our youngest daughter Clancy, below. Also some puppy lead training with Saskia and the children, and Ember looking gorgeous.
Below is the gorgeouss Elie who is in our additional socialisation training program prior to export, ready to soon be traveling to Switzerland!
Next is Frazzle our young bitch (daughter of Chips & Grand-daughter of Dora). We are hoping to qualify her for Crufts this year, We think she's fabulous, I'm sure you can see why! Next to her is Granny Dora, helping to celebrate our daughters Birthday. Shes such a wonderfully tolerant girl!!
Finally a lovely picture of one of the top class pure bred Cocker Spaniels that we breed here.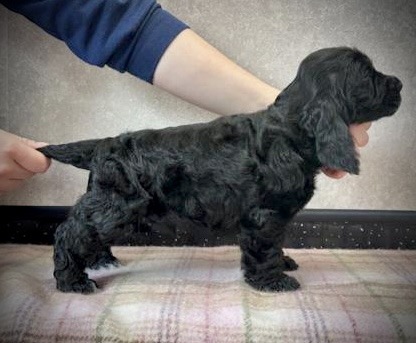 07/07/2023
We were super proud to be able to raise, train & gift one of Bagel & Paddy's super F1 cockapoo puppies to a much loved family friend, and teacher of our children, on her semi-retirement from teaching. Bertie has been a total joy for us to train in preparation to become a much loved pet, who will also hopefully become a therapy dog visiting the pre-prep children a couple of times a week. As you can see from the pictures, he is not finding the transition to the classroom too stressful! I don't think there has ever been a puppy more suited to his job!
31/05/2023
We have been having a lovely time getting some of the junior dogs out showing in the sunshine this month.
Here are some pictures of Chloe, showing Frazzle our best red bitch puppy, and Saskia, showing Kodi, a young black and tan boy who is a bit older than Frazzle, and has secured his ticket to Crufts 2024 already!
04/05/2023
Many of you will already be familiar with Chloe and her sister Saskia, who we have worked alongside for many years. Chloe has show our dogs for us, as can be seen in the great pictures with Fraser at Crufts this year. Well, we are really pleased to be able to announce that after a few years of considering it, Chloe & Saskia have this month move in to a cottage here at Hallslake to work as part of our team! We are so pleased to have them on board, their experience and enthusiasm will be a great addition. Chloe has brought some of her own Cocker Spaniels, who will be living with our own dogs here, including some fabulously bred show dogs from Italy, Serbia & Hungary! I hope many of you will come to visit and see the new faces!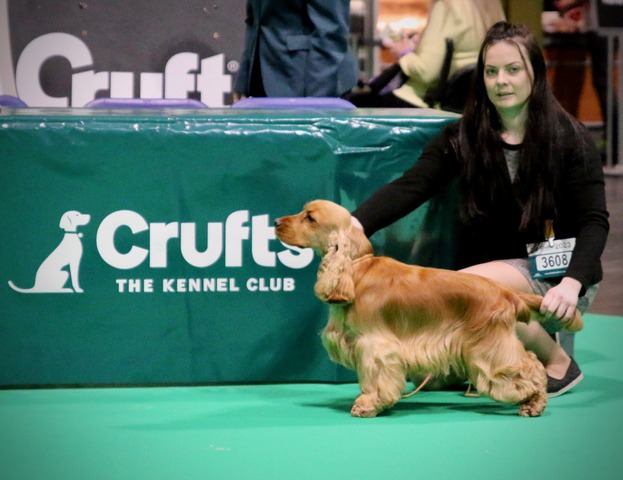 24/04/2023
I found this PUPPY Vs CHICKEN stand-off quite ammusing! The chicken won!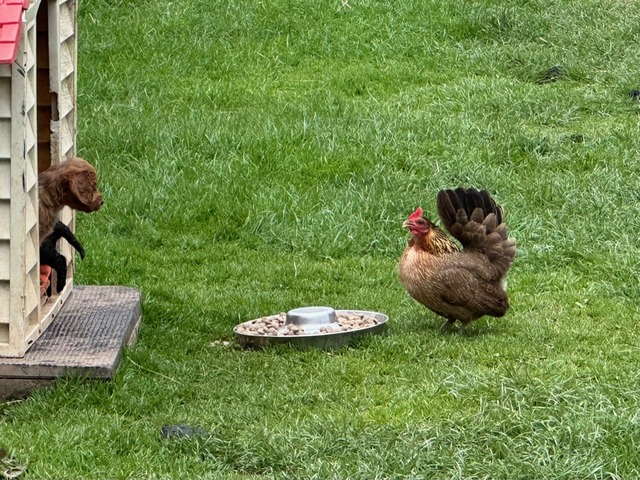 05/04/2023
Look at this old married couple having an afternoon snooze.... Dora & Paddy - True Love!
28/03/2023
Here are are the pictures of Frasers time on the green carpet! Crufts 2023!!
27/03/2023
We have our first litter of Merle Puppies bred here at Hallslake!!!! SO EXCITING!!! Well done Hiccup!!
A wonderful litter of 6 puppies with 3 solid chocolate and 3 chocolate merles!!!
20/03/2023
How adorable is this little boy boy!
08/03/2023
Firstly, I are SO sorry for the lack of updates lately! We have been so busy here with lambing, foaling, building, as well as all my normal parenting, school-runs and housewifing duties, I just haven't had a chance to put anything on the website, not to mention replying to emails... sorry! Luckily Graham has been keeping the WhatsApp going and, of-course, Graham, Cath & I are always on top of keeping our dogs happy & healthy, even if we don't find time to share the pictures! I will try to make up for the shortfall by doing an extra large update now! I hope you enjoy it.
Firstly, and very excitingly, this very afternoon, we are leaving for Crufts with our young stud Cocker 'Fraser'. He will be in the ring on Thursday 9th at 8.30am if anyone is able to watch it online. His registered name is 'Forever Rizi-Bizi Eliot Hallslake'
On a more comical note, for World Book Day this year, our children's school ran an Extreme Reading challenge, where they had to submit a photograph of themselves reading in an unusual setting.... Our girls were thrilled to participate! Purdey is reading The Scruffy Puppy while being swamped in scruffy puppies, and Tully is reading about Vikings on the roof of our kennels, with the site of The Battle or Cynuit in the back ground.
Next we have some sweet pictures of our 'keepers'. We have already introduced Frazzle in a previous post, but we also now have Rocket & Comet to meet you! They are Dora's puppies and by Fraser, who's at the top of this post. I know I constantly sing the praises of Dora, and here I am doing it again by keeping 2 of her daughters, and her grand-daughter! If you could only know the personality and true kind, gentleness of Dora, as a child friendly, true family dog, you would all fully understand why I want to get her bloodline (hopefully with her nature with it) in to all of our puppies eventually.
Blaze & Silvi from Dora & Frasers litter below (both now sold), aren't they just gorgeous?!.
And lastly.... How cool are these PupCakes?! Sent to us by the parents of Cockapoo 'Parker', who own the company! Ruby certainly approved, as can be seen by her paw beg at the beginning and smile at the end!!
So if you are looking for a Birthday present for you Puppy, or just a lovely gift, do go to their website and make an order - they're well worth it!
www.PupCakes.org.uk
12/12/2022
Introducing Frazzle! Chips and Frasers red girl that we are keeping. Isn't she gorgeous!
11/12/2022
We have thick snow up here at Hallslake, but the kennels are warm and cosy as ever.
The Cocker puppies have enjoyed their first snow experience, having a 10 minutes play outside! They all chased about and rolled like mad having great fun! We took them back inside before they got chilly, which they were very dissapointed about! More pictures to follow...
Have a look at the AMAZING Dora getting in to the Christmas spirit below! <3
30/11/2022
We just received this wonderful testimonial, and I just had to share it!
I lost a four year old beagle to inherited epilepsy which was a heartbreaking experience. I decided to replace the gap in my life with a cockapoo. I searched adverts and found so many for sale but found people were breeding from their pets with friends pets so there would be no knowledge of compatible matings. I was anxious not to repeat any dreadful inherited conditions again. I found Hallslake and I can honestly say I have never seen such a well run breeding kennel with well cared for happy dogs. I stopped my search and decided that however long it took I would wait until I could obtain a Hallslake puppy as they do every thing possible to raise healthy confident pups. Apart from the impressive quality of the breeding stock, the fact that all the dogs are screened for health conditions was very reassuring and with my past experience essential for peace of mind.
It took five months until I managed to secure a bitch puppy Rio/Mr Fox. The wait was well worth it and Tia is an absolute joy. She is clever, trainable and has a very kind temperament. Added to that she is a very good looking dog and is admired wherever she goes. She has had a character based on her in a series of childrens books and is Tia the Fairy Dog Mother!
I would like to thank all at Hallslake for my companion and best friend.
26/11/2022
OK... I can't be sure of the success of this, but we are attempting to join the modern world, and posting a video! I hope it works.... Here goes!!
24/11/2022
Sneak-peak of Rainbow Dash's new litter!!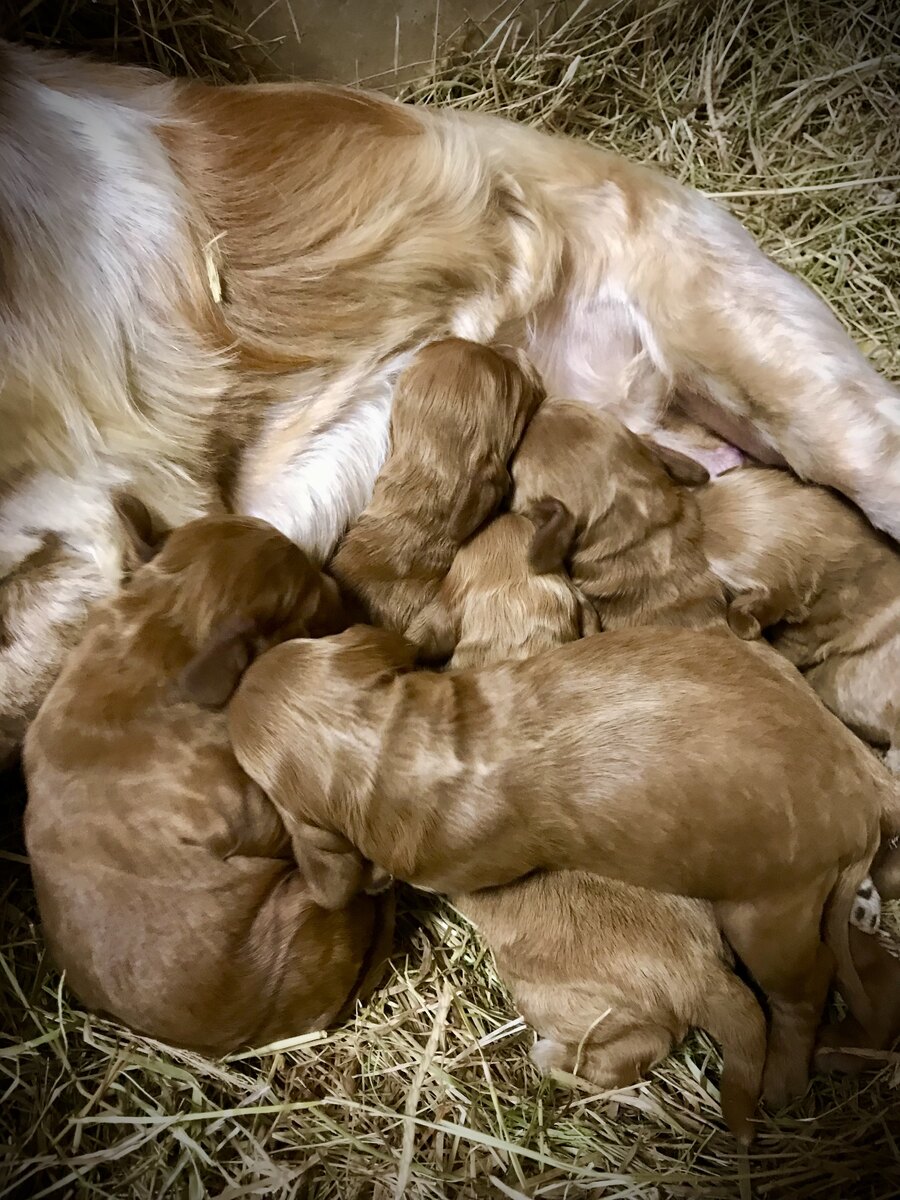 26/10/2022
I have just updated the 'Available Now' page.... but here are a couple of comedy out-takes of what happens when you have big ears and the wind blows!!
We have exciting and interesting news...!
The subject of the 'Merle' colouring in Poodles is topical, and The Kennel Club don't accept the colour as part of the breed standard, and it is without doubt that the colour must have been infused many generations back by crossing another breed to the poodle bloodline to gain the markings, however, they are now fairly well established within the breed. Late last year we served a totally stunning merle poodle bitch for a customer with our chocolate boy Willy Wonka. The litter which followed was interesting to me as I have never had anything to do with Merle before, and the puppies were really shockingly gorgeous!! As a result I just couldn't resist keeping the pick of the litter, a chocolate merle boy who we have appropriately named 'Hiccup! We just adore him, hes hilarious, bold, brave, playful and absolutely gorgeous in his unusual markings! So here is our new boy 'Hiccup'!
13/09/2022
We have just finished out annual eye examinations, which is always a huge job! We were incredibly lucky to be able to have John Mould RCVS Specialist in Veterinary Ophthalmology come to visit us directly here at Hallslake to inspect all the dogs. He is a very highly acclaimed ophthalmic specialist and was incredibly thorough in checking for any potential problems. We always try to be above and beyond the expectation here at Hallslake, so making sure all the eyes are spot on (for girls as well as boys) is just one extra thing we can do to ensure everything is as good as can be both for our dogs here, and their future puppies.
05/08/2022
NEWS FLASH!!
We are often being asked about litters of PURE COCKER, but we very rarely breed them. I can confirm though, that we have mated Lego's full sister Yasmin to Fraser for what i expect to be an OUTSTANDING litter of Show Quality, Show Type Cocker Spaniels! If conception has been successful we should be looking at Orange, Red or Gold (with or without roan) puppies being born on (or around) 1st October! Keep your fingers crossed for them!
Picture below is Lego & Fraser at a show recently.... Yasmin is every bit as smart as her brother, so this litter is really of great excitement to me as we will be keeping the pic of the litter for showing ourselves!
03/08/2022
In the early hours of this morning Apple Jack welcomed her babies to the world! A lovely strong litter of 7 gold and red puppies. She's being a fabulous Mum to them and is very proud to show them off to us!
20/07/2022
I have just added pictures of our very first Poodle litter to the 'Available Now' page! Exciting to have something different here at Hallslake, and my girls adore them!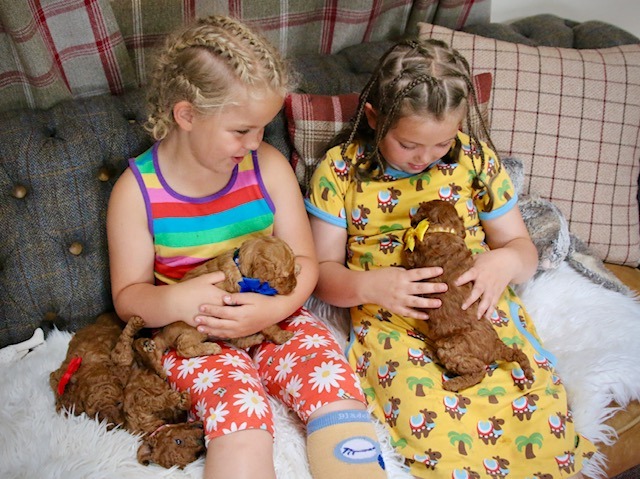 Just for fun I'm also adding a picture of Robin who was very upset at not being included in the photo shoot of Shutterfly last week! He's got some bounce!
Also in the News this week, although not directly related to Hallslake Cockers.... Our boy Joe (who breeds & shows Whippets) Judged his first show last weekend, and did a great job. He's pictured below (looking very handsome) in the middle - we are very proud of him!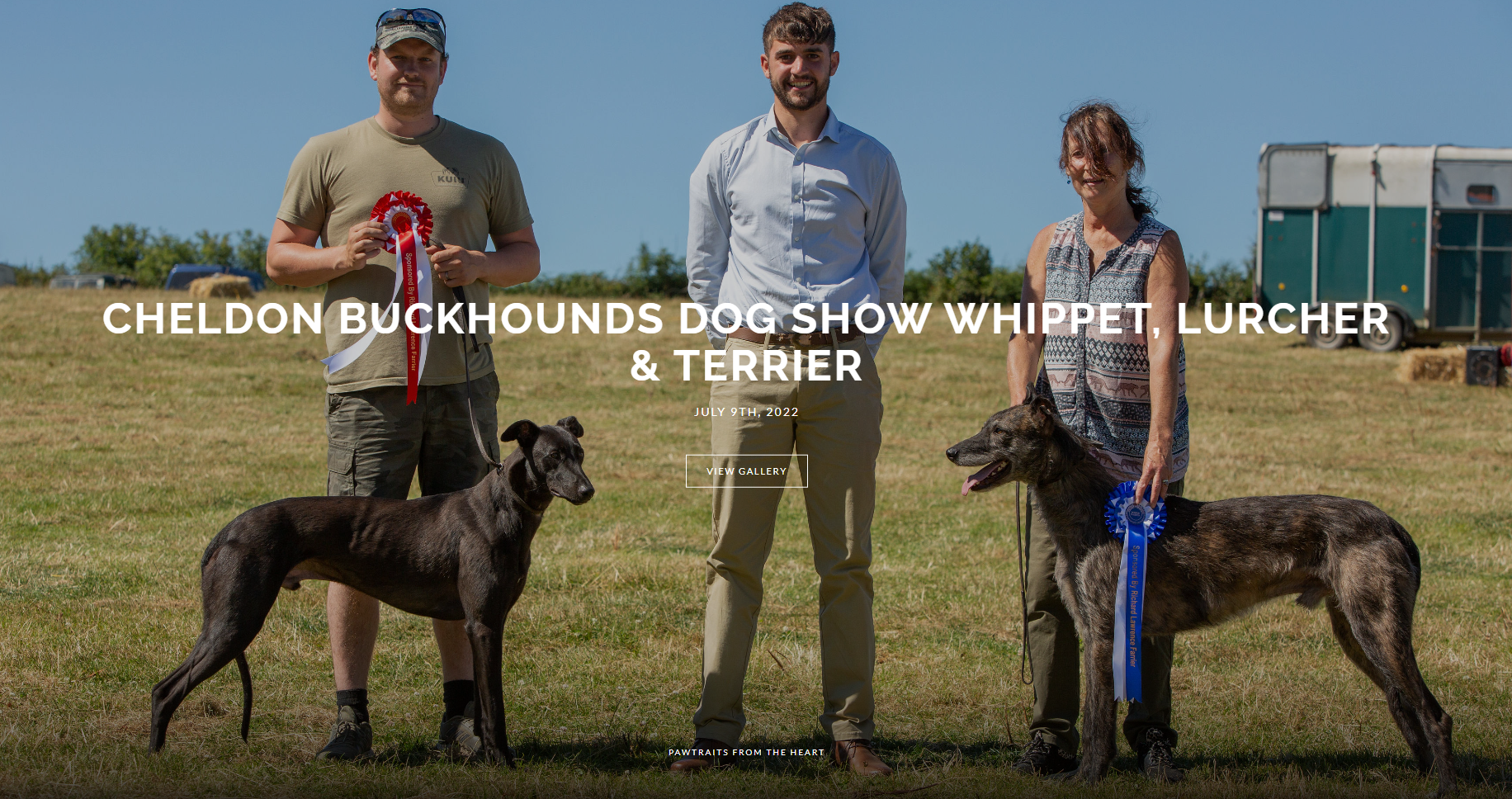 04/07/2022
We had a wonderful day at Devon County Show (apart from a lot of rain early on leaving the dogs coats a bit frizzy despite our hiding under a lorry tail lift!!!) with Chips, Lego & Fraser. The dogs all behaved beautifully, and all received placings in strong classes!
17/05/2022
A couple of comedy out-take pictures from Gingers litter today! It was sunny, but VERY WINDY!! There are nicer pictures under the Available Now drop down menu :)
09/05/2022
Just look how perfect these boys we have available from Peas litter of gold&red sable F1 cockapoos are! This is the last litter we will be having from Mr Fox as he has now been castrated and is off to a new sofa as a pet! When our boys or girls have had 4 litters, or if they give us the feeling they don't enjoy being a Mum , we offer them to homes as pets on a permanent loan basis. This means that technically we still own them (so they can never be sold on, or be at risk) but they are available, for free, to very loving and carefully chosen homes, where they can be spoiled and loved for the rest of their days. If you would be interested in permanently fostering one of our girls, (or occasionally boys), please do get in touch, and we will discuss each of our dogs personalities to see if you are suited.
26/04/2022
We just took some lovely and quite comical pictures of our stud Cocker Lego that I thought I would share! I've also updated his stud page.
Looking exceptionally handsome in the first picture!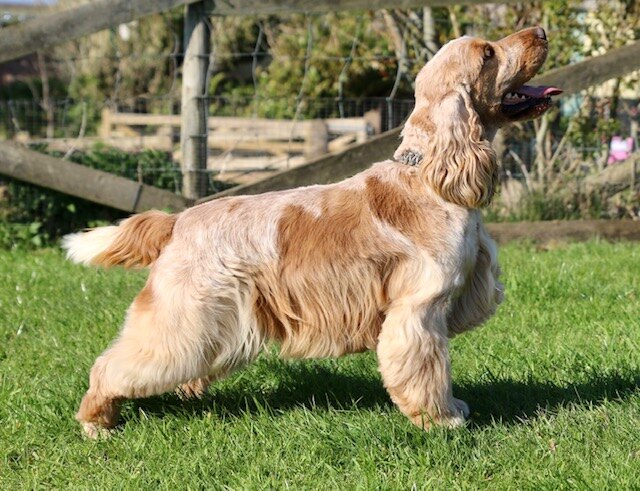 Then this is the 'Hover Dog' edition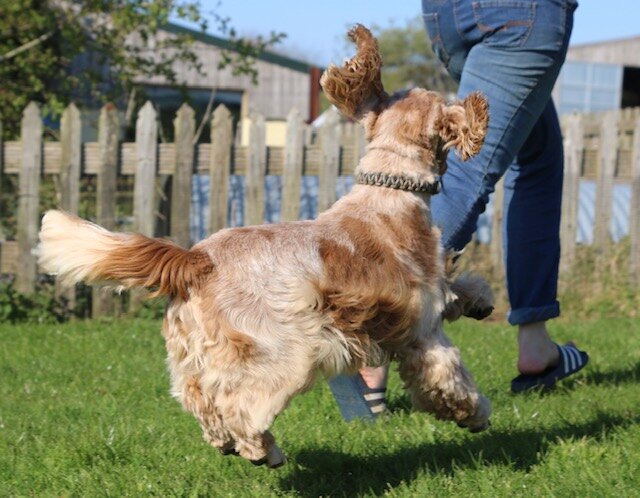 followed by the 'is it a rabbit, is it a kangaroo'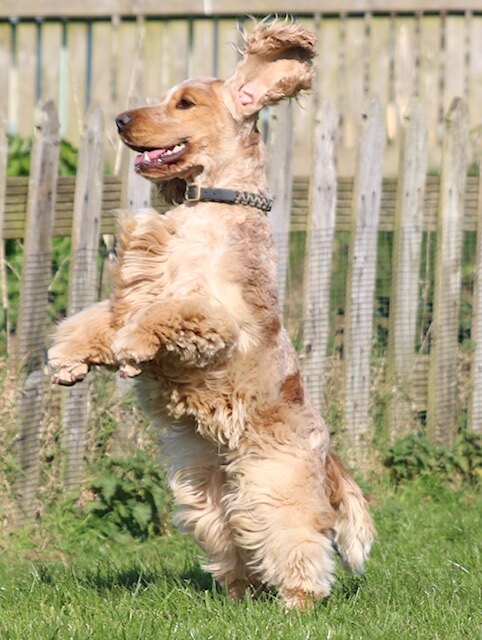 then back to the 'good dog' pose with with his favorite person Cat!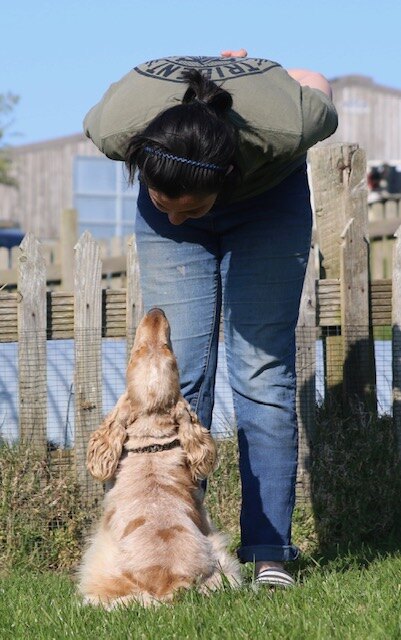 And while I'm adding pictures, here's two adorable chocolate boys of Bella's!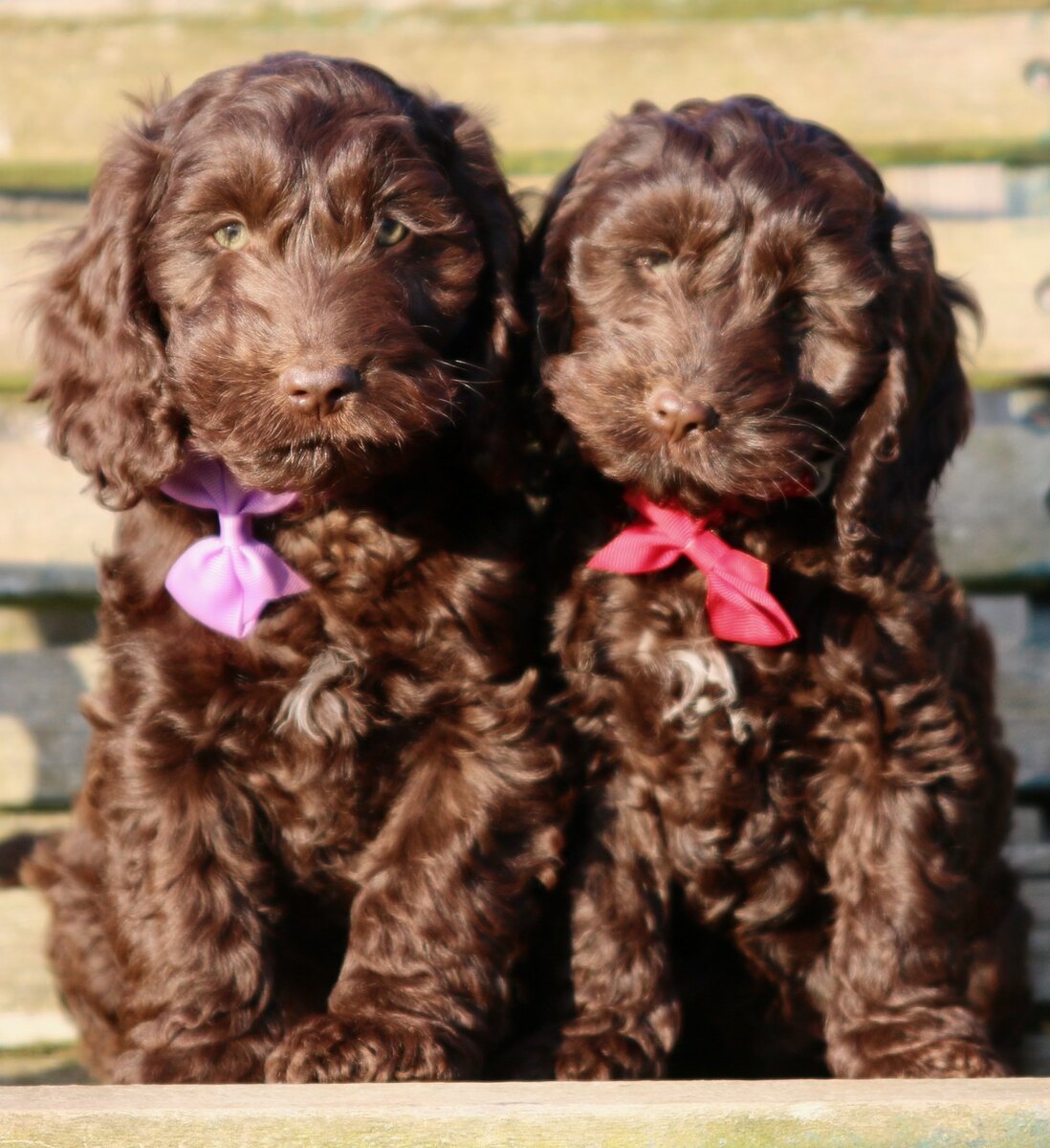 21/03/2022
How adorable are Amy & Peas with their new babies!
19/03/2022
Just received this lovely review of Jacqui (see out Training & Support page)!
Hi Liz and Graham
Following a recent visit to Jacqui, please find review below which Graham has kindly agreed to put on your website
We were referred to Jacqui after contacting Graham about a barking issue we had with our 6 month old cockapoo. Training was going really well but he had become anxious around other dogs which was something we wanted to address sooner rather than later.
Jacqui was so welcoming both to us and our puppy. She has a very friendly manner and we found her easy to talk to.
She not only gave us the tools to give our pup more confidence around other dogs, but some other useful training tips. We started to see results from day one!
We can't recommend Jacqui highly enough for her professionalism and caring attitude. We wouldn't hesitate to ask for her help again in the future if needed. Thankyou Jacqui.
Thanks again Graham and Liz for this training, very much appreciated for your continued support. Bailey is doing so well and we absolutely adore him.
Many thanks...
14/03/2022
Lots going on here at Hallslake, including 2 super litters born to Peas and Amy, and Bella's litter is just coming it to the really sweet age where they can wobble about and really start to be interactive. I do love the chocolate cockapoo colour!
On the home front, Dora has been demonstrating her amazingly tolerant character once again, this time by going to school with Tully on World Book Day as Little Lamb! All the staff and pupils though she was amazing (which of course, SHE IS)!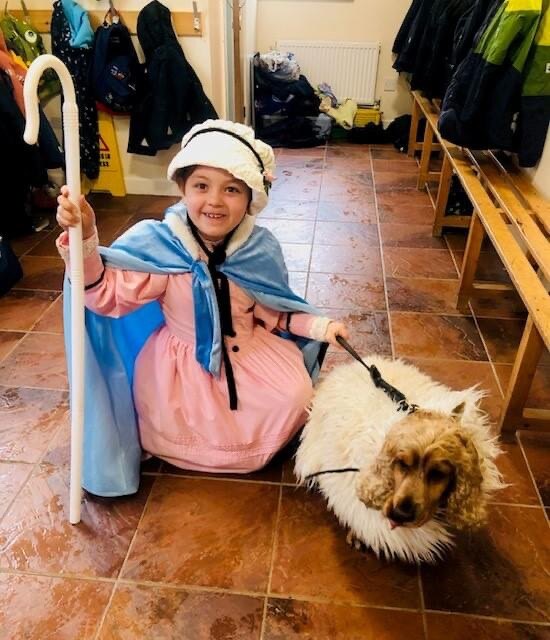 I've added a few pictures from some of our recent walks, as normal, our dogs are much easier to pose than our children!
Below is a picture of Paddy (my all-time favourite poodle) looking particularly handsome, with his wife to be Bobbin. Bobbin is my one and only pure poodle female!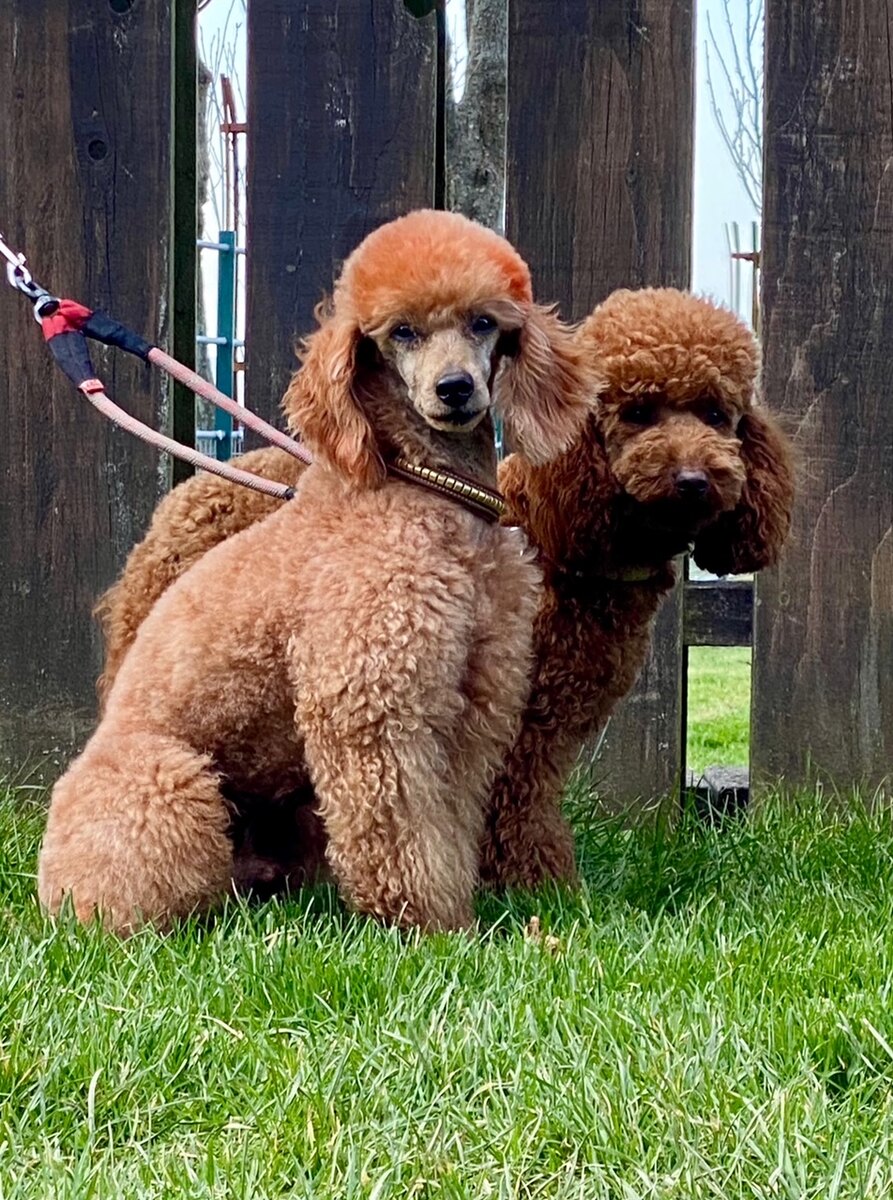 13/03/2022
Not directly relevent to Hallslake (now Joe is all grown up and doesn't live with us anymore), but very proud to share these pictures of Joe Mugleston with his whippets Finn & Blaze at Crufts this week!
17/02/2022
Bella has had her puppies, but a couple are very, very small! There are 6 chocolate and 1 cream, and they're mostly boys. Fingers crossed they will all make it through these critical early few days. We are supporting them every 2 hours at the moment, so keep your fingers crossed they will all be ok. Pictures to follow....
On a different note, we are absolutely thrilled to have established a great dog-training opportunity with local dog trainer (and good friend) Jacqui.... Read more about it on the TRAINING & SUPPORT page!
Finally.... a quick picture of Fraser, he is looking better and better all the time! Soon for some shows!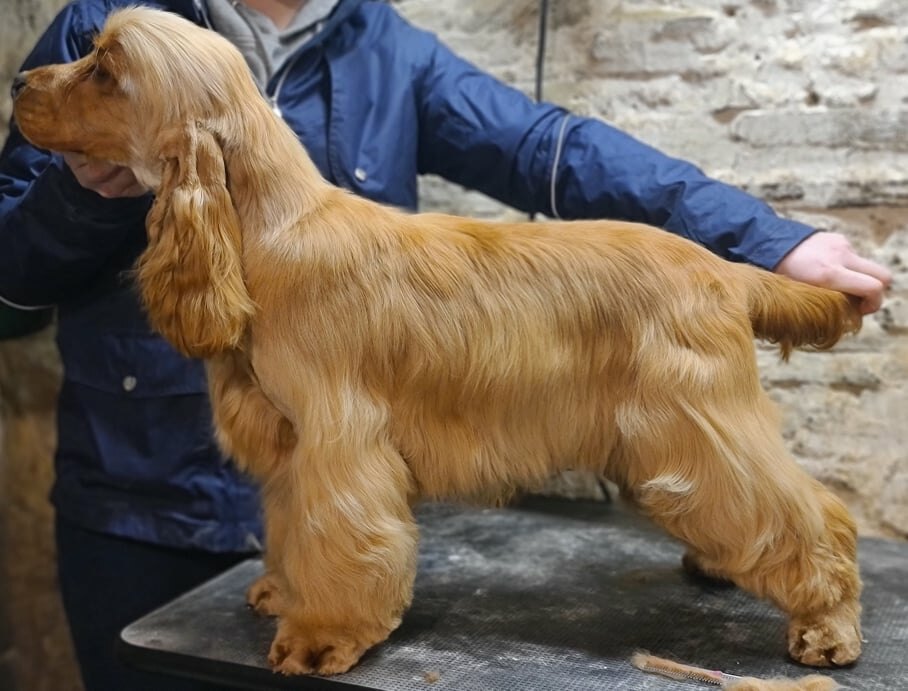 15/02/2022
We just received this lovely email, and we wanted to share it as it made us smile!
Hello Liz and Graham, long time since we last spoke, just a short email by way of an update. We hope both of you and your family are managing to keep well and safe - the last two years have been very challenging for us all.

Below is a photo taken late last year of Tiggy. She is 4 years old today (product of Peppa/Mr Fox - 10/2/2018) and has been the most beautiful addition to our family since we picked her up from you almost 4 years ago (lots of snow and bad weather I remember). We thought you might like to see how she has grown up.

The best advice you gave us was to make sure we thoroughly socialised her at a very young age - which we did. She is now very well known and adored in all the main shops in Plymouth - she even has her own fan club in Waterstones in the shopping centre!

What a character, it is amazing how she understands a very large vocabulary, and it is as though she wears a 'wristwatch' - her daily timing for things such as teeth cleaning sticks and when we should be going to bed is incredible.

She loves long walks on Dartmoor and when she runs she reminds you very much of Mr Fox.

Interestingly, a year or so ago, I spotted another Cockapoo running around on the Hoe in Plymouth who also reminded me of Mr Fox in gait. When speaking with the owner, she confirmed that indeed Mr Fox was the father and she also spoke very highly of you guys - small world.

Tiggy is still as lively as ever and loves to charge up and down our hallway with a 'squeaky' toy in her mouth - and her back-end/tail never stops wagging!!

Hope you didn't mind me sending this - we wish you all the very best as spring starts to appear on the horizon and hope life can soon get back to some sort of normal.

Best wishes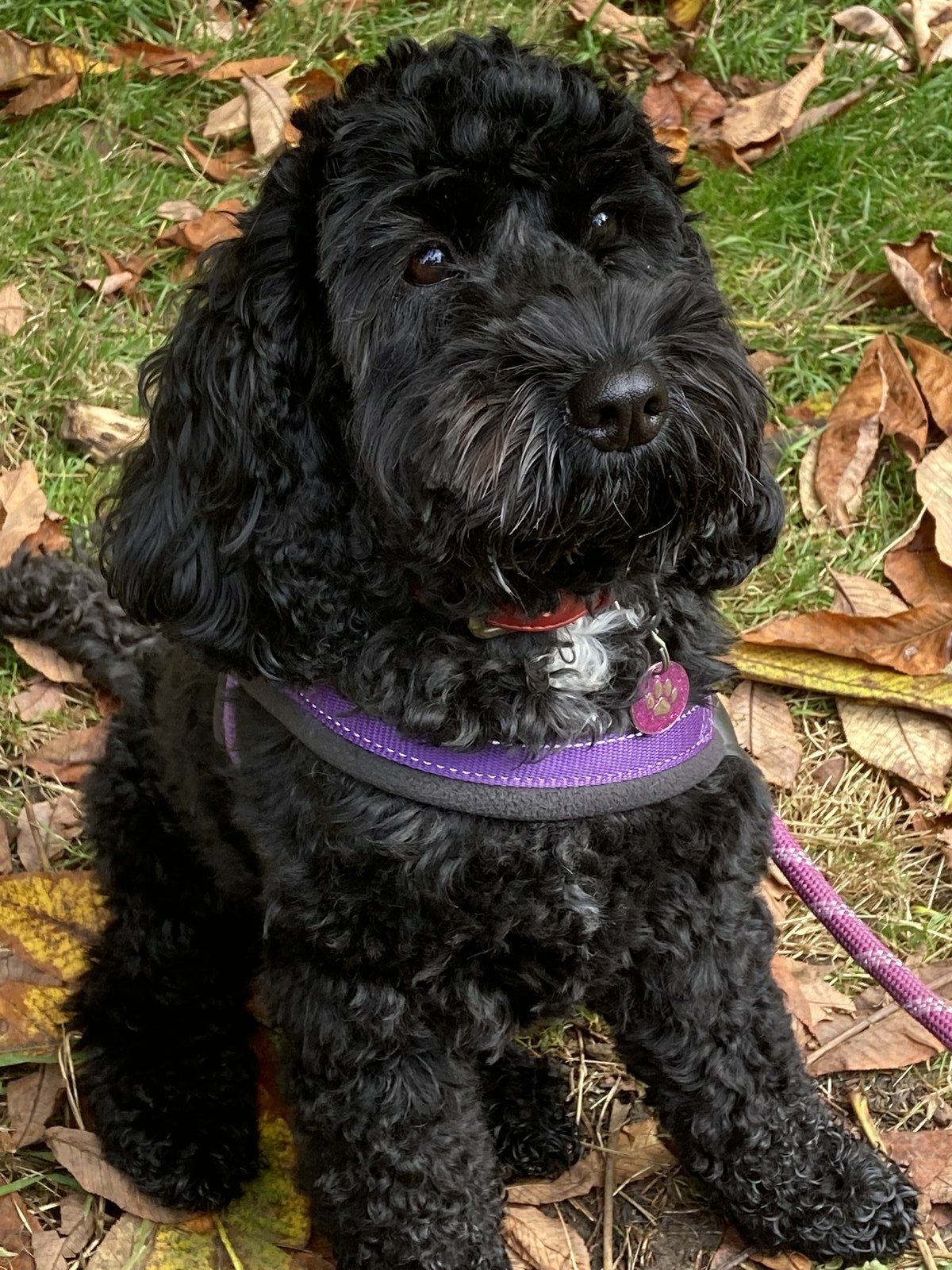 22/01/2022
We are very pleased to have 3 of our gorgeous girls hopefully pregnant for the Spring of 2022. This will be the last litter for Amy, she has always bred just the most wonderful litters of mixed gold, red & sable puppies. Amy is Dora's sister and has the same amazing kind, calm and gentle nature which she passes on to her puppies. Bella is our pint-sized, perfect little chocolate girl, who when paired with Willy Wonka will have a lovely wavey box of chocolate puppies. And finally the golden girl Peas, who has been bred with Mr Fox for a litter of gold and light red puppies. Exciting times ahead!
On the home front, over lockdown we bred some absolutely beautiful pure cocker girls by Lego, which we have kept. They are growing in to absolutely stunning girls, mostly Orange roans and a couple of reds. I will soon add them to the FEMALE page. We also have a very exciting new Cocker Spaniel boy called Fraser, who I have been lucky enough to be able to import from Hungary. Fraser has international showing champions on both sides of his pedigree, and we hope to get him out showing himself, before using him as a stud on some of our onwn girls here, for a few litters of Pure cockers in the future. I'm super excited to be able to cross him on to Lego's daughters when they're all old enough, as this will be a mind blowingly gorgeous cross in my opinion! In the mean time though, I hope to get him qualified for Crufts 2023! Watch this space!
His expression in this picture is 'I can't believe you are taking a photograph of me wearing this ridiculous hair band'! Haha!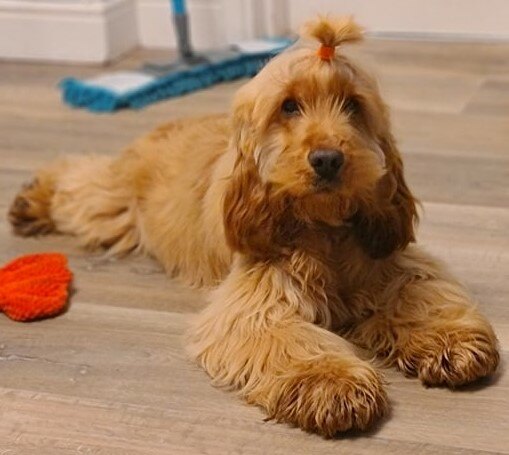 12/01/22
NOW IN FANTASTIC NEW HOMES!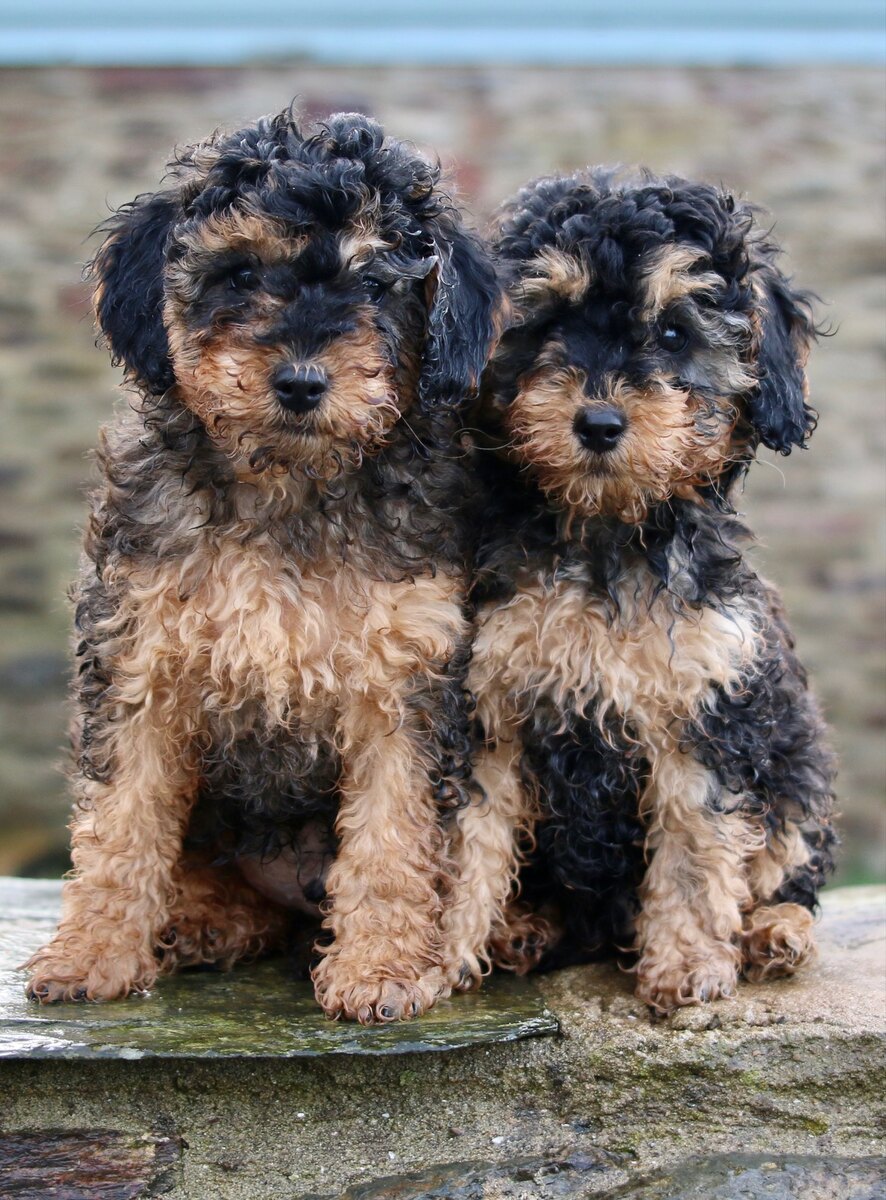 16/12/2021
All is going really well here at Hallslake in the run up to Christmas. We have the puppies at their loveliest age (in my opinion) at the moment, where they are out of bed and playing but still very cute a wobbly, and everything is a new experience for them. It's a lovely time to share with them as we try to expose them to as many different things, sounds, textures and places as possible without frightening them. In short it means lots of puppy cuddles! It's a tough job!
We are happy to confirm that the much coveted Muffin is heavily pregnant to Paddy for a litter due just before the New Year, for red and gold F1 Cockapoos. Mocha is also due for the end of Jan all being well, and should hopefully have reds, deep reds and sable F1 Cockapoos. Lots to look forward to!
Here are some lovely pictures of the goings on here at the moment!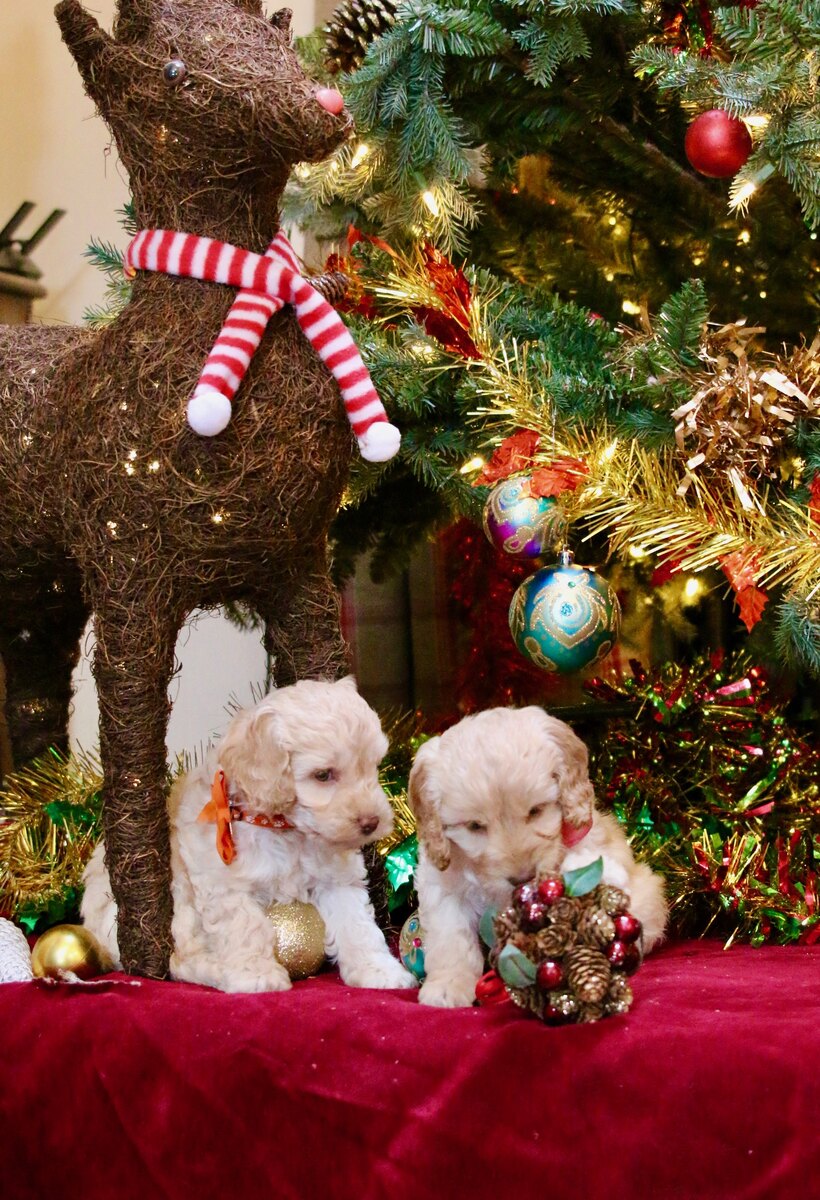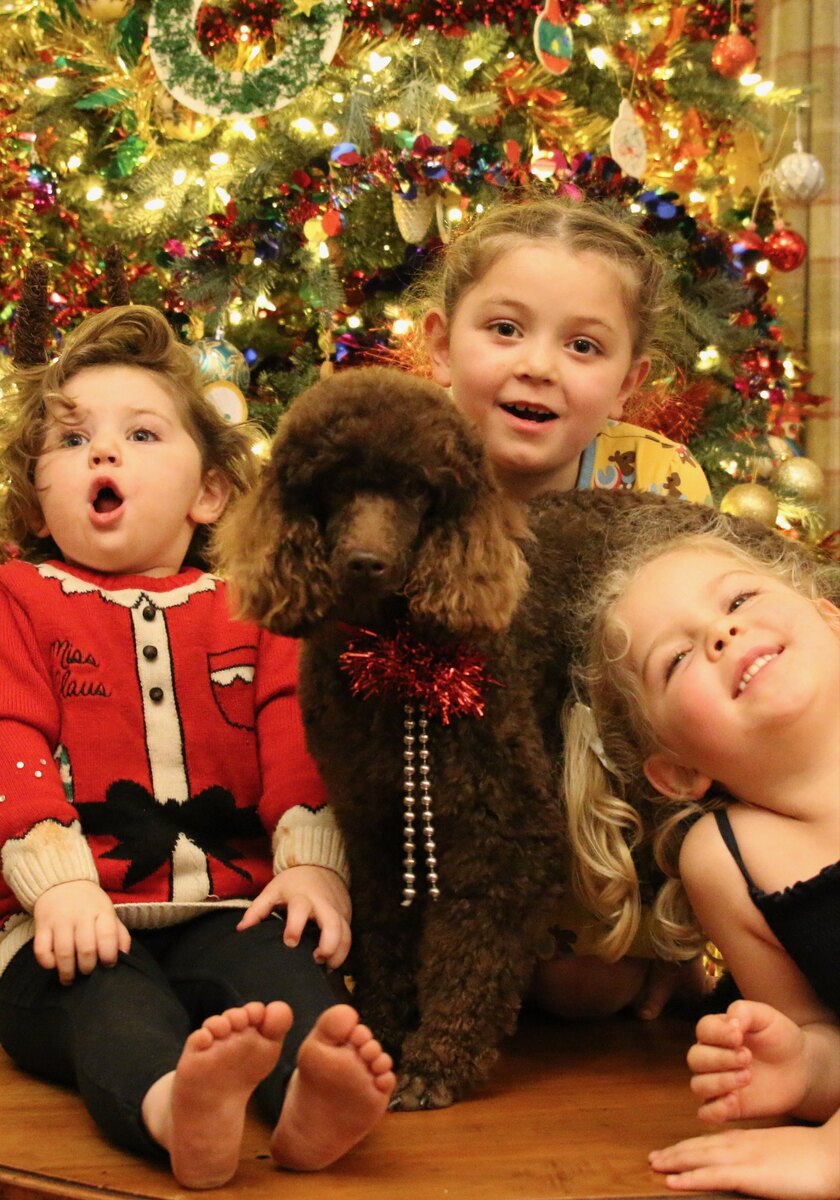 Clancy is singing Christmas carols incase you were wondering about the funny face - hahaha!
Willy Wonka and my girls.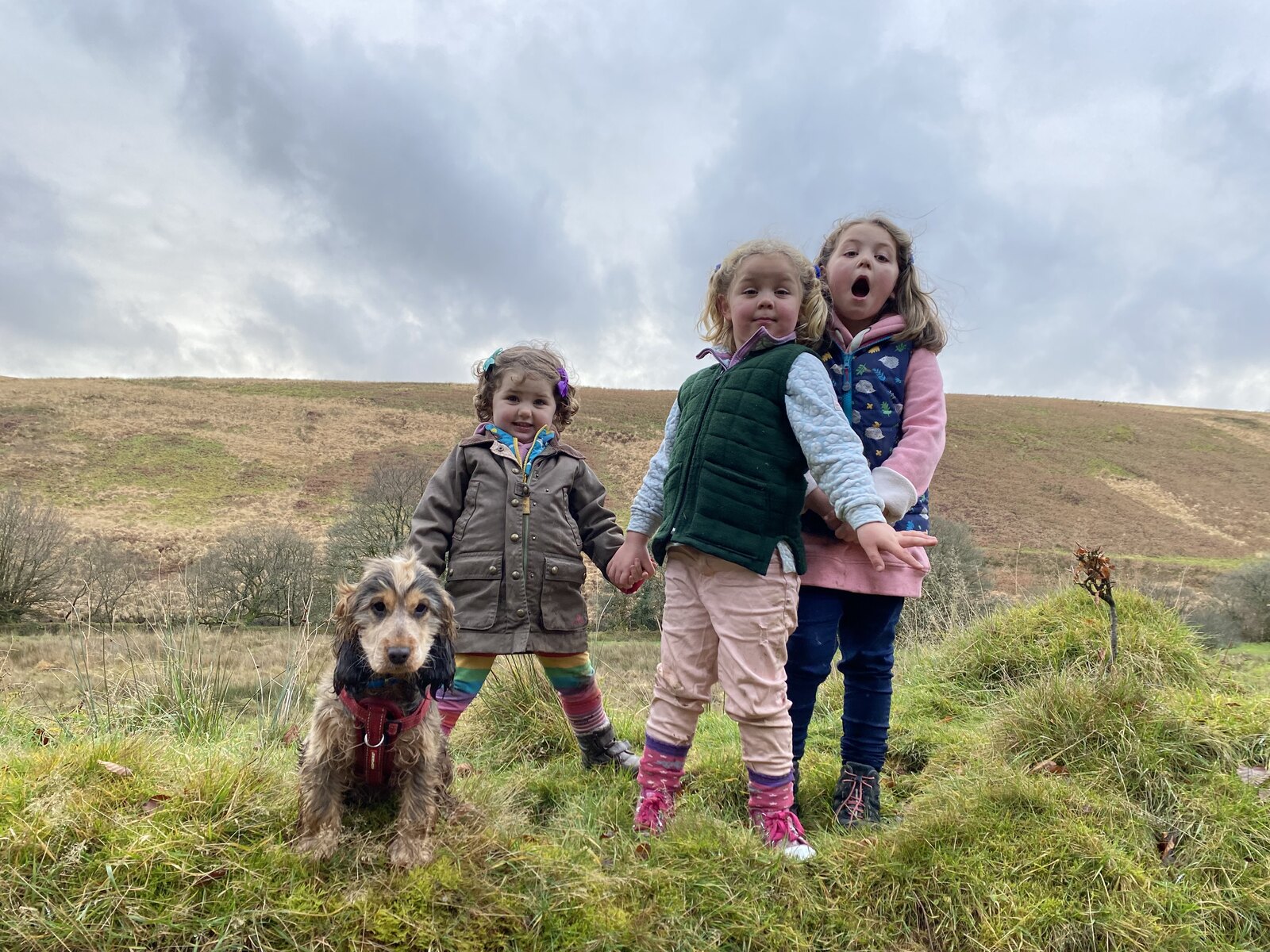 I'm much better at positioning our dogs for a nice picture than I am at our children!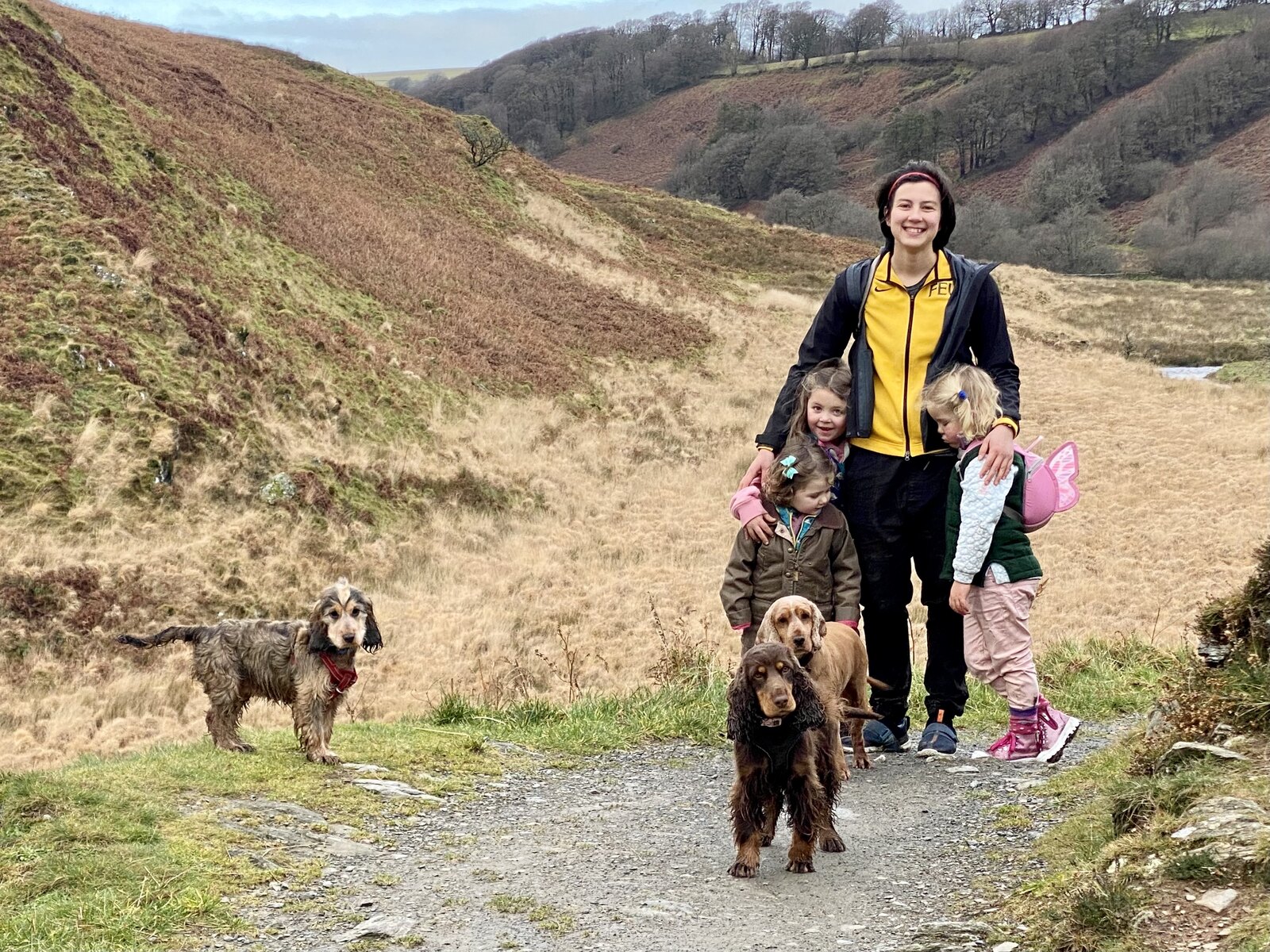 Bracken, Cashew & Dora with Cat and my girls walking at Simonsbath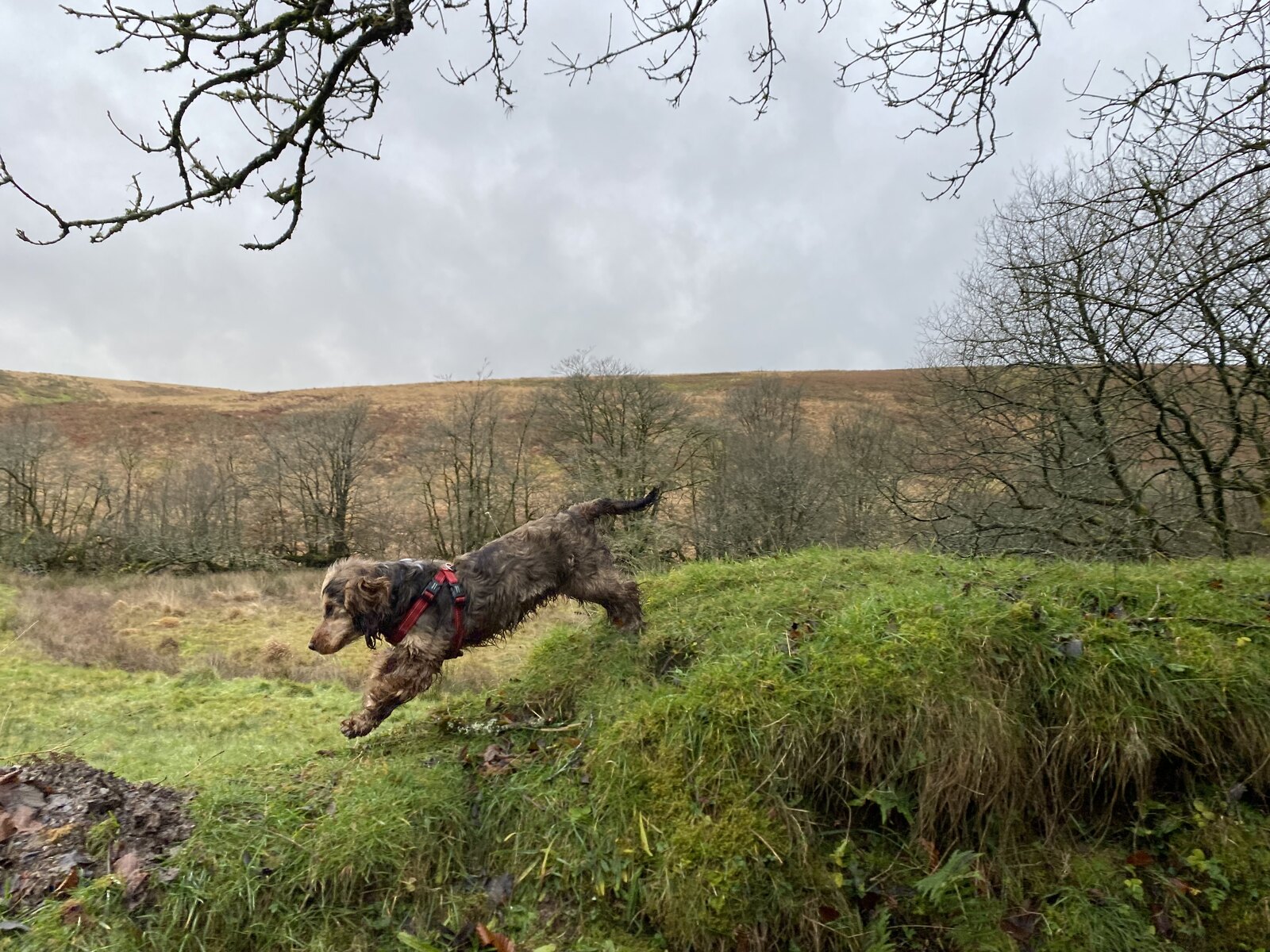 Cashew (Waffle x Lego)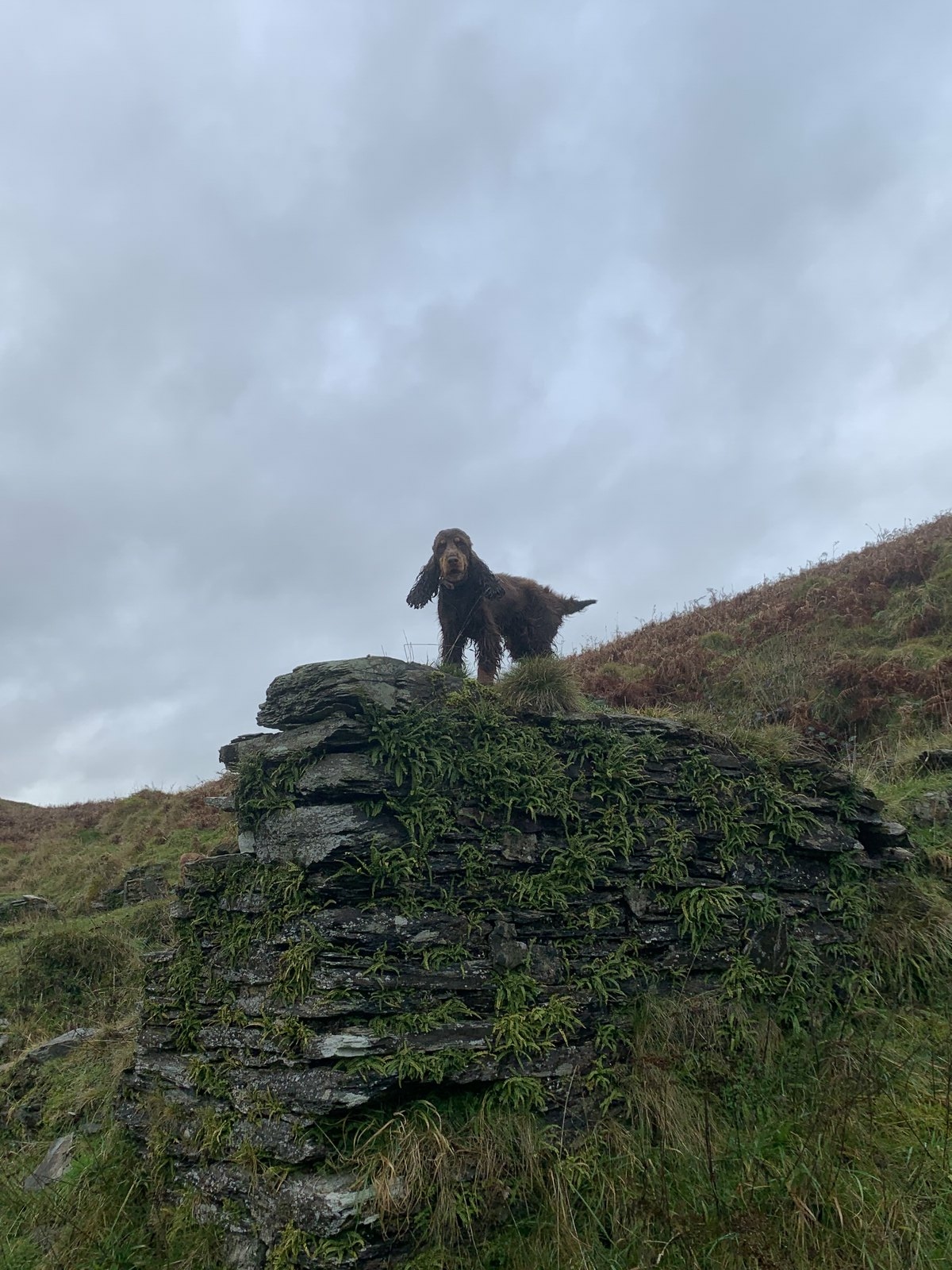 Bracken (Pinky x Zulu)
12/11/2021
We have been busy in the maternity unit this week, with a gorgeous litter of of Reds and Golds born to Scampi & Paddy, and a litter of F1b's from Uno & Willy Wonka that as well as the lovely expected chocolates and chocolate sables, also, surprisingly, contains 2 blond / cream puppies!
We have a few hopeful pregnancies including every ones favorite, Muffin!
We have also made a fairly big decision, in that from 1st Jan 2022, we are going to offer free delivery with our puppies (we would still love you to come and visit us and your puppy in person prior to delivery) - have a read of the Delivery page for more details!
I've added some recent pictures for interest, they include woodland walks (with Paddy sporting some very fetching fake blood on his coat from Trick or Treating, and Purdey doing a bit of puppy socializing using the 'cuddle technique'! :)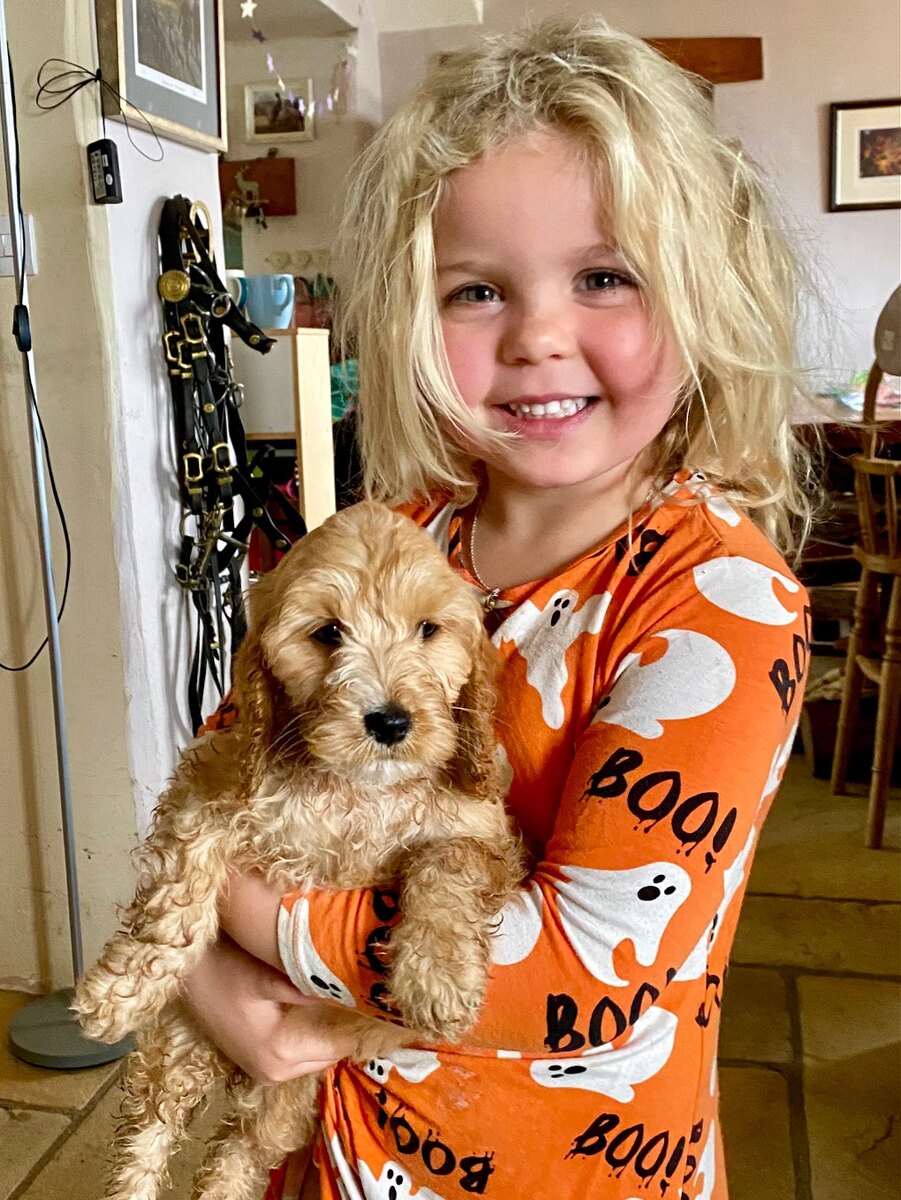 18/10/2021
Well I can finally say, that apart from a few snagging jobs and a little bit of concreting, the kennels renovation is finally done, & we are thrilled with the finished result! We now have absolutely the best that we could possible provide for all the dogs, and really feel we have gone above and beyond to keep everyone as healthy and happy, both physically and mentally, as can be. We are welcoming visits if anyone would like to come and meet the dogs, both prospective puppy parents, and also those who had puppies through Lock-Down and didn't get the chance to have the full tour!
We do have availability on a gorgeous, curly litter of F1b cockapoos from Red and Paddy at the moment, they are light red / gold, and there are 2 boys and a girls available. They will be old enough to leave from 1st November.
23/09/2021
What a lovely Summer we have been having! The weather has been good enough that the puppies have been out on the garden most days, playing in the grass or digging the sandpit up! Lovely!
We have a super litter of pure bred cockers at the moment, one of which we are keeping, and the girls have named her Hallslake Golden. She's super quality and we hope to do some showing with her in 2022. We also were persuaded by Tully, my oldest daughter, to keep one of the cockapoo girls from her own dog Dora's litter, who were born back in Spring. So we are also welcoming Ruby to the household. Ruby is a deep red F1 cockapoo by Paddy, and as you can see she is absolutely gorgeous!! It's always nice for our visitors to be able to see how our Cockapoos look as they grow up, so we thought we would use Ruby as a bit of a photo gallery of how cockapoo puppies mature through their first year. This isn't a terribly helpful first picture, as she was too tired to pose, so just flopped! Haha - she is gorgeous though!
On the availability side of things, we have had a few recent breeding taken place, and although its too early to confirm anything yet, we do hope to have both Red / Gold, and Chocolate / Chocolate sable F1 cockapoo litters available at the end of October & November - fingers crossed!
07/08/2021
We have a lovely litter just born (5th Aug) by Chocolate Pudding! 9 gorgeous curly boys and girls by Willy Wonka. Some solid chocolate and some of my personal favorite cream and chocolate sables! I will post some pictures on the 'Available Now' page, but they are only a taster as they are still too young to be reserved. My younget daughter was so excited to meet the puppies that I couldn't resist taking some pictures!
All else on the farm is going well, the kennels rebuild is very nearly complete now. The final touches are just dragging on and taking forever to complete, but we feel we are done enough to welcome farm visits again, so long as you are prepared for everything not being quite as perfect and complete as it will be in the end. We are thrilled with how well the project has come together, and really do feel we have provided our pack with the very best in creature comforts. If you would like to come and visit, anytime saturday or Wednesday afternoons, are the best days for us. Just give Graham a call WhatsApp or email Nettie to book a time so we can keep everyone socially distanced.
I took this funny picture of Dora & Bubble (my older 2 daughters dogs) hiding from the rain today, and though I'd share it as it's rather sweet! Paddy is in the background too looking rather bedraggled... fuzzy hair do's and rain just don't mix well!
08/07/2021
Have a look at Farley on our Charity Fund Raising page under Available Now!
Exciting opportunity!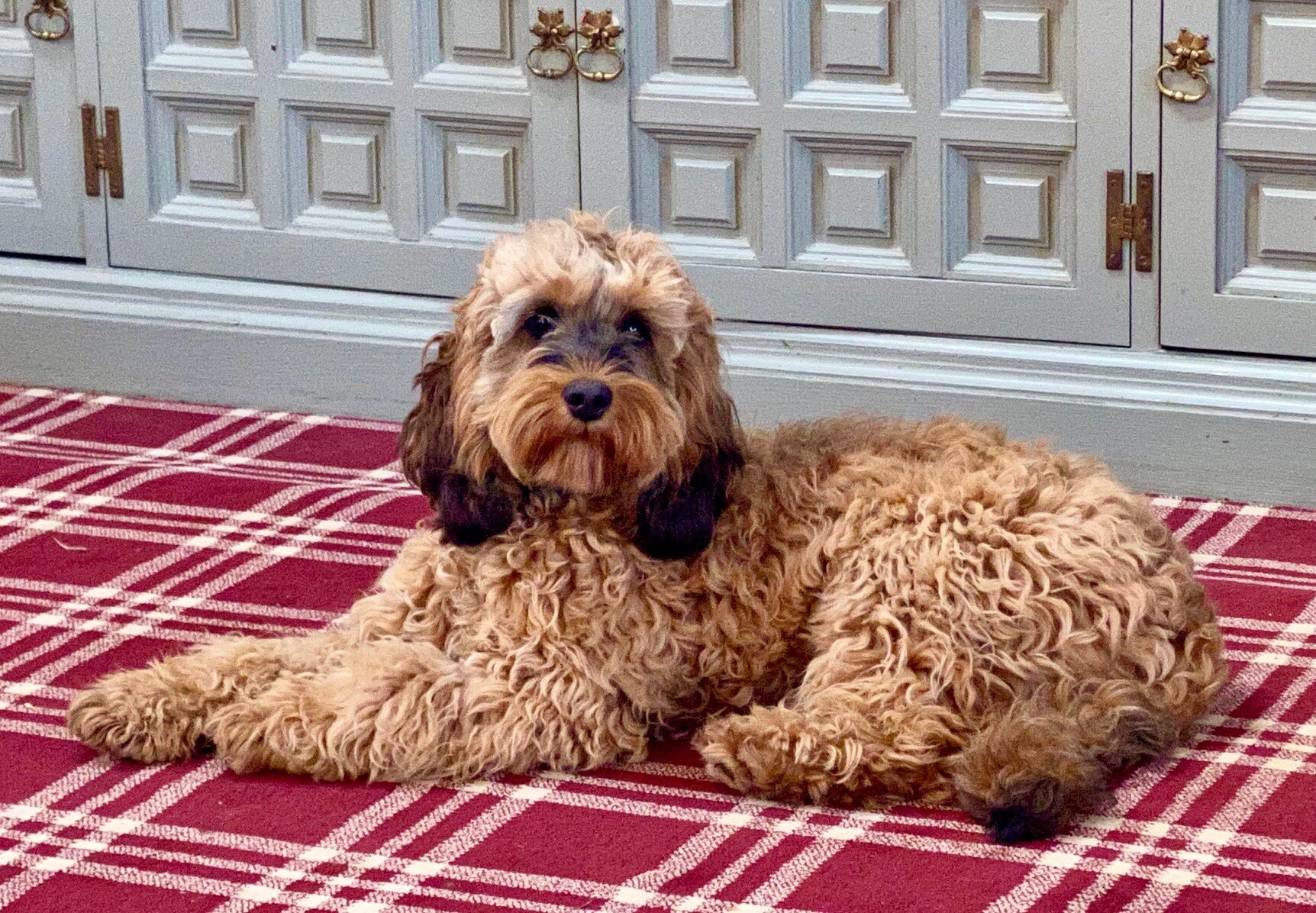 07/06/2021
Things are going really well with the kennels refurbishment, and we are looking forward to starting to welcome people to visit again, fingers crossed from the COVID-19 lift of lockdown around 26th June onwards. The kennels won't be quite finished, but they're nearly there.
We are glad to say we have offered a puppy to everyone on our current waiting list, and are now starting to work through the next batch of letters we have been sent to create our next list. So if you are interested in going on to our waiting list please do write us a letter telling us all about you, and Graham will give you a call. We do currently have a litter of black F1 cockapoo puppies which are not allocated to anyone yet, so are available to be reserved. They are Pinkie's puppies, fathered by Mr Fox, and they should grow to be gorgeous, curly coated, clever and calm natured family friends.
I'm finding it hard not to post loads of pictures of our puppies on the website, but the police locally have advised me to keep a low profile on our litters for the time being as there is a spate of dog thefts happening in this area, and the thought of anyone attempting to take our dogs is just unbearable. So we are sending pictures to people on the waiting lists as and when we have puppies available, but not making them available on the website I'm afraid. I hope to be able to post more pictures soon, and will add a few of the sold puppys just for interest.
On another note.... We have bought a FABULOUS Poodle puppy, called Robin, who will hopefully join the boys as a future stud here at Hallslake! Pictures on the 'Males' page!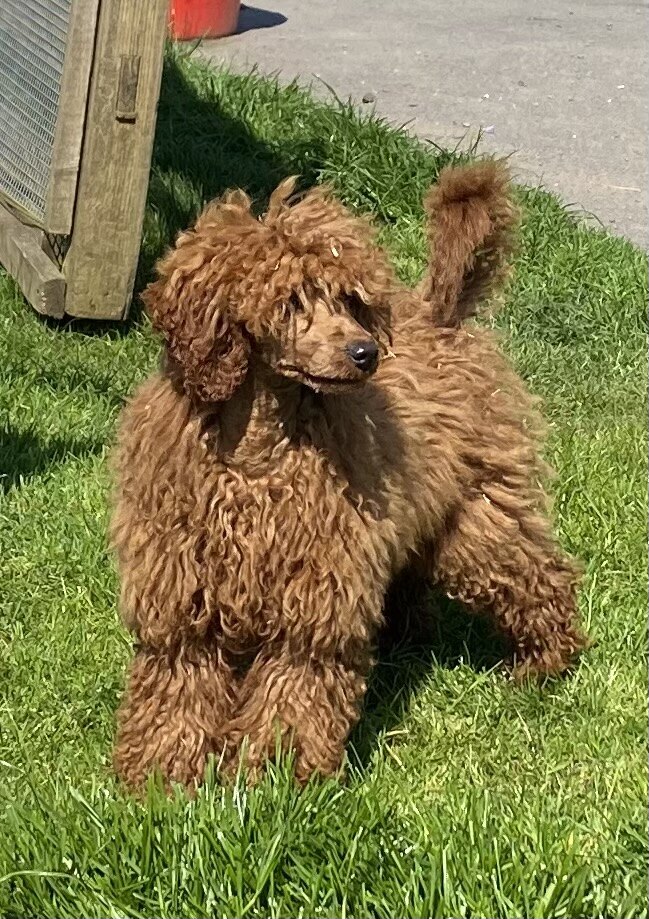 22/05/2021
We are getting through the waiting list well now, but we are finding that some people are unsure about the solid chocolate puppies. As little baby puppies the darker colours don't always look so appealing in the pictures as they're very hard to photograph. Their features just don't stand out so well... but as they get older and the coats get longer, they really are very gorgeous! Here's a picture of one as an adult, just so you can see how they can mature.
UPDATE: After a few questions... The dog below is a faded chocolate by Ted. A non-faded chocolate will stay chocolate, as demonstrated further below by the gorgeous Nala!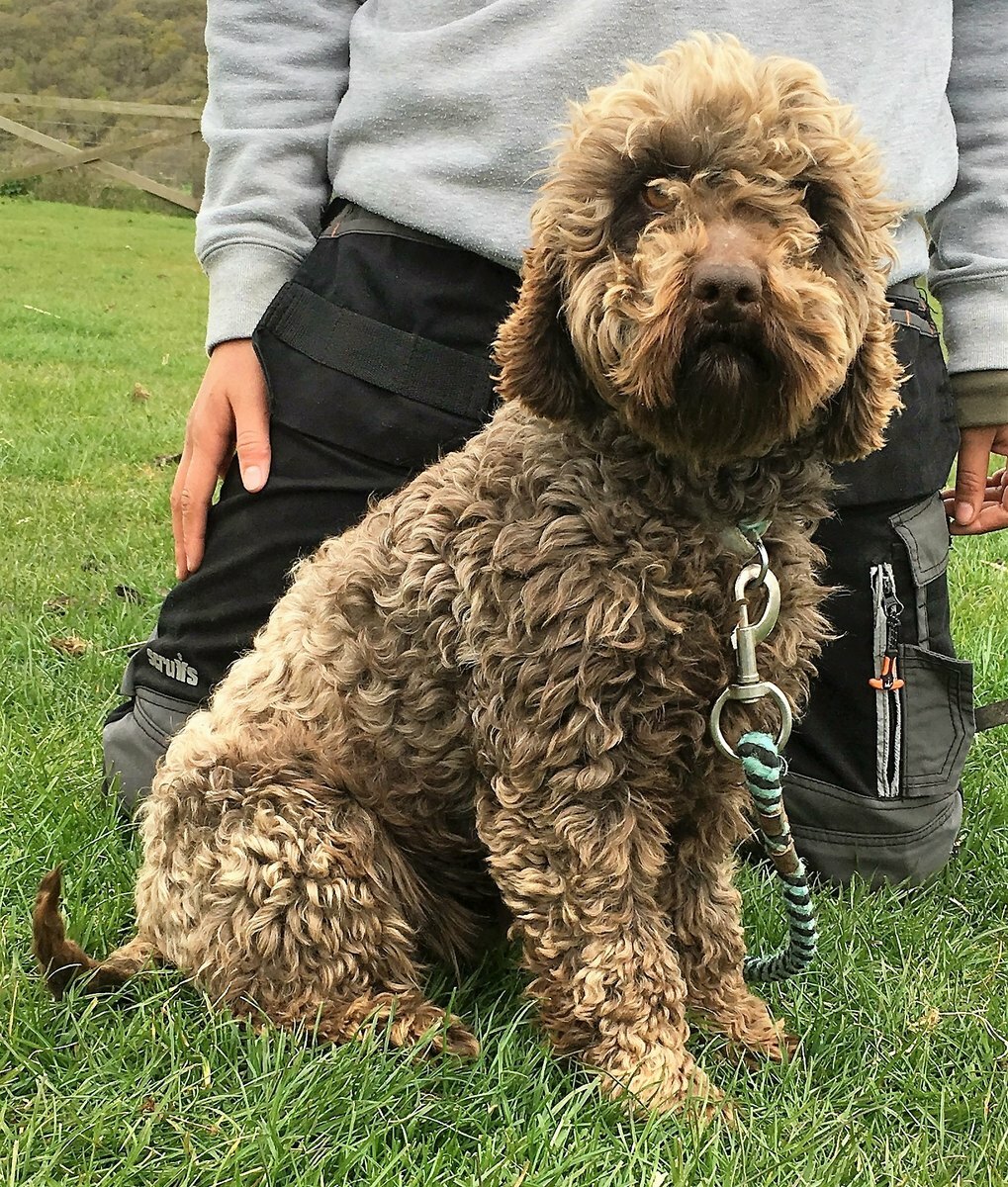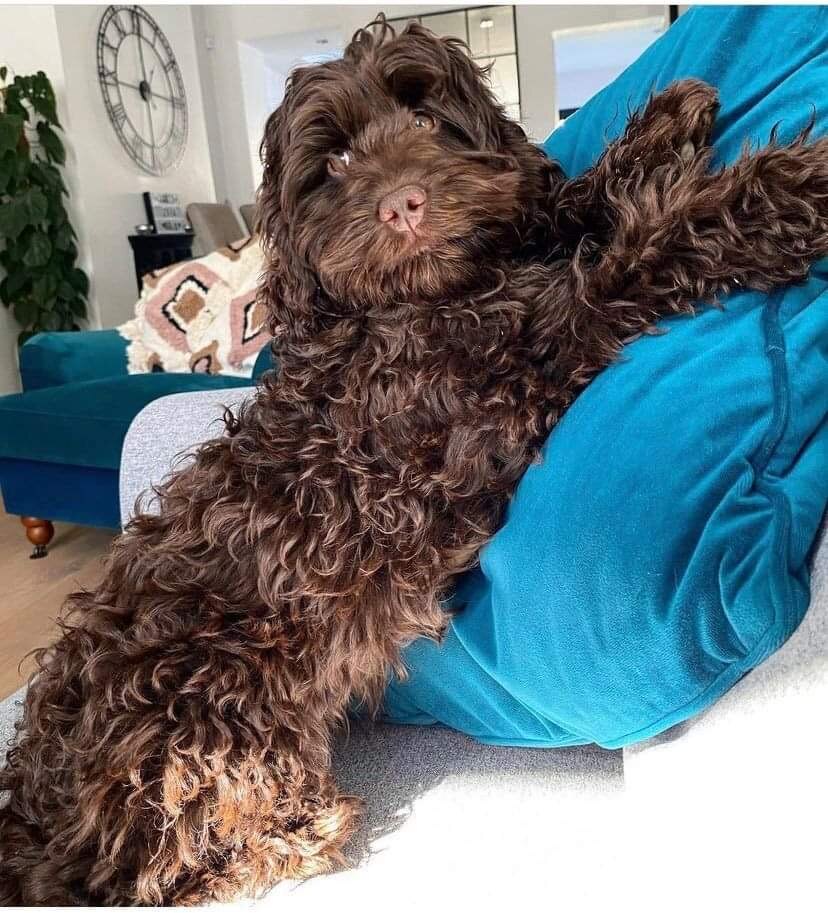 17/05/2021
We have puppies!!
We will be ringing through our waiting list in order of the dates we have you in the diary, so expect to hear from us over the next week if you've already paid us a deposit!
Very Exciting Times!
26/04/21
We have added a friends litters to the 'Outside Litters' page today! Have a look. These are by our boys and out of our friend Jacqui's working cocker girls. We know Jacqui well, so can fully recommend these puppies to active homes, however they aren't our's, so please contact Jacqui directly for info. ALL NOW SOLD
On the home front though, we are expecting our F1bs to be born to Duo & Willy in the next 10 days, after that it's Petal & Lego for pure Cockers, then Alice and Willy for chocolate or chocolate & tan F1 cockapoos, then hopefully Peas & Paddy for gold & red F1s. So it will soon be all systems go!
19/04/2021
We are still very busy with the kennels renovations (pictures soon to follow)! It's all coming together now and we are very excited about the extra room and playgrounds we have created. We won't be ready to reveal it fully for about 6 weeks more, but we can't wait to be finished and to be able to allow Farm visits once more.
In the mean time, the 2 little Coco puppies (nic named Pixie and Fairy by my daughters) are thriving! They're both gorgeous little girls, but STILL currently the only puppies on Hallslake! While we do have some confirmed pregnancies, but are still are a little way from the pater of tiny feet. We are being quite cautious with the amount of info we are putting on the website due to the rise of dogs being stolen, but I promise I will put some pictures up when we have anything new to show.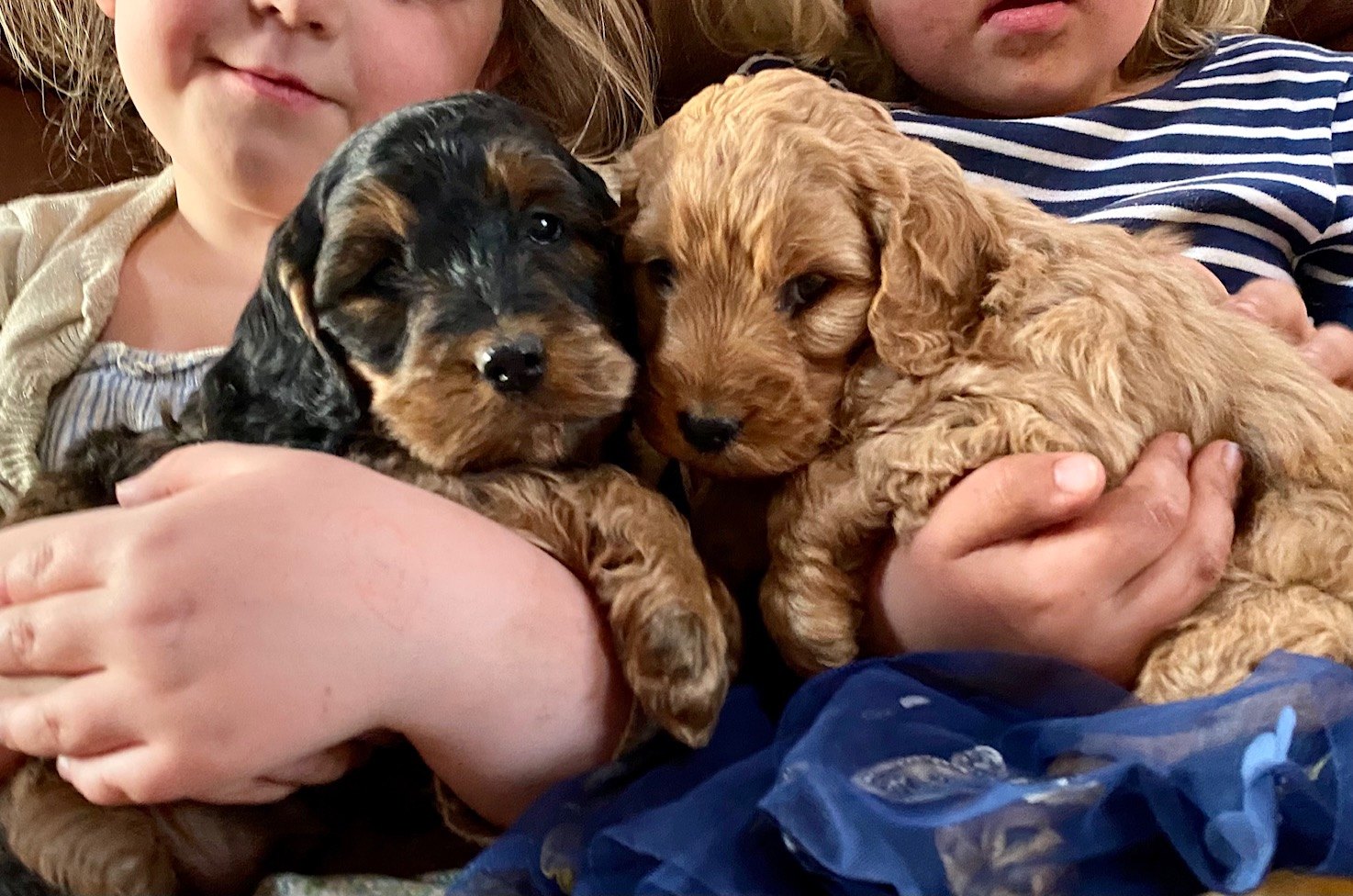 22/03/21
Our 2 little troopers are through the main danger period now and both looking like fat little dumplings! Having a full milk-bar just for the 2 of them it's hardly any wonder!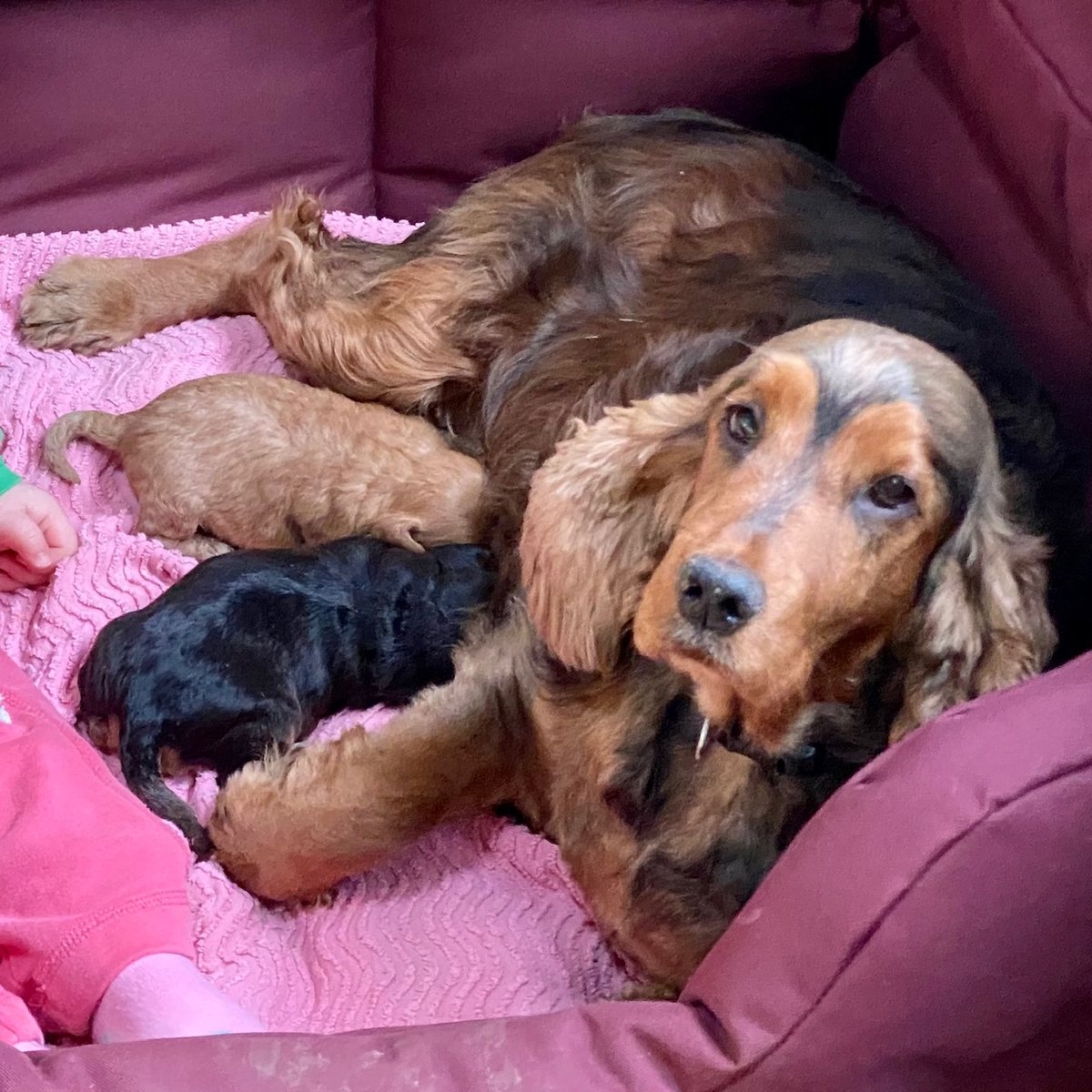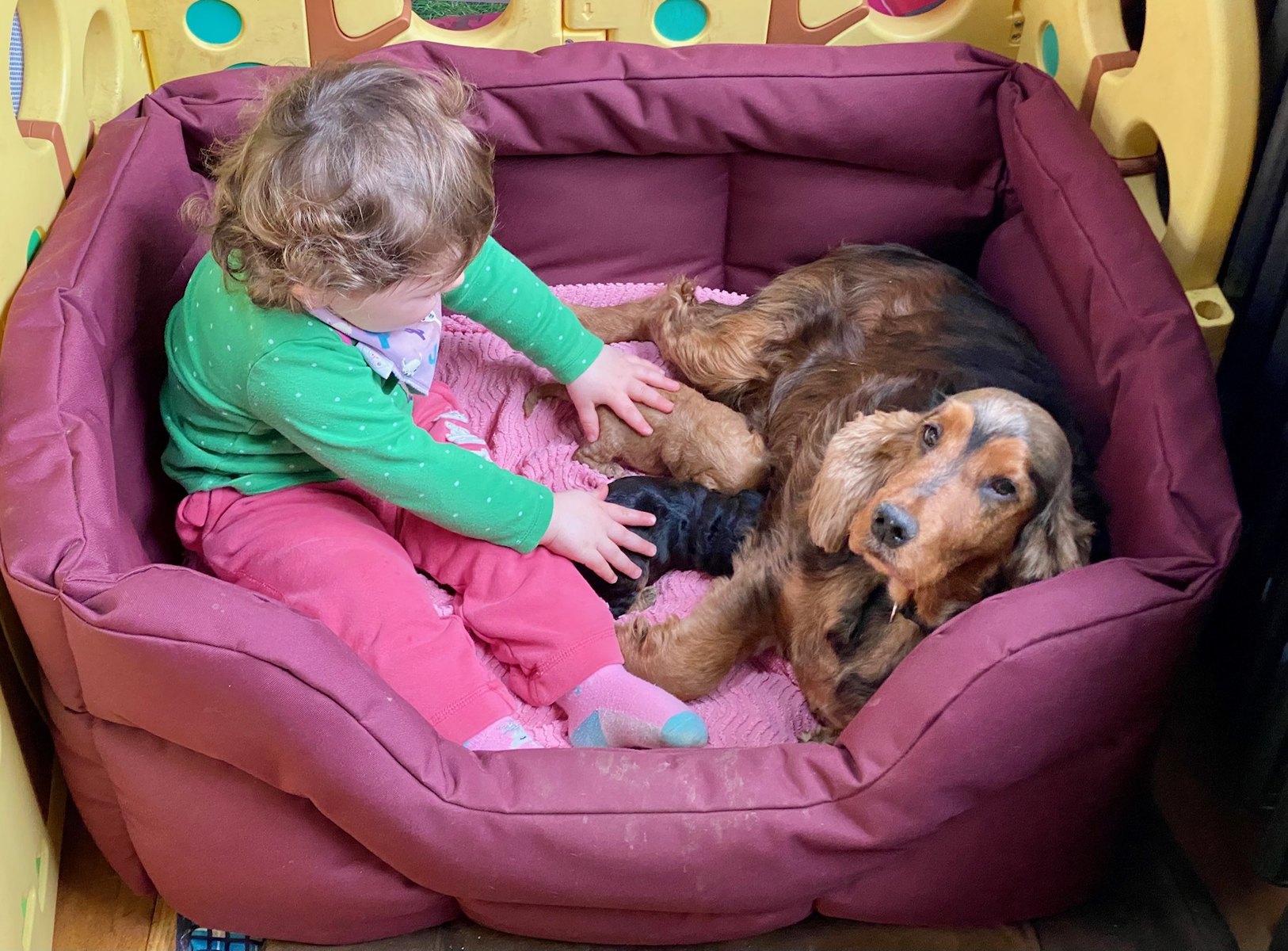 On a different note, our spring hormone burst is well underway, with loads of the girls coming in to season! In two months time we expect to have a few litters born, cockers, cockapoos and F1bs! If you are on the waiting list, we will post general details on here, and we will contact you directly once we have the litters born and through their first two weeks of life.
11/03/21
Thank you all so much for the supportive messages we have received about Coco and her puppies. We have made it through the night, and the 2 little girls are still with us! They are both on antibiotics and fluids, but this morning for the first time they are able to feed themselves off mum again, which is a major breakthrough! The sable girls is quite strong but the red girls is smaller and weaker, it is too early to say for sure, but I do feel like we have made it through the worst of it, and that these 2 do now stand a fighting chance at least. Lets keep our fingers crossed for them. Coco spent the whole day at the Vets yesterday, and they said she behaved beautifully. Even in a strange place, with strangers surrounding her, Coco's calm and serene nature must have hugely helped her poorly puppies through the stress of testing and treatments. We are still awaiting the results from the postmortem from Langford Veterinary University, but we owe a huge thank you to our local vets at White Lodge Veterinary Practice for their constant and ongoing help. They are always there with top class support at anytime of the day or night, and we can't praise them enough.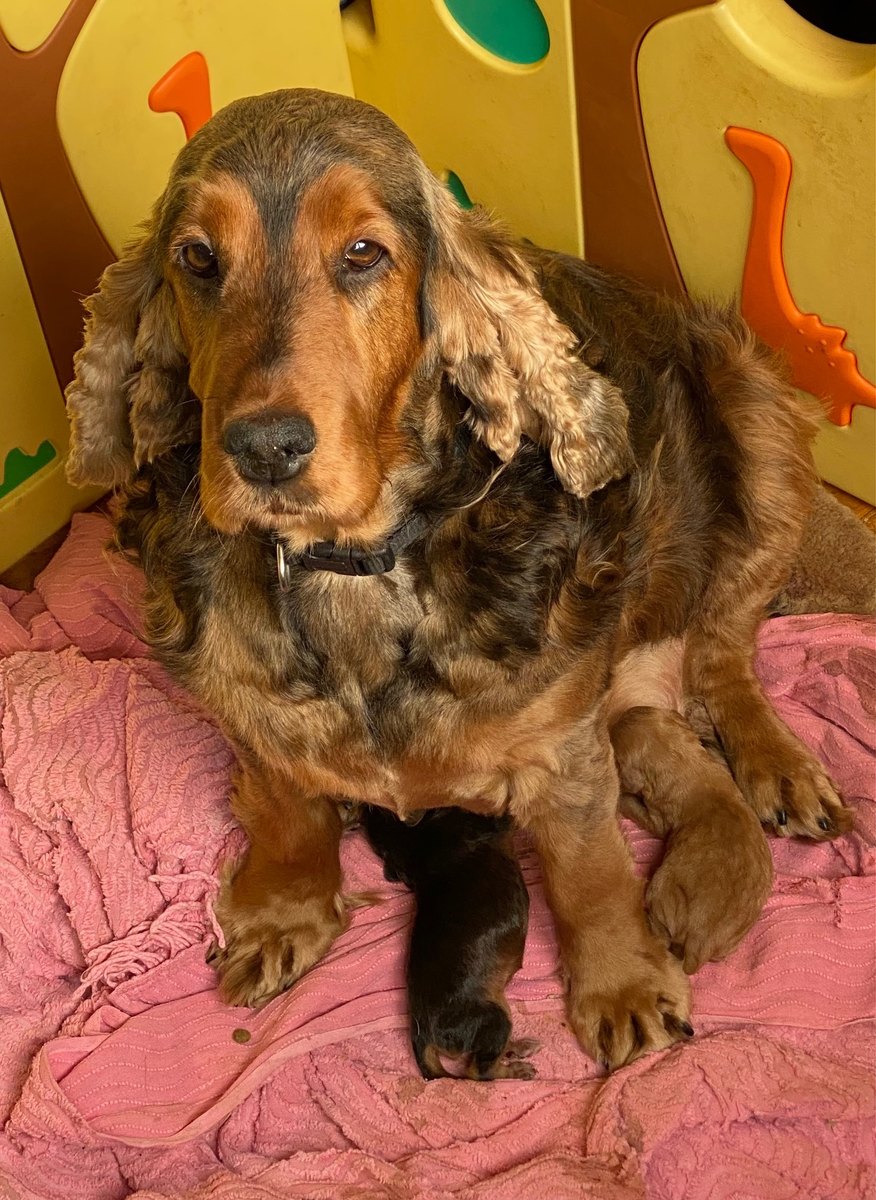 10/03/21
We have incredibly sad news regarding Coco's litter. They were born slightly early and very small, and sadly they seem to be suffering from Fading Puppy Syndrome. We have no idea why this has happened, and are fighting very hard with the help of our vets, but sadly Coco has already lost most of her lovely litter. We are devastated. We are awaiting postmortem results to confirm the exact cause of death, but it appears that the little puppies lungs just weren't developed enough for the puppies to survive. We will continue to to do our utmost to get Coco's last 2 puppies through this.
06/03/2021
We have been keeping bit of a low profile lately, so I apologies for the few updates on the website. The reasons for this, are in the large part, due to the huge increase in dogs being stolen since Corona arrived. We are very well secured here at Hall slake, however we don't want to tempt fate by advertising ourselves at the moment. It's shocking and totally awful to even think about, so we are always cautious. We also genuinely have very little activity going on with the dogs over the winter months, when it's colder our girls just don't ovulate so much. We are expecting a huge hormone surge coming with the recent sunshine, but we are in the hands of mother nature!
During this quiet time, we have taken the opportunity to renovate our kennels. As many of you who have visited will know, we have a very smart and cosy indoor kennels barn, but although it is very comfortable and practical, we felt it was just starting to look slightly shabby. We are in the process of extending the wet weather playground outside the runs, putting in some new and exciting adventure play in the 2 acre field the dogs have daytime access too, and also giving the inside barn kennels a major decorate and upgrade. I look forward to posting the finished pictures on here once we are done!
On the breeding front, we had hoped that Rio was in pup. She was gaining weight and appeared to be looking pregnant, however we took her for a scan to check as she wasn't huge, and she is sadly not carrying any babies. Coco on the other had has had a nice litter of puppies today. The puppies are quite small, but a lovely mix of golds and sables, and Coco as always is a fabulous mother. We will keep the website updated with a few pictures, but for security in this difficult time, we will mostly send the litter pictures to the people listed first on our waiting lists. We do have some expectant breeding waiting to take place, including Peas, Duo, Petal and Alice. SO hopefully out waiting list will soon start to move, and make way for new applications, for now though, we are still fully booked.
30/01/2021
We have had a huge response to our waiting list opening, and have now filled all our current waiting list positions.
We will probably look for new applicants from Easter onwards, so please don't write at the moment, we will post it on here once we are open for more reservations.
We have had some amazing applications and have really enjoyed looking through the letter, photo's and drawings we have received. We feel very lucky as breeders to be able to find such fabulous homes for our puppies. You guys following our website as our potential puppy parents, really do seem to be the cream of the crop, and we are absolutely delighted to know we can secure top class homes for all our puppies. I've attached a brilliant picture we opened with one of the applications, that made us all smile :)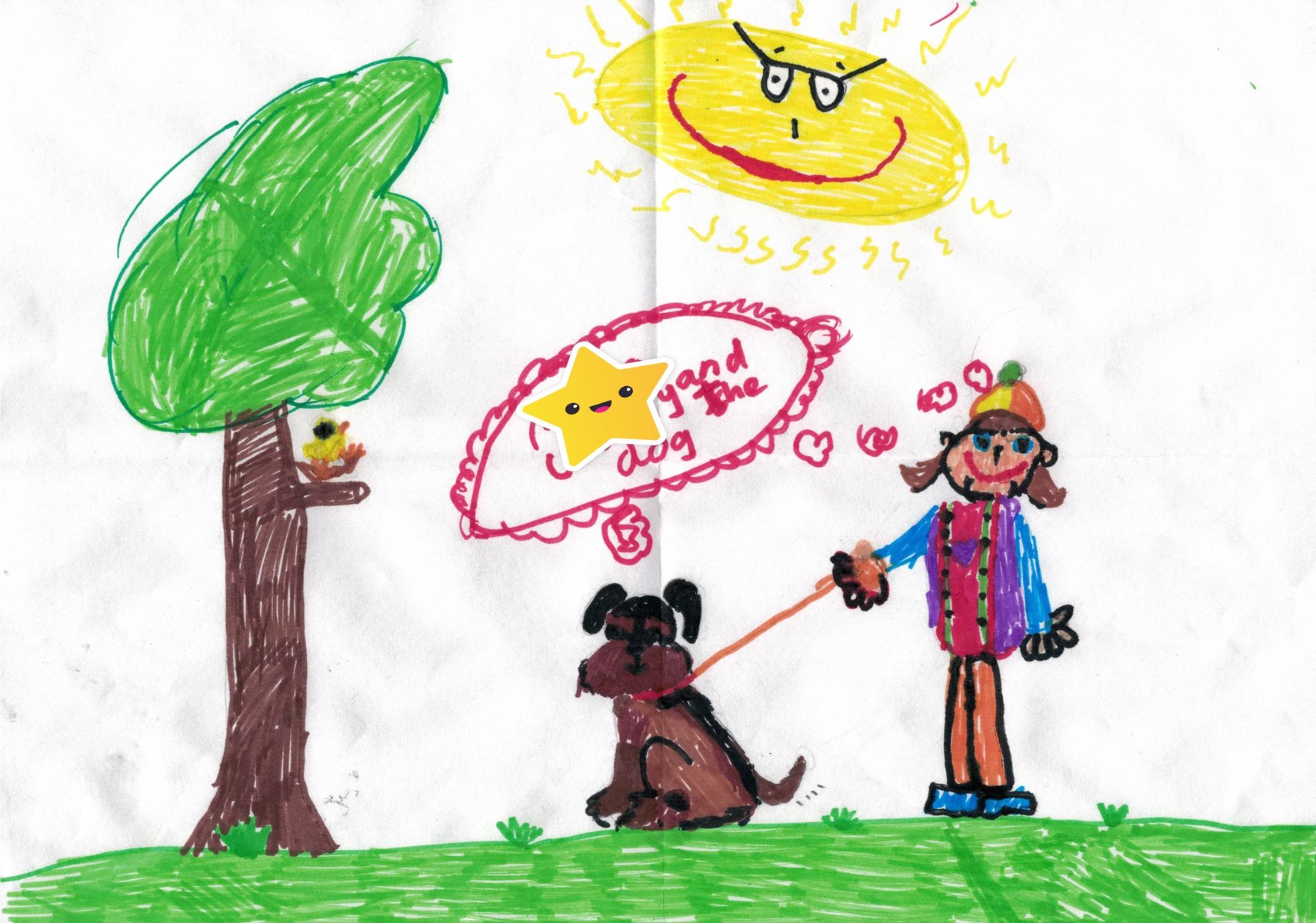 12/01/2021
Welcome to 2021 everyone!
We hope you've all had a lovely restful and jolly festive period!
Here at Hallslake we have had a very quiet time on the puppy front, with no puppies born since October and non of the bitches coming in season either! We are just now starting to get the flurry of all the girls coming in to season together, that naturally seems to happen here. We have already bred Coco & Rio this week, and have quite a few other girls starting to show early signs of season too, so there is likely to be a number of litters due in March. We will be breeding a both Cockapoos, F1bs and Pure Cockers. We have also bought a gorgeous new little deep red miniature Poodle puppy who will grow up to join the Stud Dogs here, he is called Robin and is extremely cute. I will add a picture...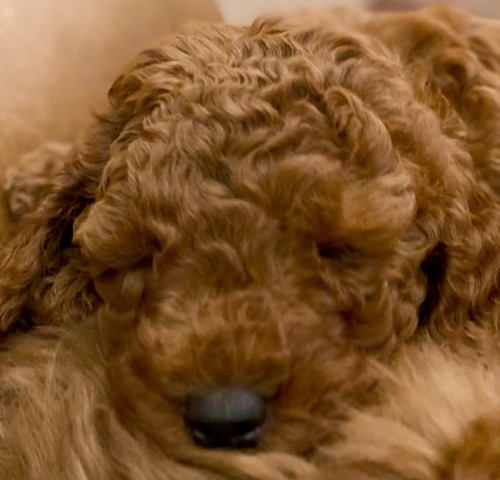 We have updated the reservation process on the website now, as we discussed many times in 2020. We have now officially gone over to a waiting list system. I will confess to being quite nervous about the change in operations, but we really hope that this will be a way of keeping everyone happy and being able to offer a definite timescale to potential puppy customers as to when they should be able to expect their new family member.
We are now open to new inquiries. If you are looking for a puppy please read our reservations process page and get in touch.
We are giving priority to anyone still looking for a puppy that has a CODE from the system we were running in 2020 and have called everyone we have a telephone number for, but if we have missed you please do give Graham a call ASAP to confirm your place on a waiting list.
Just received this gorgeous Christmas card from one of our puppy parent family! Thanks so much!
I though I would borrow it to share a very Merry Christmas with all our supporters!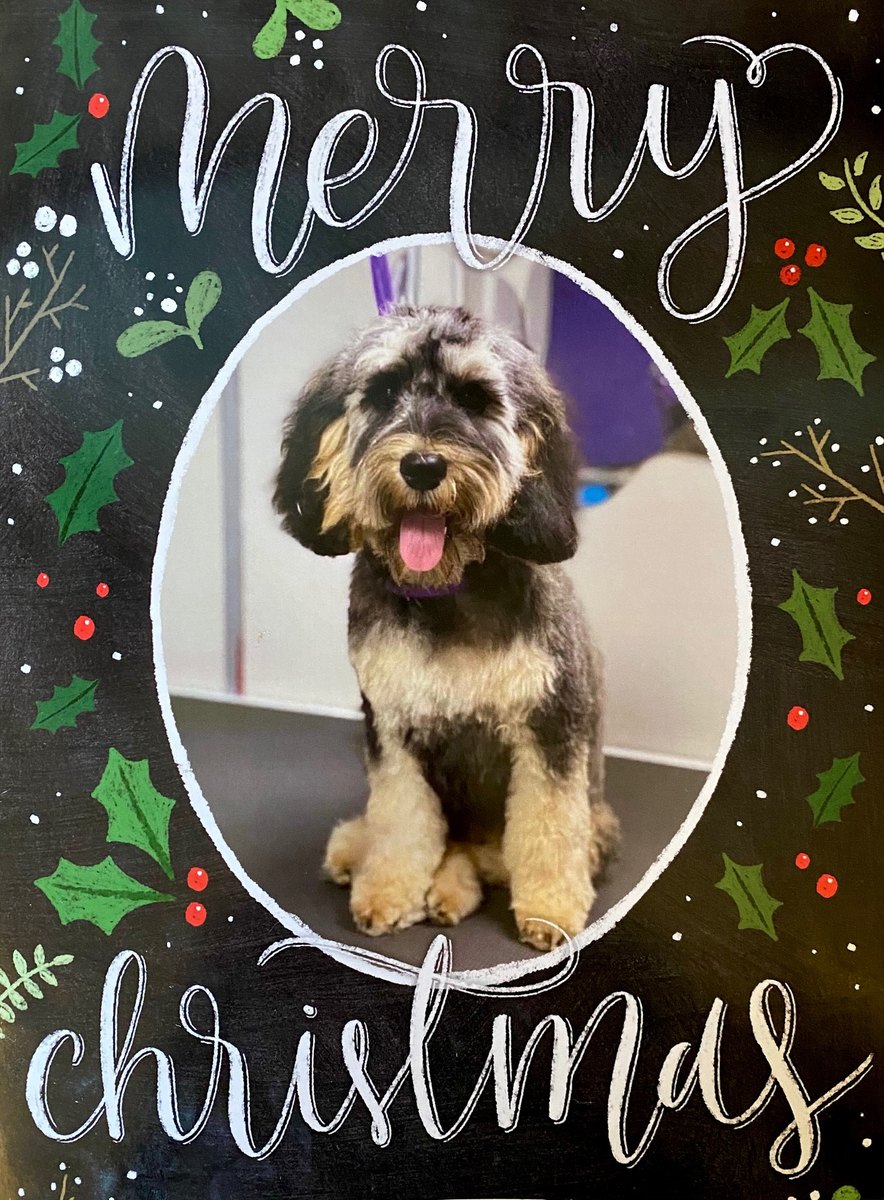 15/12/2020
This will probably be our last update of the year, so we would like to wish all our supporters a very Merry Christmas!
All is very quiet here at Hallslake at the moment, with almost all of the puppies now having gone to their new homes. It's unusual for us not to have puppies running around, but with the lock down and the strange times we are all experiencing, it's not such a bad thing that things have slowed down a bit. We are sadly unsure that Chips is pregnant, but it's still quite early days so we could be wrong. We are expecting quite a few of the girls to come in to season, but currently none are, so it's all very relaxed coming in to this festive period. The girls do all tend to synchronize their seasons, so in all likelyhood we will end the winter and then everyone will come in to season together and we will be rushed off our feet again!
We are going to have a change of how we do things from the beginning of 2021. We are going to have to start a waiting list in the traditional way. We have avoided doing this up until now as there is such variation of colour, coat type and sex it can make it very complicated, however we have come to realise since Covid-19 that times are changing, so sadly so must we. We are still going to ask for people to write us a letter to be accepted on to a waiting list, specifying what breed / sex / colour they are looking for, and we will then let successfully applicants know their position on the waiting list. We will need to ask for a 20% DEPOSIT FOR PEOPLE ON THE WAITING LIST but we will only make a list of 8 people per litter. We will give people who have paid a deposit the option on 3 different litters if they can't find the right puppy for their requirements straight away, and we will refund the deposit to anyone who has not been offered a puppy within 12 months of paying their deposit. It has always been against our policy to ask for deposits, however since making the CODE system over lockdown it has become clear to us that only about 25% of people who initially ask for a puppy are able to commit to having one when the time comes. This makes it very hard for us to be able to plan ahead. We hope a deposit will show a firm and lasting commitment.
From 2021 all our puppies will be £2500 including VAT.
Please could we ask for anyone who has a CODE and is still looking for a puppy for contact us and let us know AS SOON AS POSSIBLE before we start any waiting lists so we can put you at the top.
BELOW ARE PICTURES OF THE GORGEOUS OLIVER & NOMI, FROM MUFFINS LITTER, WHO WE ARE PREPARING FOR EXPORT TO THEI NEW HOMES IN 2021-AREN'T THEY FABULOUS!
19/11/2020
Lock Down in upon us again-ugh! That means just us doing the kennels so we are very busy making sure nothing is missed with the socialising of the puppies as they become ready to leave for their new homes. Sometimes we are a little slow in getting pictures on to the website or replying to emails, but we always put the puppies first, so rest assured that they always get the best of everything, even if we don't have time to report it back to new puppy parents. Luckily we do still have our amazing Nettie here living with us to help us with the children, house and paperwork.
We've has a bit of sad news with Bounty as she is no longer looking to be pregnant despite and early conformation scan. This would have been both her and Lego's first litter but sadly she has not held the pregnancy in to the second trimester. It can be natures way sometimes to reabsorb a litter in the early stages, and that looks to be whats happened. We have also bred Chips to Lego, so fingers crossed that pregnancy goes well! This will be a litter of pure cockers, and we will be keeping the girls from this exciting mix, but if you have a code and are still looking for a cocker feel free to call Graham or email Nettie just to confirm that you are still looking.
Other that the hopeful pure cocker litter, I'm afraid we don't have any immediate plans for any F1 or F1b litters of Cockapoos. We have several girls who are due seasons, but not until early next year, so it's likely to be Easter before any future litters of cockapoos are ready to leave here. We are not really enjoying not being able to meet our potential puppy parents face to face, and are looking forward to hopefully getting back to welcoming farm visits as soon as possible.
23/10/2020
Muffin & Chino's litter reservations have gone well today & will be doing the next reservations next Friday night, so don't be too upset if you didn't get through tonight. We are over half way through the list of codes, and 25% of those people left on the list are looking for pure cockers, so your chances of getting through for an F1 or F1b are getting higher every time!
03/10/2020
I've added pictures of the new litters - they're gorgeous!
On a different note, it is with regret that we are going to have to increase our prices for any puppies collected from 1st Jan 2021 onwards. This is in part due to a huge increase in our vets bills and laboratory charges since Corona has hit. All business are struggling to conform to the new rules, for the Vets we use this means more staff and less customers to allow distancing etc, which all cost's money. Sadly they have to pass that cost to, us, and in turn we have to add it to the puppies. Laboratory fees for DNA screening have increased by an even larger percentage, and since we probably health check more than any other breeder (as we do everyone, not just the boys) this has had a knock on effect. On top of the extra costs we are incurring, we have also had a horrible incident which has come to light recently. We were called by a lady (luckily a very good home) who had just bought a Hallslake puppy at 10 weeks old for £5000 and was calling to ask about the puppies parentage and details as she was not given a puppy pack, but the microchip was registered to me through the manufacturer so she had been able to trace me. We had sold this puppy to a couple who had written to us, providing a wonderful background, & who we had spoken too regularly. We had no idea at all that these people had infact purchased one of our puppies (thankfully it is our policy not to sell two puppies at the same time, as they had asked for this) because we were the cheapest breeders around and were simply trying to profit from us. Luckily we have a signed contract from them forbidding the resale of our puppies, so we are are able to pursue legal action. This incident has however, made us very aware that being the cheapest breeders gives people the wrong impression, and does not protect our puppies. We believe we do as much as physically possible to produce the best possible puppies, and will not ever cut any corners in our pursuit of perfection, and our protection of it.
Below is a picture of our September bill, this is just a normal month of routine work... nothing emergency... just average. On top of this, during Sept we also have Lab fees for 3 bitch DNA tests; £468, we did 9 hips scores through the BVA (British Veterinary Association) £630 + printed certificates £324.00. This is JUST the medical stuff, before we even start on staff wages, food, rates, electric, heating, insurance, security, toys, bedding, flea and worm treatment, micro chipping, grooming equipment, shampoo, commercial waste disposal... the list is endless.....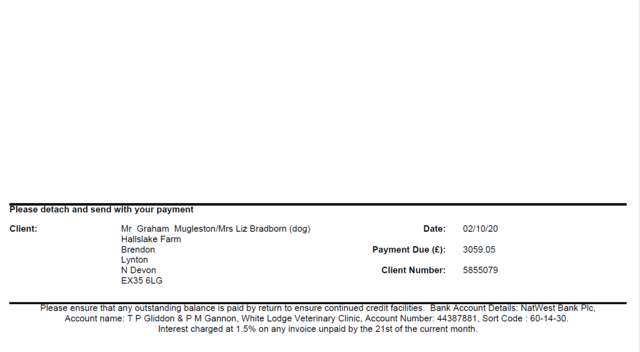 We will be putting the puppies up to £2500 from the 1st Jan 2021
(which still keeps our price around £1000-£1500 less than the average for an F1 show type Cockapoo at the moment).
30/09/2020
Very exciting news in the maternity ward today!! Chino has had her litter by Willy Wonka and theyre GORGEOUS!! It's a big litter of mixed colours including gold, chocolate sable and solid chocolate! <3
28/09/2020
It's been a long time since my last update, so I thought I'd better fill everyone in on whats been going on here! The most exiting news is Muffin had her litter on 26th, a big & bouncing litter of 9 puppies, golds and reds, and all appear to be thriving so far. She a wonderful mum and has passed on some of her lovely white markings on the faces and necks of the litter. I will update a quick litter picture when I can. Within the next week or so, we also expecting Chino & Ginger to deliver F1, and Trio (who is MASSIVE) a litter of F1b's! So it is all systems go here!
Purple's litter have mostly gone to their new homes now, and Pudding's are just getting ready to go later this week. They are a lovely jolly lot of puppies, and having been enjoying playing on the front garden on the dry days we've had here recently, Amy's are spending shorter spells outside and also playing in the sitting room with Phoeby's who are a bit smaller and younger.
We have had some good news regarding our new stud dog Lego (who we have yet to add to the website). We bought Lego from Serbia just before Covid19 hit, and we were unable to have him delivered for what seemed an eternity. We worried that he may never arrive at all, but luckily as soon as the borders were opened our transporter was able to bring him here to us, and we have been working hard with him to socialise and customize him to his new home for the last moth or so. Being a young dog he was not immediately fertile, however on his most recent test he has shown to have some mobility in his semen, so we have bred him to Bounty (also yet to be added to the website-I'm sorry I realize must get more photography done). We are very excited about the possibility of this breeding being successful, although there is 50/50 chance at best. It would be a litter of orange roan pure Cockers! We would certainly keep the girls from this cross, but there would be boys available. Fingers Crossed!
29/08/2020 A
PHEW! That was a busy evening! Reservations have gone well this time, the phone lines didn't crash with our new business line & number, and the code system worked well! There are still sadly people who were disappointed not to get through this time, but on the bright side, there are a lot less people going to be on the next reservation call in, and Phoeby's litter (with Amy's tiny girl) will be made available in the next couple of weeks. Willow is still available until 31st August, and we do few hopeful pregnancies for up and coming litters so we are really confident that we will be able to allocate a puppy to all the brilliant homes still hoping to secure one.
29/08/2020 B
Reservation night will be tonight, 29th August at 8pm! Purple, Pudding and Amy's litters are all being reserved at the same time.
Reservation will be by call in as normal, but only people with pre-issued codes will be able to reserve a puppy. Please don't call before 8pm as the phone will be turned off until exactly 8pm.
The only number to call for reservations will be 01598 741444 (we are having faults on the old line number). The phone in may take a little longer than normal as we will have to find your code to cross you off the list, so please be a patient and keep refreshing your screen to see availability. Good Luck!
Also don't forget that the lovely Willow is still available for sale by private bids, to raise money for building a local play area and mud-kitchen. Have a look at her page.
We are massively proud to have raised just over £47,000.00 for charity so far this year which is & will all be spent in our local area, which not only helps our community, but also the brilliant NHS staff who have worked so hard throughout the Corona period.
I can't thank you all enough for the fantastic support you have generously show in supporting us with this!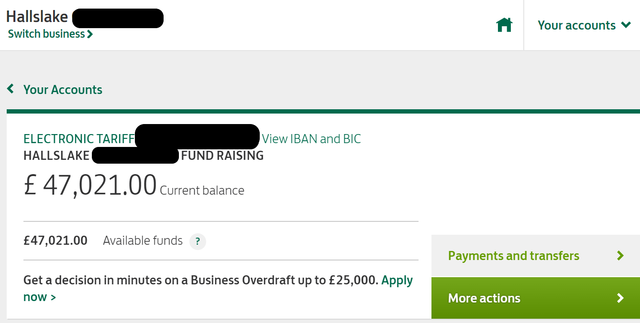 24/08/2020
Phoebe, a gorgeous cocker girl of our (who lives with our friends in the village when she's not having babies) has come here to have her first litter of puppies, and she has just had a fabulous litter of cockapoos by Paddy. They are sable, but a really pretty lighter than normal shade, almost toffee coloured. Gorgeous puppies, and she's a brilliant mum. Phoebe has very kindly also taken on the tiny runt from Amy's litter which was exactly the same size as her newborns, and in all probability she has saved it's life as she's now thriving for the first time since her birth! What a good girl Phoebe!
Willow our lovely trained girl we are selling is continuing to grow and learn every day, her recall off the lead is very good and she happily comes on walks with the girls on their ponies off the lead, never leaving us too far. We are thrilled with what a lovely girl she has grown in too and we just know that she is going to make a wonderful companion for the lucky winning bidder who buys her on 31st August.
Willow looks a bit like an alien in the picture below, but only because the wind is blowing her curls in to her eyes as shes running to say hello to me! Haha!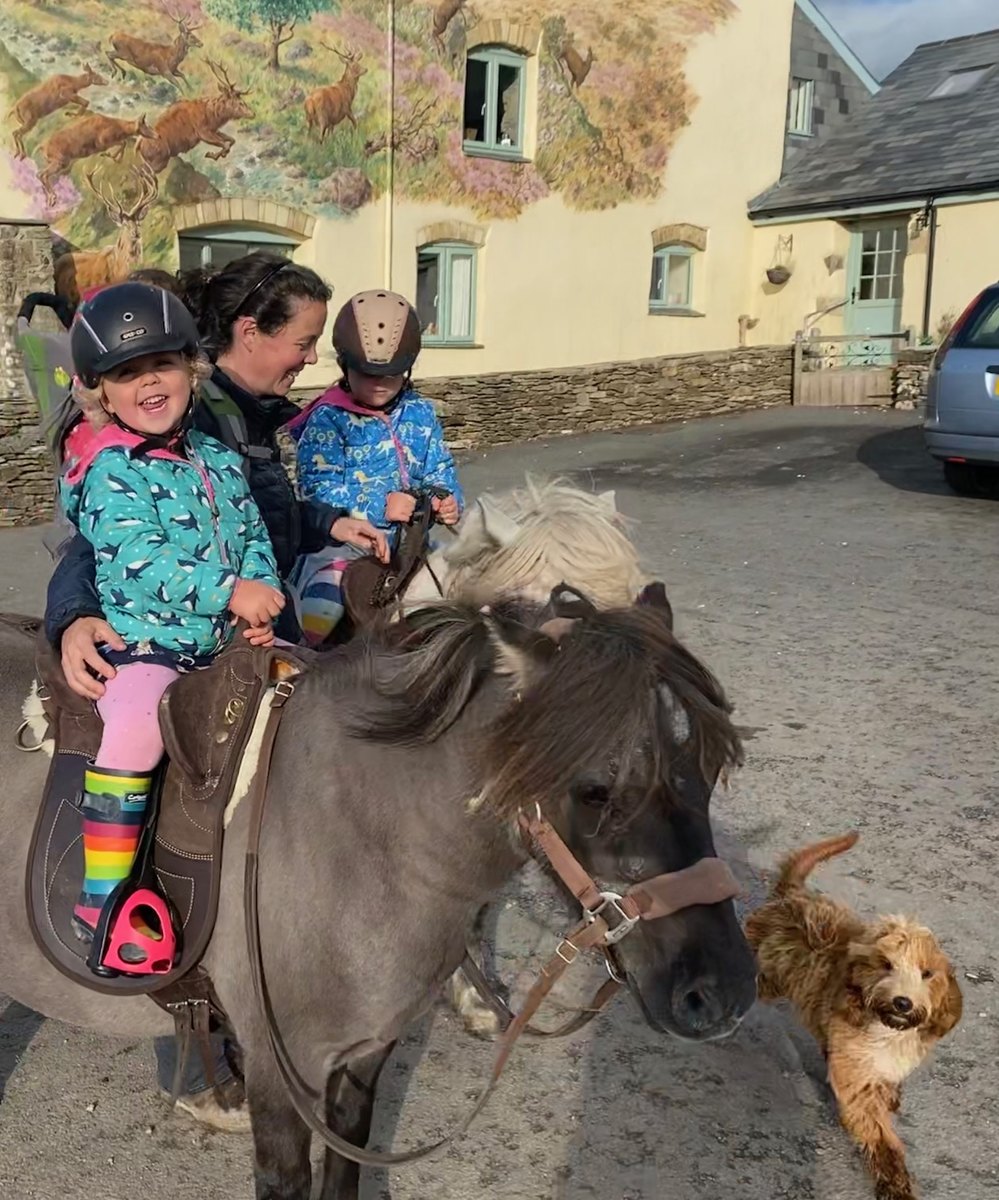 15/08/2020
Amy had her litter a couple of days ago, a huge litter of tiny puppies, and sadly there were a couple that were just too small to survive :( She has got 8 good strong puppies though, and a small one that we are assisting with a bit, that hopefully will pull through as well. The puppies are a lovely mixture of sables and yellows with lots of white markings, and Amy is being a super mum as always.
The other litters are doing well and wriggling around well now, not long until they start opening their eyes and then start on solid pate feed.
We have decided to put the reservation date for all of the puppies to the 29th August at 8pm, as it will give Amy's litter a good 2 weeks to grow and be sure there is no danger to any of them.
Reservation will be by call in as normal, but only people with pre-issued codes will be able to reserve a puppy.
We have also just put a page up for our gorgeous Willow, who we are making available for sale by private bids to support the building of a Mud-Kitchen and other facilities for children in our home town of Lynton. Have a look at her page under 'Available Now'.
10/08/2020
Our busy period of puppies being born is underway! We have a lovely large litters from both Purple and Pudding, and Amy is close too! Purple has a good mix of black, black & tan, and gold puppies, while Pudding has surprised us with Willy Wonkers first litter, which are a colour I'm not entirely sure what to call at the moment! They appear to be dark chocolate with tan faces a feet which I'm not sure is called a sable or a phantom? Very striking and beautiful litter though, and Pudding is a natural as a mum, very calm, kind and attentive! Amy always has enormous litters of tiny puppies which is worrying as they can be quite weak and they can't always find a teat so we have to assist with a bottle. We are watching her like a hawk at the moment as shes huge!
25/07/2020
Things appear to be getting slightly more normal in the outside world, however we are still shielding here at Hallslake. Luckily it is a fabulous place to be isolated! We do feel bad for the people with reserved puppies that are desperate to meet them, but we just don't have the facility to safely allow people in to our home or to use the loo etc. So while an 'outside only' visit, on a nice day, when the puppies are out playing on the lawn would be ok, it is very difficult to predict the weather well enough to plan that.
We have Red, Mocha & Mimi's puppies all playing together most days at the moment while the sun has been shining, and they are all growing stronger and more confident every day. Our 3 girls that are due soon all look fit to burst already, and are all due within days of each other, so the maternity wing is going to be full and I can see I'm going to be getting quite a few sleepless nights! Fingers crossed all will go smoothly. It's not the first time for Amy or Purple, and their stunning previous litters can be seen, but Chocolate Pudding (Chikorita's Chocolate Waves-bottom of the Females page) will be a first time mum, and has the added excitment of being the first of our girls to be pregnant to our new boy Willy Wonka our Chocolate Miniature Poodle! This 'should' (other colours are also possible) be a litter of chocolate show type F1 cockapoos, which is a rare litter indeed! I will be bitting my nails when she goes in to labour I can tell you!
We have a few girls due in season soon, with Trio, Muffin and Chino expected first. This time last year we had a sudden flurry of everybody coming in season at the same time and it was all a bit crazy.... We hope it won't be quite so manic this year, but when you keep big groups of girls together they do all tend to syncronise cycles!
On the rest of the farm, things are going nicely with the animals. We have finished foaling for the year with 5 filly foals, who are all beautiful and strong. We have also taken a gamble on breeding ourselves a race horse for next year! We decided to send our beloved Suzie (who despite being a multiple winner in her day, was in a killing pen at an auction due to go to slaughter, but she was just so kind and correct I had to rescue her, so bought her for £280!) to a good stallion in Ireland! It's all a bit of a gamble as we could never hope to compete financially with most of the racing breeders who have their pick of the mares and stallions, but you just never know.... Maybe in a few years we will own a Derby Winner!!
15/07/2020
We have had a large response to the request for written applications for the puppies, sadly too many for us to be able to allocate one to everybody in a straight forward manner. We have given it a great deal of though, and the quantity, alongside the choice of F1 / F1b / Cocker / sex / colour, has made so many variables that it is impossible to make a simple waiting list. What we have decided is that everyone who had written to us and provided evidence of trying to reserve a puppy on a previous reservation date will be given a CODE individual to them. We have a list here with the codes on, and on a reservation night ONLY the people with codes will be able to reserve. A date for applications to close will have to be made so that we are realistically able to tally up how many people are likely to be trying to get a puppy from us, but it is looking likely that we should be able to provide everyone that has written to us with a puppy with in a 12 month period, all being well. I understand that for some, that is a long time to wait, but the list will get smaller with every passing reservation night, so your chances will increase!
The closing date for applications will be 31st July 2020.
For everyone who has already written, we will either give you a call or email with your personal CODE! Or feel free to call us (Myself, Graham or Nettie) if you can't wait to find it out!
04/07/2020
We have just completed the reservations of Mini, Mocha & Red's litters and it was total mayhem. BT closed the line half way through due to unusually high incoming call volumes, and callers seemed to be connecting to us and were then cut off. We temporarily added the mobile number and then tried our best to answer both. It was very stressful for all involved, most certainly including ourselves, and I can only apologize for the confusion. All the puppies have been reserved despite us not giving out our contact details to new applicants, and there are still numerous very disappointed people sending us sad messages conveying their upset. We feel genuinely terrible for the people that have desperately tried to get through but have been unsuccessful. It won't be long now until our next litters will be born, with Purple & Pudding both due at the end of this month, so we can only hope you stick with us and there will be another chance soon.
As we have no way of actually knowing how many people are trying to get a puppy from us at them moment, we are going to ask if anyone who has tried, and failed, to get through could please do something for us? We would ask you to please take a photocopy or screen shot of a phone bill to prove you have trying to contact us at the call in time on a reservation night, and are not a new contact, then print it out, and write us a letter telling us who you are and what you are looking for (F1 / F1b / Cocker - if you are very specific on sex / colour it is much more difficult). Then put it in the post to us here at Hallslake, and we will compile a list of how many people we are realistically looking at, and see if there is anyway we can try to get everybody suitable, a reservation. We can't guarantee anything, as we don't know if we will get 1 letter or 1000.... but if you are willing to take the time to do that, them we will do our best for you.
24/06/2020
We are still reeling from the success of the charity puppy 'Captain Tom' thanks SO much to everyone that helped with the bidding!
I have taken pictures of Mocha & Mimi's litter today and will post their pre-reservation pictures tomorrow night. We are going to make both of their F1 litters, and Red's litter of F1b's available for reservation at 8pm on Saturday 4th July.

20/06/2020
Captain Tom finishes tonight at 7pm!! Exciting stuff!!
11/05/2020
Mimi has just finished having her puppies and is total natural as a mum, adores her puppies already and is very attentive! What a brilliant girl she is. All reds/golds except one black! So pleased!
Having some serious bids on Captain Tom our charity puppy now, so excited to see what what he ends up making!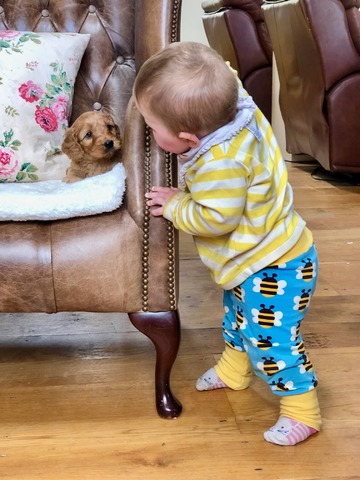 10/06/2020
Things are suddenly blissfully peaceful here! The phone is not constantly ringing and we are actually able to reply to all the emails and messages! Why did we not do this before? I do hope there are still enough of you with our details to find the best homes for all the babies!?
On that note, Mocha has had her puppies, a small litter unfortunately but lovely puppies and good colours. I will take a picture of her in bed with them soon. Mimi is close to having her puppies now (although shes still playing and dancing about as if she doesn't look like she has swallowed a football), we could have a spectrum of colours from this mating and I'm excited to see what she has - fingers crossed it all goes well for her. Red is also definitely in pup, after being very slow to start showing her bump. She is due in the middle of the month, so not long now.
We are having a flurry of girls coming to season with this lovely sunshine. We have served Purple and Pudding to Paddy and we are planning to breed Amy to Mr Fox again as this has been a gorgeous mix in the past.
Mr Fox has had a busy week with privately owned visiting bitches coming to stud, he has served a very beautiful fox red Labrador, and also a black & white working collie. Paddy has just sired a litter of black puppies from a Whippet bitch, 3 of which will be available for reservation (with the owner not us) when they are a little older.
All now sold.
02/06/2020
I 'think' I've now removed all the extra places our number was written... If you find anymore please let us know! I've also emailed CCGB & KC asking them to temporarily remove our contact details, so they should be off there soon too.
01/06/2020
OK after loads of feedback, the consensus is....We should remove our contact details!
We have followed our 'ask the audience' results, and have now removed all our contact details from the website! We feel this is the fairest thing to do to give the loyal customers who have been trying for sometime to reserve a puppy to get a better chance of getting one. So from today, all the puppies from the up and coming matings will only be available to those of you who already have our contact details! I have no idea of how many people that is, but I really hope that we will be able to look after our puppies & our customers better this way. So have a look through your pervious emails, or call register and save our number. Hopefully due to the reduced amount of contact we will be recieving, we should have much more time to be able to chat to you properly if you haven't already talked to us, or you have anything you wish to discuss.
On to the exciting stuff.... Mocha is in the maternity bed and looking close to having her puppies, I will add Zulu (Dad) a page of his own, but if you haven't already seen him, he has pictures on the Previous Litters Page under Pinky's litter. He's gorgeous.
Mini is also getting closer to her due date. It's her first litter so we will have her up in the kitchen to reassure her & make sure she know what to do when her puppies are coming. I'm not sure what colours to expect from Mimi as shes a combination of colours herself, but they should be lovely what ever colour they are. I'm also coming round to thinking Red IS in pup now, she is just a bit late in showing her bump. So there should be a few lovely litters on the garden for the girls to play with through this amazing summer we are having.
30/05/2020
The total flood of emails and messages we have received from you guys showing support and love has been overwhelming! We are truly humbled but the lovely things so many people have said to us since posting my previous update. Thank you all so much!
We have had a few different suggestions, but the solution we are most interested in starting off with is this. What do you think? Initially asking for a questionnaire web page to be completed and emailed to us, once this is submitted then we will call suitable applicants and discuss the ins and outs of becoming a puppy parent, if all are happy we then we then give them a password which they can give us at reservation to confirm that we have clarified their suitability as much as is possible in this difficult time... ?
Another suggestion was to remove our telephone number form the website and only let people who have already got our number from previous phone ins have the chance to reserve. This would stop people who are only now ringing us because we have not increased the price of our puppies along with most other breeders, and might give the loyal pre-corona customers a better chance?
Any other suggestions still welcome - but thank you all again so much for the lovely messages of support. :)
28/05/2020
We are all finding it quite distressing the amount of unhappy people who are contacting us at the moment telling us they have not been able to reserve a puppy, and that they are unhappy with our system, or doubting our integrity with the phone lines. We try so hard to do the right thing for everyone & for our puppies, but with the lockdown, and having 2 vulnerable people here (my mother with dementia & Graham as a cancer survivor) we are unable to allow farm visits, and the number of people wanting a puppy is unbelievable.
We would truly appreciate anyone who can suggest a better or fairer way for us to allow reservations to let us know? We are considering only allowing people who have either already visited in the past, or have a personal recommendation from someone who has already had one of our puppies to reserve a puppy? Feed back via email or whatsapp would be very much appreciated?
27/05/2020
Scampi's lovely litter will be made available for reservation on Saturday 30th May at 8pm (an hour later than our usual 7pm). Please read the reservations page fully before calling.
Mocha and Mimi are both growing & blooming well, I'm excited about their litters, Mocha's because they're pure cockers and I might be alowed to keep one! And Mimi's because she is the daughter of my own favorite pet Mable (who I showed quite a lot and did well with). Mini (Mini-Me) is the spitting image of her mother, and this will be her first litter, she is in pup to Paddy for F1's, fingers crossed all will go well.
Red is sadly not looking to be in pup, or if she is (she is always a little chubby) it will be a small litter. Time will tell....
Captain Tom is doing well in the charity auction for the NHS, we are so proud to be able to offer something in return for our brave frontline workers.
15/05/2020
Scampi has had her puppies! A nice size litter of 7 puppies, very small and a few days early, but all are doing well and wriggling as they should be. Scampi is proving to be a fab mum, and thankfully has not followed in her mothers footsteps (Scampi was our amazing Dora-Dog's first litter and Dora had inverted teets and couldn't feed her puppies at first, so Scampi & Chips were both bottle reared)!
Nutty's huge litter of puppies, including Captain Tom, are thriving. Nutty is just an unbelievable mum, and is rearing her litter of 11 all by her self! She is eating for England and converting the calories in to milk fantastically. We keep trying to introduce a bottle to give her some help, but the puppies are always full, and just don't want a bottle! We are SO pleased that there has been strong bidding for Captain Tom already, we are really excited to see how that continues. We will be posting pictures of Nutty's litter sometime next week in advance of their reservation date.
09/05/2020
First bids received! Thanks so much!
08/05/2020
Nutty has had her litter and has had a huge litter of 11! All are fat and strong and shes doing a fabulous job! We tried to assist with a bottle of milk for any that were getting left behind in the fight for a teet, but amazingly there just aren't any smaller ones! The pictures aren't very good I'm afraid, but it's very hard to take pictures of very young puppies. I'll take more before the reservation night, which will be held on 23rd May at 7pm.
We are still just over the moon with the response we had to the charity puppy auction we offered for Florence Nightingale, and in light of that, we have decided to offer one of Nutty's puppies the same way, this time called Captain Tom! We have posted full details of this under the 'Available Now' page, called 'ANOTHER puppy for the NHS'... Please do have a read, and look at the pictures.
On a different note, Scampi is doing well in her pregnancy and continues to grow, I doubt she will have a huge litter as this is her first, but she is very happy and carrying her puppies well.
02/05/2020
Tonights reservation was busier than we have ever known, and both Bella & Zippy's litters were reserved within 25 minutes. We are very sorry that there were people disappointed that they couldn't get through, but that's just the way it goes unfortunately, our puppies are in very high demand and this is the most fair way we can find to do things. On the plus side, both Scampi & Nutty are heavily pregnant, so there will be more opportunities soon.
On other news, we are glad to say that our Vets are starting to do puppy checks again as of 1st May, so Bella & Zippy's litters will both be able to be fully examined prior to collection.
27/04/2020
We are ectatically happy to be able to say with the sale of Florence Nightingale, combined with all the other very generous contributions we received, we have raised a total of £13,025.00 for charity!!
This equates to 45 free weekend breaks away on Exmoor for our frontline NHS workers.
We have been very offered a very kind discount, in the interest of Charity, by our fabulous local Hotel, restaurant and pub The Rising Sun - Lynmouth, and are proud to be able to donate these breaks to those who will appreciate them the most. The Rising Sun is where we always go for a treat of a meal out, it serves the best fillet steak I've ever eaten, and it's views over Lynmouth Harbor are hard to beat.
Have a look at the website below to see just how lovely it is!
www.risingsunlynmouth.co.uk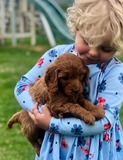 25/04/2020
'Florence Nightingale'
Final bid of £9500! Thank you SO MUCH!
We are SO thrilled to have raised this much!
Absolutely over the moon with the response we have had, how much joy we are going to be able to share, and how much gratitude we are going to be able to show to our amazing NHS staff!
24/04/2020
With one day to go, 'Florence Nightingale' is up to £8500!!! Absolutely over the moon with the response we are having and how much joy we are going to be able to share, and how much gratitude we are going to be able to show to our amazing NHS staff ♥️
What is our final figure going to be?!?
SO EXCITING-Our Puppy for the NHS 'Florence Nightingale' that we are offering on the Available Now page is currently up to £7777.00! We are so happy to be able to raise this sort of figure to support our frontline workers! A massive thankyou to everyone who has been bidding! But is this going to be enough?! :D
Just reiterating; Zippy & Bella's litters will be made available for reservation on May 2nd at 7pm.
Pictures will go online a few days prior to this with each puppies details.
Please note that all puppies born after 1st April 2020 will be subject to VAT so £1500 (+vat = £1800).
Also introducing Hobnob, a gorgeous coco & cream sable Cocker Spaniel boy puppy we have bought to hopefully add to the Stud dogs. Hes from the same family as our lovely Dora dog, and is already showing that he has the same 'baby loving' temperament-he's a darling. Pictures are with our youngest daughter Clancy, and out playing with our poodle boy Willy Wonka.
22/04/2020
Bella has had her litter! Lovely litter is gold & black, tiny puppies but very healthy.
Sadly Runty (from Zippy's litter) didn't make it which I'm VERY sad about :(
18/04/2020
EXCITING OPPORTUNITY ON THE 'AVAILABLE NOW' PAGE!!
17/04/2020
Wow it is BUSY here!! With no outside staff to help us, and the phones going absolutely crazy with people enquiring about puppies we are really struggling to keep on top of the emails, calls and website. Apologies if you have been trying to contact us, or have been patiently waiting for more pictures, we really are doing our best. Thank you for bearing with us.
Zippy has had her litter of puppies. Quite a small litter of 5, and one is just so tiny he is very unlikely to survive sadly. 'Runty' (as we have affectionately nicknamed him) was too weak to get to mum's teet and would certainly not have survived without intervention. He has been living inside my vest or on a hot water bottle since he was born and is being hand reared. He is a fighter and has done well to make it this far, and I shall be devastated if he doesn't make it, but sadly the odds are against him. The other 5 are very well though, reds and golds, mostly girls, and mum is doing a fabulous job with rearing them. Bella is yet to whelp, although we are expecting her litter imminently. We will make Zippy's litter available to reserve on 2nd May at 7pm, and depending on whether Bella has had her litter by then, we may put hers up at the same time.
We are glad to be able to confirm that Nutty is pregnant for F1 cockapoos, but sadly Petal has not conceived to Rudi for pure Cockers. Having had such an amazingly beautiful litter from Pinky & Zulu, we have bred our beautiful Mocha to Zulu for a similar litter of pure Cockers that should be due 6th June. We are hopeful that Scampi is pregnant and she is certainly looking to be, which will be an exciting litter for us, being that she is from our much adored 'Dora' Line.
This beautiful weather we are having is leading to loads of outdoor fun and socalising for the puppies we have here. The girls adore the puppies, and will quite often sneak one under the blankets with them to watch a film, or take them in to the play room for a tea party!
Pumpkins litter were the first that we have had delivered as opposed to being collected in person, and that all worked very nicely and went very smoothly we are glad to say. Coco's litter start to leave for their new homes this weekend too. Time seems to be flying by at the moment... it seems only minutes ago the puppies were born, yet already it's almost time for them to leave us. I have had a fortunate turn of events with Pinky's litter (which I absolutely adore). I had regretted not retaining one, but with this being Zulu's first litter I was not aware of quite how stunning they were all going to be. But as luck would have it, a gorgeous girl became unexpectedly reavailable, and she is very happily now reserved to me! So Bracken (or Blacken as Purdey calls her) is now a permanent fixture here at Hallslake.
As many of you who have visited know, we always send our puppies to their new homes with a 'smelly teddy' to help them settle in unfamiliar surroundings. Due to the lockdown we have been struggling to go around the charity shops collecting them, so Graham has been repairing some of the old favorites! If anyone reading this happens to be looking to Rhone any old teddies, we would be very glad to receive them!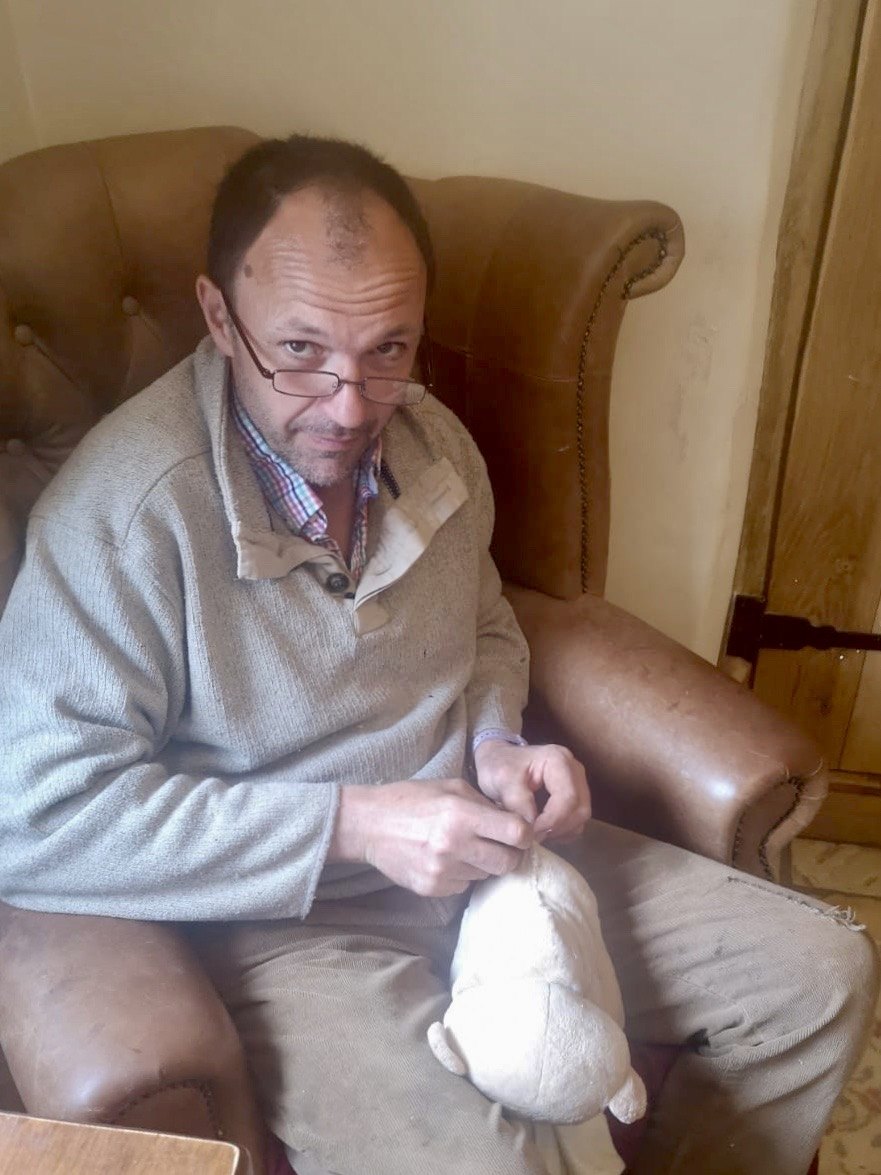 On a different note... on the Farm, lambing has now finished and has gone very well. We have started foaling the mares, with a lovely palomino filly being the first to make an appearance, and we have managed to get the veg garden and greenhouse planted out ready to maintain self sufficiency where possible here at Hallslake.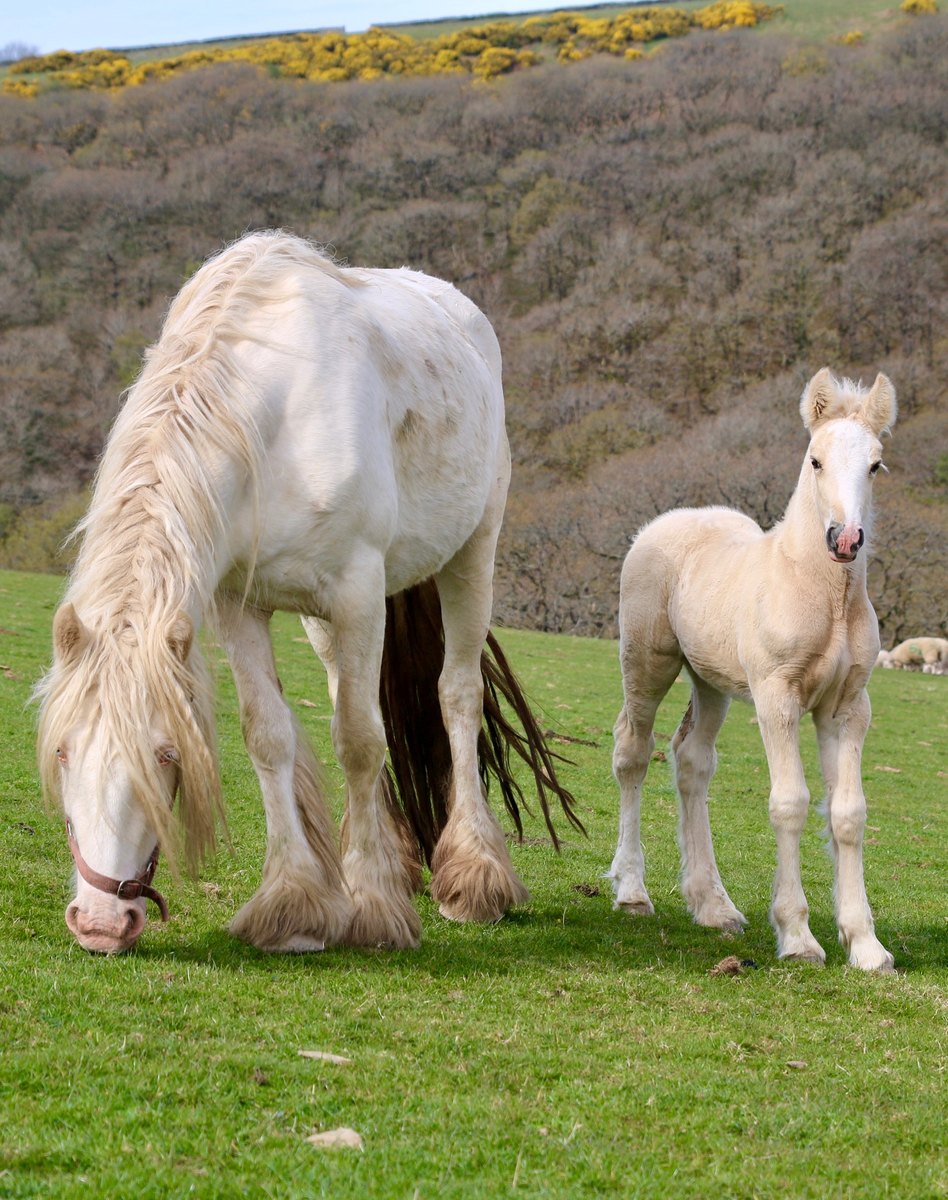 04/04/2020
Everything is ticking along nicely here at Hallslake through these strange time. We are super busy, having no kennels or farm staff helping us at the moment, Graham & myself are running the kennels, lambing the sheep, foaling the mares as well as keeping our young girls happy, so lets say it's pretty full on! Thankfully we have a WONDERFUL nanny and house helper who has been with us since January, and has decided to wait out the lockdown with us. Nettie is quite likely to be answering emails and passing on telephone messages if you are trying to get in touch at the moment, as we are just not gotting much time indoors.
The litters here at the moment are doing very well. The older litters are getting lots of outdoor time in this lovely weather, and the younger ones are having lots of fuss off our girls while they are off school. Pinky's litter of pure cockers, who are our first litter by our new boy Zulu are absolutely stunning, I regret not keeping a couple of them! Pumpkins litter are almost ready to go now, and are gorgeous fluffy bundles of fun.They are regularly causing havoc running through the house carrying a baby toy or kids shoe! There are currently Lambs and chickens on the front garden which the puppies try very hard to chase until they turn around and chase them back, which is always highly amusing!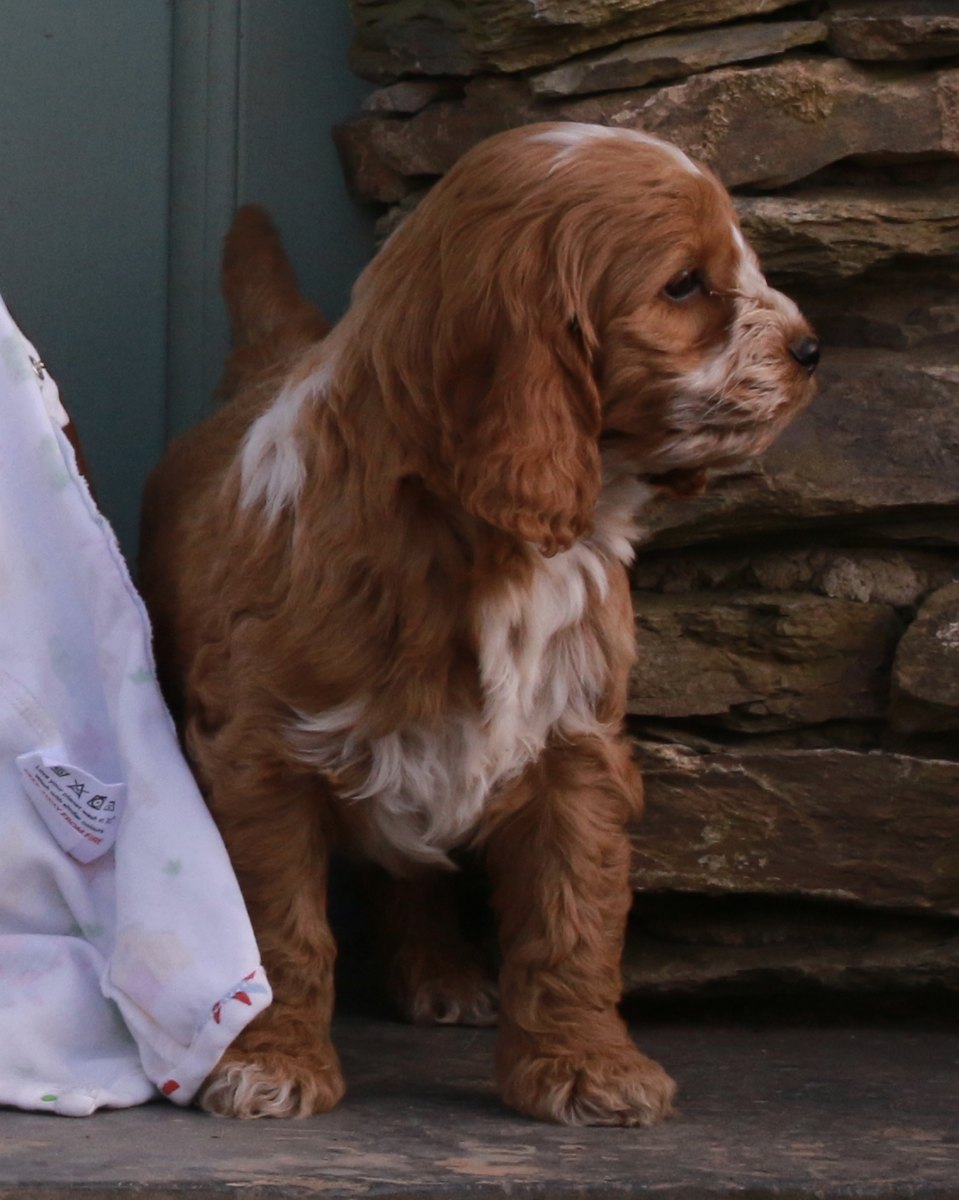 We are excitedly awaiting the arrival of Zippy & Bella's Mr Fox litters. Both are due within the next 10 days, We expect reds, golds and blonde F1b's from Zippy, and any choice of colours from Bella including gold, red, chocolate or black. We are not 100% sure if Petal has concieved by Rudi yet, but there is still time for her to grow a bit more. It is also looking unlikely that Duo and Willy Wonkas mating has been sucessful, that was always on the cards though as it was his first time mating. Going forward, we have bred one of our very special Dora-dog's daughters Scampi (sister to Chips-not yet on the Females page) to Mr Fox! We hold all the Dora line puppies in such high regard that we normaly only breed pure Cocker from them and keep all the girls, however we had a lovely litter recently from Chips so we decided that we would breed our first ever Dora line F1cockapoos! We have also bred Mocha our gorgeous chocolate sable girl, to Zulu our new Stud dog. This cross should produce some beautiful chocolate & tan / chocolate sable pure Cocker puppies.
I have posted a page under 'Available Now' regarding delivery of puppies & about not currently being able to conduct Vet checks due to the lockdown. If you have a puppy reserved please have a read of this page.
24/03/2020
Well we are in Lock Down! Who could have ever though the world's daily routines could be altered so much so quickly! I hope all of you out there are taking care of yourselves and staying safe. We are very lucky here on the farm, other than locking the gates, life continues much unchanged. All the puppies are thriving, and this recent glorious weather has meant lots of fun time for the girls and the puppies playing outside. In these days of most people having to stay indoors, we will do our best to keep new pictures posted of the litters here to cheer everyone up! I have added loads of pictures of Pumpkins litter below, they are casual pictures of them playing today with the family, so they don't have their collars on I'm afraid as it was an impromptu shoot.... you will just have to try to work out who's puppy is who's! Sorry about that! :)
We are pleased to have made an agreement with a friend of ours who delivers animals professionally, and he is able to deliver any of our puppies to any address in the country, and will do so in a totally contactless way. We will talk through our puppy packs over the phone with the new owners so everything is made ready before puppy's arrival, and puppy, paperwork & puppy pack will all be delivered to your door. The cost for this is arranged by us with Chris the driver on your behalf, and is very reasonable. Delivery drivers are considered key workers so legally there is no problem with this arrangement, and there is the added benefit of knowing that the job will be carried out safely and professionally.
Although there are troubling times ahead at least we can try to make the best of the situation by staying home and having lots of quality time with your new puppy, bonding, playing and training.
17/03/2020
Coronavirus
We are in a time of declared Global Health Emergency, so sadly we are not allowing visits to the farm at this time.
We are still happy for puppies to to be reserved and will be open to conducting telephone interviews or video calls instead of visits for the time being. We hope very much that the situation will soon be controlled and things will return to normal.
In the mean time, if you already have a puppy reserved we will work hard to keep the website pictures regularly updated, and will happily arrange contactless collection, or a professional pet courier delivery.
14/03/2020
Coco & Pinky's litters go live tonight!
Pumpkins litter are growing really nicely and are lively and playful now. I've posted some pictures on here are they don't have their own page;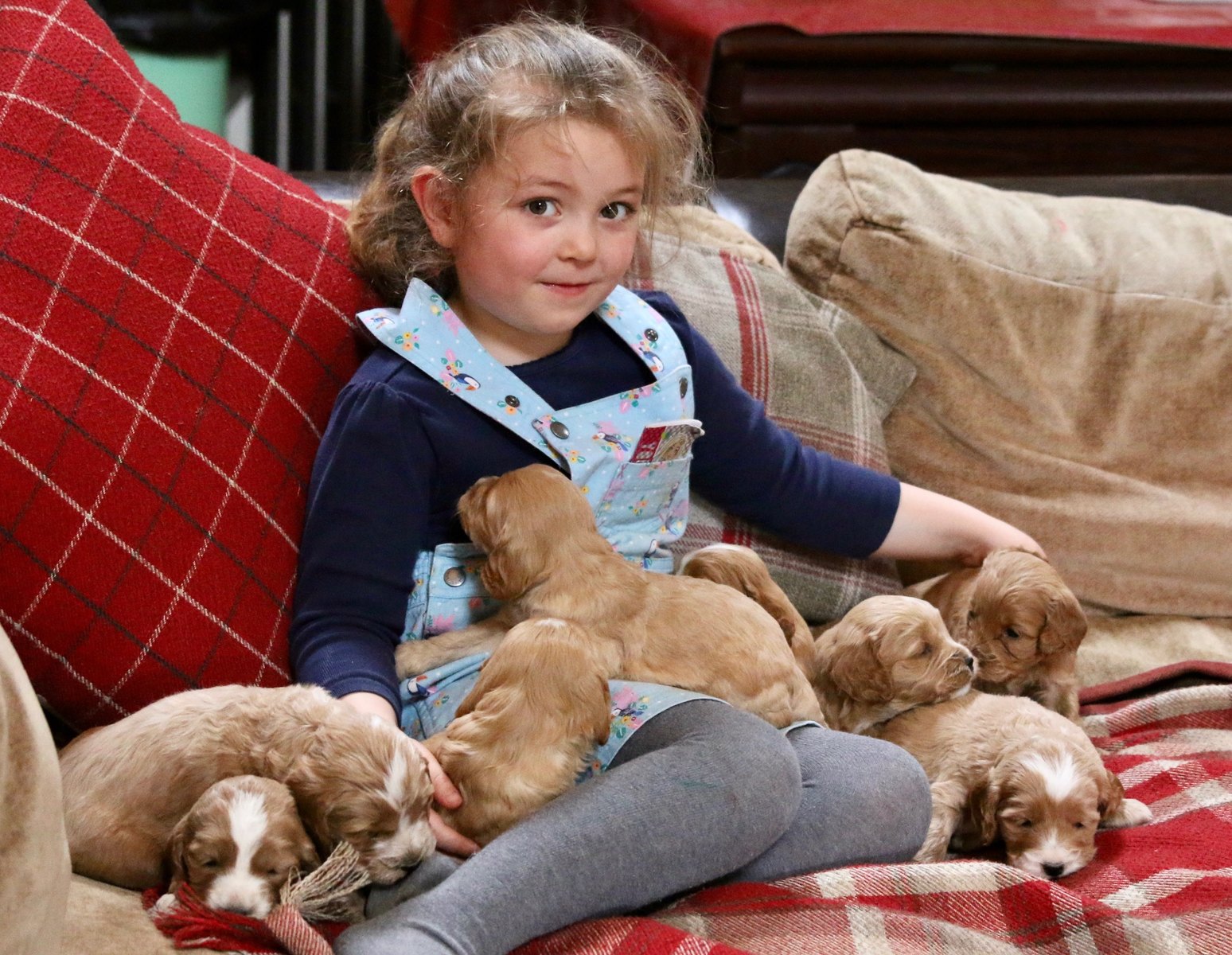 07/03/2020
We plan on making both Pinky's & Coco's litters available for the normal reservation process (see the 'Reservations Process' page), by posting pictures on-line around 10th March, and putting them to be reserved on 14th March, 7pm.
03/03/2020
What a lovely, busy time we are having at the moment!
As we previously said we were going to do, we have allowed people who have been trying to reserve a puppy for sometime without success, to reserve puppies from Pumpkin's and Spot's litters. Pumpkins litter of yellow puppies are all reserved, and Spot just yesterday had her litter of yellows & blacks. There is a waiting list for about 1/2 of that litter, so if you are one of the people who have already visited but have been unsuccessful in reserving a puppy before now please do get in touch with Graham on the phone. 01598 741105.
Pinky has had her litter of pure Cocker Spaniels, she was not impressed by the delivery process and needed a lot of help with the births, but she does love her puppies very much now they're here. She has 7 gorgeous chocolate, and chocolate & tan puppies.
Coco has, as always, effortlessly and perfectly produced a stunning and large litter of sable and yellow (I use the term yellow to cover all the various shades of blonde, gold, red, etc) puppies. Shes is a fabulous mother and all her litter are doing well. As with all large litters there tends to be a couple of puppies which struggle to get as much milk as the others, so we will wait a little longer than normal before making this litter available for the normal reservation process (see the 'Reservations Process' page), but we are hoping to post pictures on-line around 10th March, and will put them to be reserved on 14th March, 7pm.
21/02/2020
Breaking News....! Coco is having her puppies right now!! :) And very thoughtfully-through the day time! What a good girl x
19/02/2020
We have puppies!! Pumpkin has had her babies (14/2/20), a good litter of various shades of yellow, mostly boys, all good and strong puppies. Mum is very proud of herself and is doing a great job with them. Pictures to follow soon!
Coco, Spot & Pinky are growing by the day and should all have their litters with in the next few weeks. We used an outside stud dog called Zulu to breed to Pinky, for a litter of pure Cockers, but we liked the dog so much (when you tickle his tummy he stands up on his back legs and walks around like a bear!) we have actually managed to acquire him to join us here at Hallslake! So he will be here to meet with his puppies. He's a beautiful Chocolate and Tan boy, and also quite small compared to Breed Standard, which we like. The puppies produced by the cross of Zulu and Pinky should be absolutely smashing. They should be quite small & petite, various combinations of chocolate, chocolate roan, chocolate & tan, and should exceptionally beautiful as well as having the MOST fabulous temperaments.
Zippy has been bred to Paddy for a litter of F1b's which will be due mid April. These should be lovely gold & red curly, fluffy bundles of fun! We also have 2 older puppies available which we have posted details of on the Available Now page.
Just a small thing on a different note.....We are auctioning an 'original' artwork made by daughters (aged 2 and 4 years old). It is being sold to raise money for children who are not lucky enough to being able to enjoy the happiness and fun a healthy childhood should bring. 100% of what we make will be donated to Children with Cancer UK to help tackle the thing every parent lives in terror of, and no child deserves. We have put it on eBay and the link is attached, just copy and paste it in to your address bar.
APPARENTLY THE LINK WASN'T WORKING SO I'VE UPDATED IT... PLEASE DO BID, IT FINISHES TOMORROW AND THE GIRLS WILL BE VERY SAD IF IT DOESN'T MAKE MUCH :'(
https://www.ebay.co.uk/itm/Original-artwork-children-s-feet-signed-For-Children-with-Cancer-UK/233491273284?hash=item365d2a1644:g:qakAAOSwqOdeQW3l
Bidding ends 20th Feb 9.30pm. Any bids would be very much appreciated!
31/01/2020
Coronavirus
We are politely asking all our potential visitors if they have recently been abroad, or could have been in contact with anyone exposed to the Coronavirus before booking an appointment? We have young children here and don't want to expose them to any risks, so in this time of a newly declared Global Health Emergency, we are encouraging people to conduct telephone interviews or video calls instead of visits for the time being. We hope very much that the situation will soon be controlled and things will return to normal.
In the mean time, if you already have a puppy reserved and are confident you are of no exposure risk, we would be happy to welcome you to collect, but if in any doubt at all, we will arrange delivery via a professional courier.
02/01/2020
Happy New Year!
We hope all our followers have had a lovely Christmas and a Happy New Year.
We have had a gorgeous litter born to Rio & Mr Fox on Christmas Eve-Eve! A mix of girls & boys, in deep red, red and gold, doing very well for a large litter of 10 (with one tiny one)!
We will post pictures of this litter around the 15th Jan and will make them available for reservations at 7pm Saturday 18th January. If you haven't already done so, please make sure you are familiar with the reservations process before then.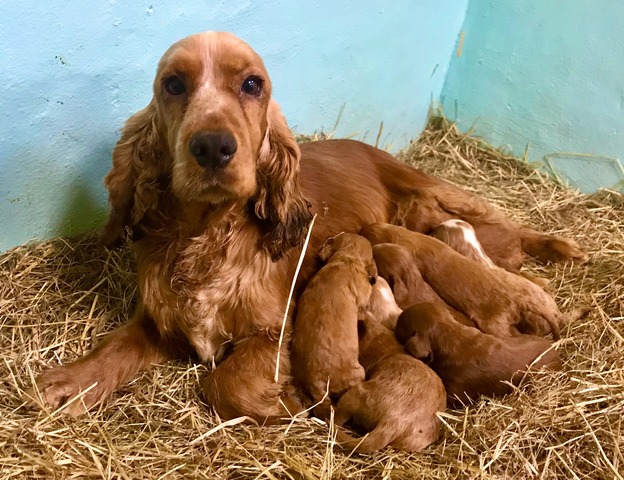 We have had a big flurry of girls coming in to season, all around the same time (as mother nature likes to do when a group of females live together), so we have bred quite a few of the girls for litters due between mid Feb & mid March, ready to leave around the Easter holiday period. We will have F1 Cockapoos & a litter of pure Cockers due all being well.
20/12/2019
With Christmas coming we are not getting much rest from the dogs at the moment! Rio is absolutely huge and due to have her puppies on Christmas eve, although I suspect she may have them early. We also have a flurry of girls coming in to season, which would lead to litters due to be collected at around Easter time. Pumpkin has just beed bred to Paddy (Mr Fox's Dad) for F1 Cockapoos, Coco is just coming in season and is planned to be bred to Mr Fox for a repeat of her gorgeous litter of F1 cockapoos on the 'previous litters' page, and Pinky is booked in to be served by a chocolate and tan stud dog standing nearby for a litter of pure Cockers all being well (Pinky's mum Bella, is full brother to Stud dog Beano, so we wanted to use some outside bloodlines on her).
I have finally got round to adding Paddy to our 'Males' page. Many of you will have met Paddy, he is Mr Fox's dad. We have owned Mr Fox from a puppy and he has been hugely sucesful as a stud dog sire for us. Sometimes, however, his workload is a litte excessive, as in a pack enviroment all the girls tend to come in season at the same time so we were looking for another red poodle dog as backup. When we found out that Paddy was looking for a new home (from the breeder of Mr Fox) it was an obvious decision for us that of course we would love to have him. He is an absolute joy to have around, full of fun, very clever, and it's easy to see where Mr Fox gets his good looks from! As with all our boys, he is of course fully health tested.
11/12/2019
It's busy busy busy here on the farm in the run up to Christmas! The puppies are growing up well and strong, and are all getting playful. As it's cold they're spending a lot of the time in our sitting room & being carried around by our children!
Rio is due her litter on Christmas Eve, and we are very excitedly waiting to see if she prouduces a healthy litter of the Deep Red colour that we love so much. We have also bred my lovely Mable's daughter, Crunchie, to Mr Fox but we are not sure she has concieved yet. Muffin is just coming in to season too, and will be bred to Mr Fox (a repeat of last years puppies) for a litter due around Valentines Day, all being well.
On a different note, some of you may have heard about the changes in the licensing laws for dog breeders which came about this year. We always say the more hoops breeders are required to jump through, the better. Anything that makes life harder for shoddy breeders the better. The new regulation are very tight and scored on a star rating system, from 1 to 5, with 1* being a high risk scrape through pass, up to 4* being kennels that meet expectation, and 5 stars being reserved for the very best of establishments that exceeding expectation. We are pleased to report that we received the 5* rating!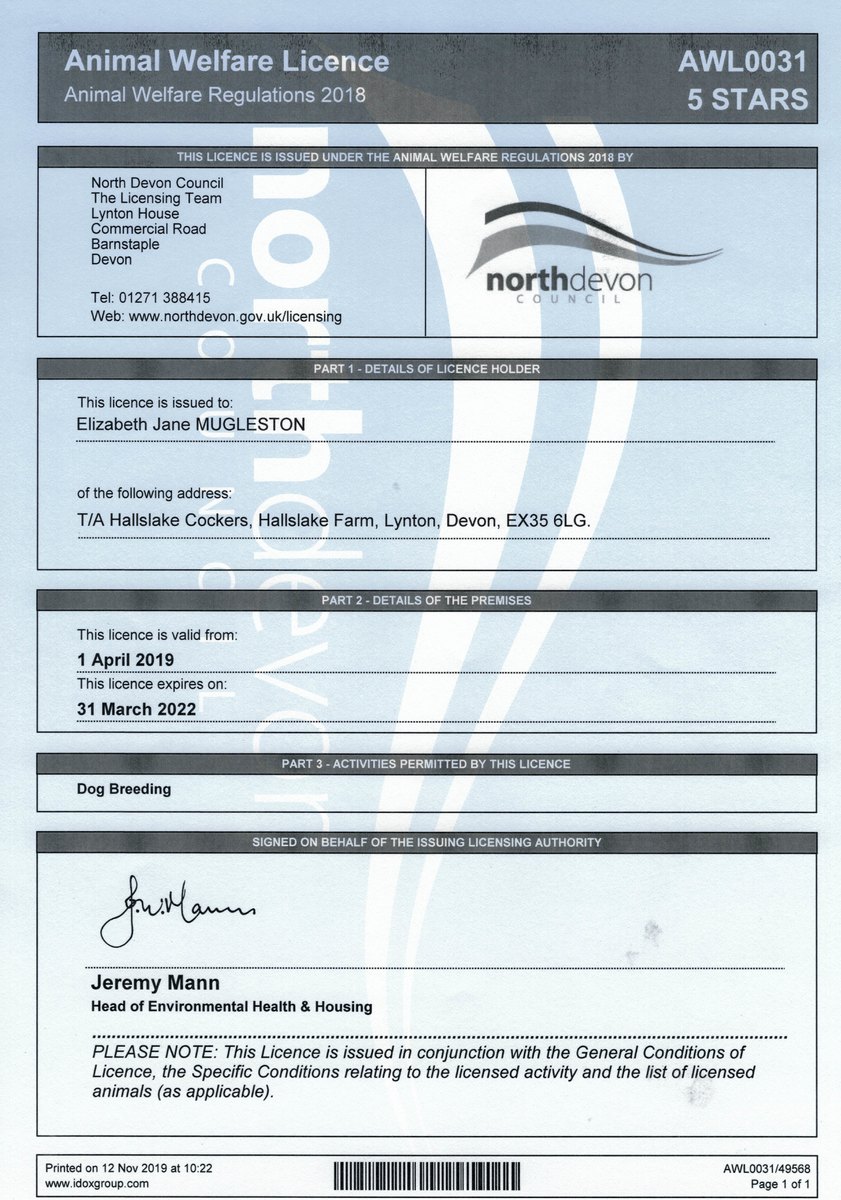 And finally I would like to introduce Willy Wonka!! We have finally found a chocolate miniature poodle to join the boys! He is an absolute delight, well bred and raised to the high standard that we required. He's still a puppy at 4 months old, and we are waiting for all his genetic helth testing to come back, but we are super excited about him, and will look forward to chocolate box litters form some of our brown girls in the future!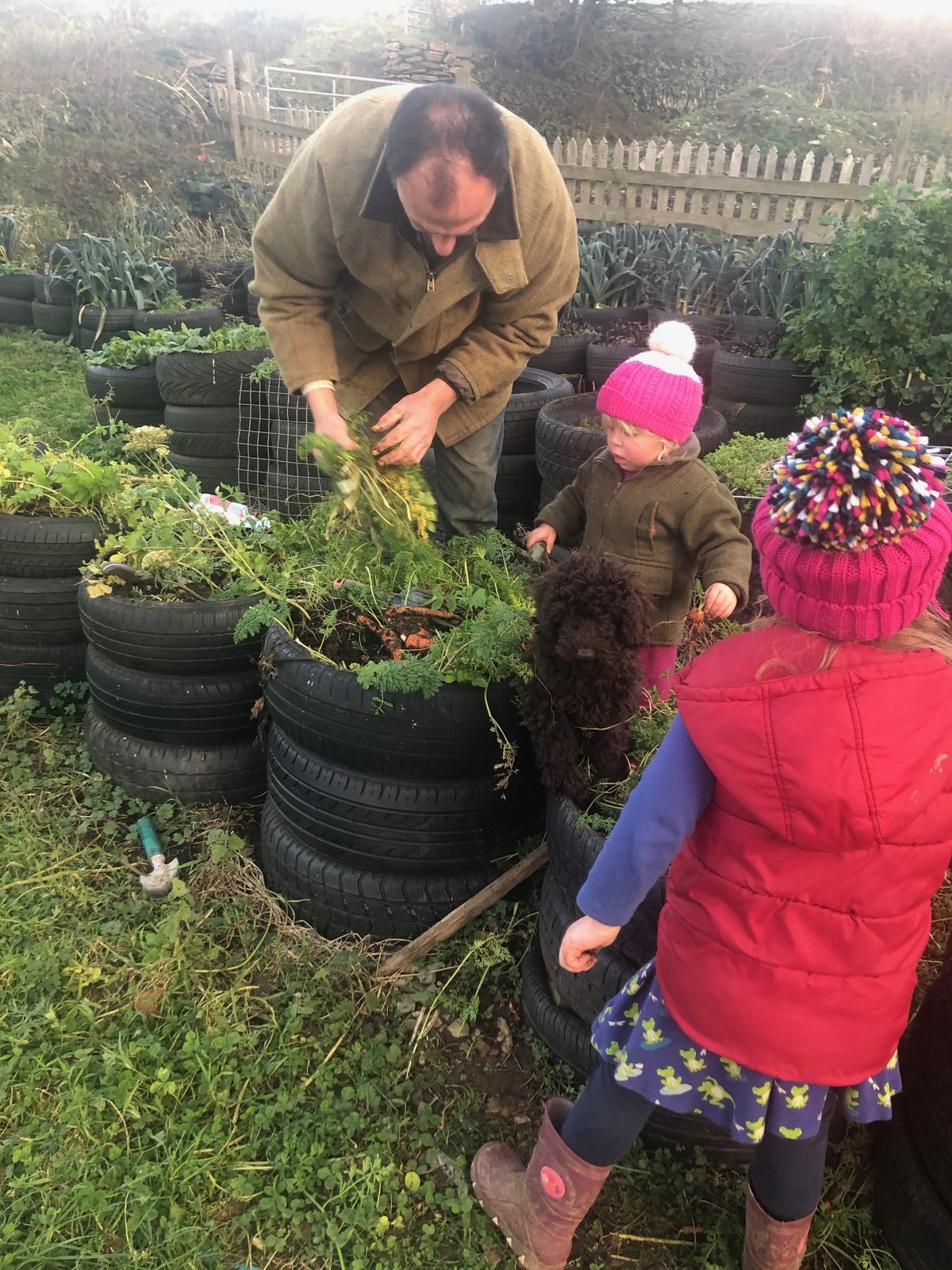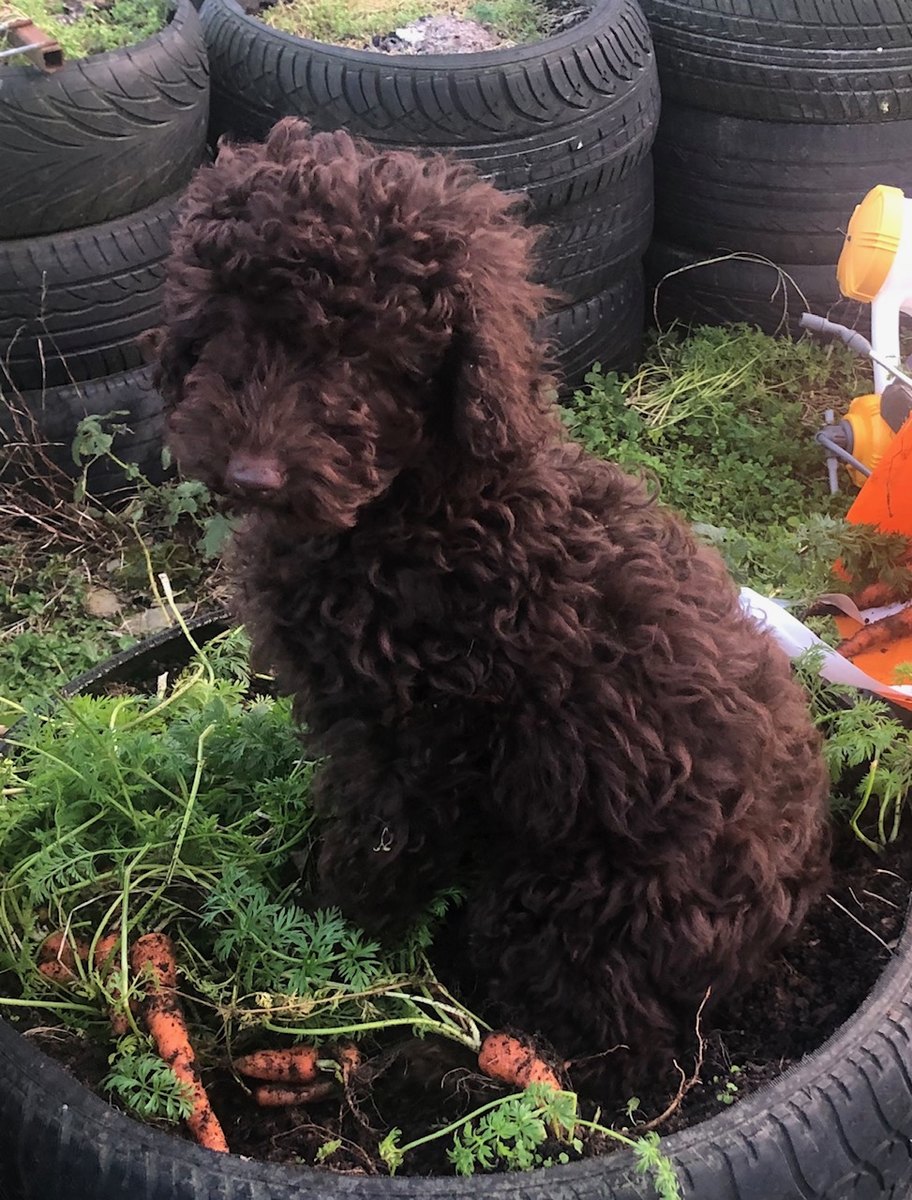 06/11/2019
Dotty has had her litter now, all the puppies are black and as a first time mum she has taken to them very well and is doing a lovely job of looking after them.
We will look to making Dotty's and Alice's puppies available for reservation on the same day, which all being well should be 19th November 2019 at 7pm. We will post photos of the 2 litters a few days in advance of that date, with colours & sexes listed under different collar colours. Please make sure you have a good read of our Reservations Process page if you are not already familliar with it.
29/10/2019
Things are pretty hectic here at Hallslake at the moment! Clancy our new daughter is settling in to farm life nicely and is regularly down in the kennels in the mornings to the great curiosity of the dogs, who all like to jump up the side of the pram to have a sniff of her. Inside the house, sadly Polly our much appreciated PA has moved on to another job, and we were let down at the last minute by her replacment, so email replys have been few and far between, and photo's a little non existent I'm afraid. The dogs are all in great health though, Alice had her puppies in the early hours of this morning, and has had a gorgeous litter of chocolate & tan, and black puppies - all doing very well at this early stage. Dotty is looking imminent too, and we are expecting puppies in the next few days from her.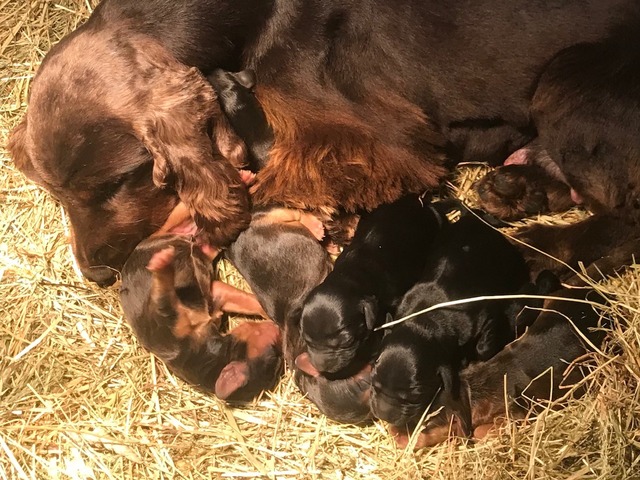 On the forward breeding, we have served one of our younger girls 'Rio' (who I have not yet added to the website) to Mr Fox for a litter of Cockapoos due on Christmas Eve. Rio is a gorgeous deep red with a white nose. She is bred by our Stud Cocker Rudi and was a 'pick of the litter' return for a stud fee, and she has grown to be a beautiful & elegant girl. Chips' litter is doing well and are very sweet and playful. With it being so cold now they are quite often in the sitting room being carried about by my girls! Following such a busy summer of litters, it stands to reason that we should now be having a a quiet time with the breeding, and it's doubtful we will be breeding anymore of the girls this year, although there is a possibility that Amy may soon come in to season.
06/09/2019
Sorry for the lack of updates/photos recently, I've been busy having a baby myself! I'd like to introduce Clancy, our new daughter, born (not without plenty of complications) on 2nd September. As you can see, Dora is already taking her nannying/baby sitting role very seriously!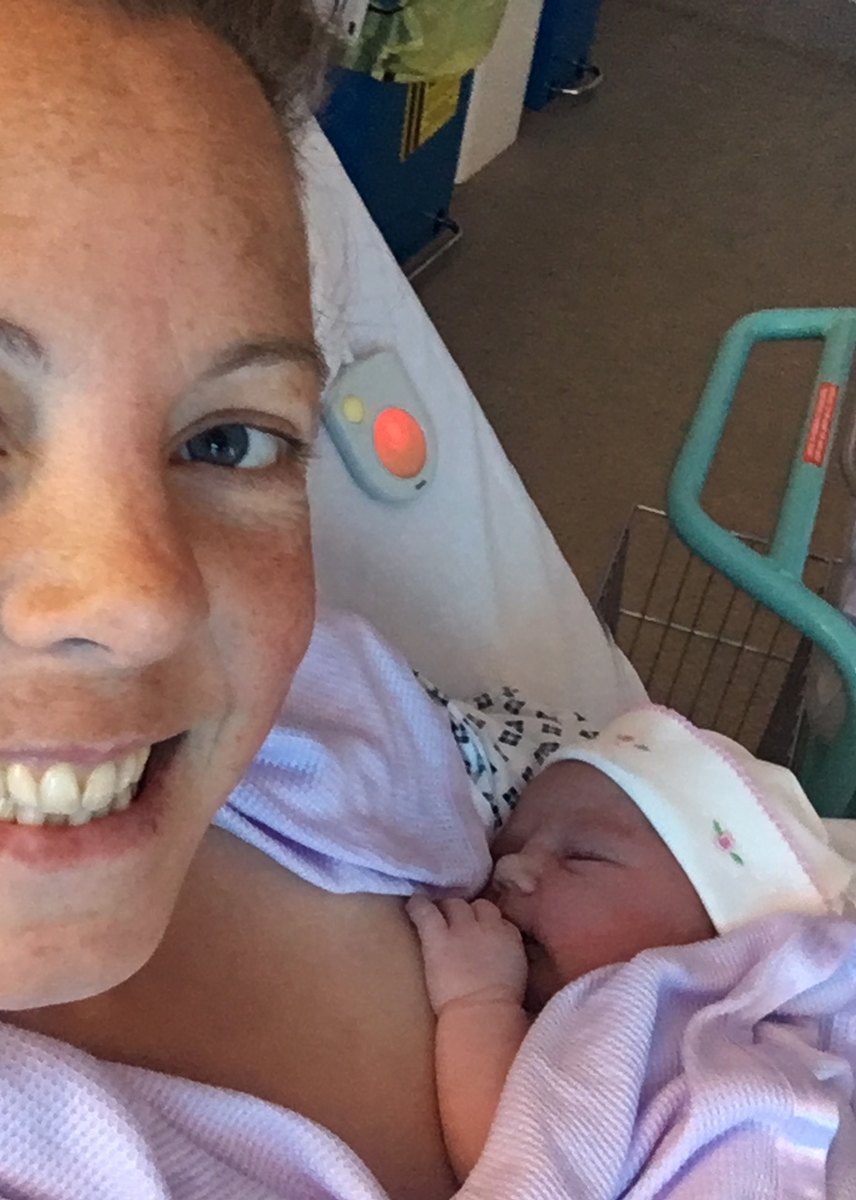 On the Dog side of life, Uno has had her litter, which are a beautiful variation of colours, golds, reds and sables, and Peppa's premature litter are now doing well after a shakey start. Peppa did sadly loose some puppies due to their early arrival, but she now has 5 good strong puppies, 3 black and 2 red, who are growing really well. We will make these 2 litters available to be reserved on Tuesday 17th September at 7pm.
We have also bred Dotty (Purple's full sister) & Alice (Billy's full sister) to Mr Fox for litters due within days of each other at the end of October / begining of November.
2/08/2019
On 31st July Mabel (my favorite girl) & Rudi had a litter of pure KC cockers puppies. This will be Mabel's last litter and she came up trumps giving me 6 puppies, 4 of which are girls (all of which we will keep as we are very keen to keep this line going in our breeding program). All the girls & one of the boys are orange roan / orange and white, and there is one blue roan / black & white boy. She had this same mating last year, and we have kept 3 of the girls from that litter, and they are absolutely beautiful! Hopefully these puppies will be the same. The 2 boys will be made available for reservation in a couple of weeks.
Billy is looking like she is going in to labour tonight... so keep your fingers crossed for a smooth pupping for her, and not too long a night for us!
Peppa & Uno aren't due for ages yet but are absolutely huge, as am I, due my own daughter in 4 weeks!
20/07/2019
Sorry for the lack of updates lately. Along with being very busy with all the animals, my two daughters, and being heavily pregnant and lethargic myself (only 5 weeks left now!), my mother who lives with us has had a fall and broken her hip! So all in all things are quite chaotic at the moment!
On the plus side, everyone is doing well given the circumstances, and things are lovely and rosy here with puppies playing on the lawn, foals galloping around the fields and the girls showing puppies how to dig in their sand pit. It's all quite idyllic!
Trio & Chino have had their litters and all are doing well. Orange is keeping us hanging on but due any time now. We have decided to wait and put the 3 litters all on for reservation at the same time, so depending on when Orange has her babies we will probably be looking at around the 5th August approximately. I will try to take some more pictures of the litters that are born, and will keep the website updated when Orange has hers.
06/07/2019
Trio has had her puppies! A very small litter of only 3, but mum and puppies are all doing very well. Mum has bonded immediately (which is always a worry with a first time mother), and is taking very good care of her babies, while also being very happy showing them off to us while we inspect them. We have 2 sables and one gold.
04/07/2019
Lots going on here with the girls at the moment, I think the sunshine is bringing everybody in to season! Dora's huge litter of pure cockers are mostly doing well. 9 are 100% but there are still a few more which are still small and struggling that we are doing a lot of hand rearing with, that aren't quite out of the woods yet. We will take pictures of the 9 strong puppies later today or tomorrow and will make them available for reserving DATE CHANGE - FRIDAY 12TH JULY AT 7PM (we have been so busy baling and getting the hay in with this fine weather that we have not had a chance to take pictures yet I'm afraid, so we have changed the reservation date from 9th to the 12th July) , the weaker ones we will keep hold of until they are a bit stronger. There will only be boys available to be reserved from this litter (sadly for us they were almost all boys).
On to the other girls, Trio is overdue but quite small still and not acting at all like she's imminent, still running about like normal. She is definitely in pup though so we are keeping a close eye on her as it's her first litter. Chino is looking to be likely to pup in the next week or so, again this is her first litter so we are hoping all goes well. It's still too early to say about Billy as she is quite a small and petite bitch, so will probably not show until the last minute.
We also bred Orange to Mr Fox about 7 weeks ago, but due to her not getting in pup for the past couple of years (infact she's only ever had one litter) we didn't hold out much hope, however it would appear she may have taken this time - which is very exciting! Fingers crossed for a nice healthy litter in a weeks time!
12/06/2019
Both the litters from Jingle & Frazzle have been reserved very quickly this time. If you have missed out on reserving one this time please don't loose heart, we are definitely expecting F1b puppies from Trio fairly soon, possibly a litter of F1's from Chino, we have had a HUGE litter of pure Cockers from Dora, and we have also bred both Ginger to Mr Fox for a litter (for F1's due in about a month) and Billy to Mr Fox (for F1's due in around 7 weeks).
19/06/2019
Jingle & Frazzle's litters will both be made available on Wednesday 12th June at 7pm. We will post pictures of the litter at least 24 hours before making them available. Please make sure you have read our reservations process page.
24/05/2019
Jingle had her puppies a couple of days ago, a huge and lovely litter of gold, blonde and creams. Luckily her sister Frazzle (who only had 3) has taken a few on to raise for her, & between them all the puppies seem to be thriving, which is wonderful. We will wait until Jingle's puppies are a couple of weeks old before making both her and Frazzles litters available at the same time.
On the breeding side, my lovely Mable is just coming in season. We hope to repeat her litter from early 2018 by putting her back to Rudi. They had a stunning litter of Orange & whites, Orange roans, and Blue Roan & Tans last time, 3 of which we retained (and need to add to the website as Juniors). They're stunning! We will likely retain all the female puppies from thins mating if its successful, but there will be boys available.
Dora & Trio are both looking decidedly pregnant which is exciting.
14/05/2019
Purple and Mr Fox's litter have had their pictures posted in advance of making them available to reserve, which will be done at 7pm on Friday 17th May (please see our reservations process).
Frazzle has had her litter of puppies, but had a tiny litter of only 3. They are very nice puppies though, with 2 deep reds and one dark golden. Jingle is also in the maternity ward waiting to have her puppies, and looks likely to have a large litter. We are hoping if she has them soon that Frazzle will help her rear a few, they are sisters after all!
We have had a couple of recent matings, the most recent of which being Chino & Mr Fox. This will be Chino's first litter, but she is full sister to Mocha, and is absolutely identical to her. We are hoping for a similar litter to the stunning litter Mocha produced with Mr Fox, which can be seen on the previous litters page. Trio our F1 cockapoo (who many of you will have met - she is a real character and we originally intended to train her as a therapy dog - which she would have been awesome at) has also been bred to Mr Fox for a litter of F1b's.
30/04/19
There has been lots going on here lately! As well as being pregnant again myself (22 weeks), we have just finished lambing, we have started foaling with 3 thoroughbred fillies born so far, & my youngest daughter has just had her 2nd Birthday. Our internet has also been down since last week and only come back up today - so sorry for the lack of email replies lately, and I will take pictures of Duo & Spot's litters today.
On the dog front, we have had puppies born last night, a lovely litter of a blonde and blacks from Purple and Mr Fox (pic on the planned litter page)! Sadly it isn't looking like Pinky is pregnant (we bred her to Rudi for a pure Cocker litter), but Frazzle & Jingle are both looking round & blooming, so we hope they should have litters over the next few weeks. We have had a bit of a mix up with my daughters adorable Dora... after successfully breeding her twice with Beano for a litter of pure Cockers, Tully (who's 3) decided to take her for a walk and came back without her, telling me she was playing piggy backs with Paddy (Our red poodle - Mr Fox's father)! So her litter is going to have to be DNA tested to see who the daddy is - assuming she does conceive! It is possible for puppies within one litter to have different fathers, so its quite likely we will have a few Cockers and a few Cockapoos - oops!
09/04/2019
We will be making BOTH Spot & Duo's litters available for reservation on the 13th April at 7pm. We will post photographs at around lunch time on Saturday 13th to be viewed before malking them available to be reserved at exactly (and not before) 7pm (please read the reservations process page).
31/02/2019
We have puppies! Spot and Dup have both given birth to their litters of puppies and all are doing very well! Spot had her litter on 25th, 4 gold and 4 black most with interesting white marking with a mix of boys and girls. Duo had her litter on the 28th with 6 puppies, 3 sable and 3 gold/red, again a mix of boys and girls. We will be making the litters available for reservation around the 13th March and will give a couple of days notice before we anounce them as available (please read the reservations process page).
28/02/19
Our three chocolate sisters (Purple, Pinky & Dotty) are all coming in to season! Purple is the earliest and has (yesterday) been served by Mr Fox for a hopeful litter of F1's, Pinky will be going to Rudi for a pedigree litter of Cocker Spaniels when shes ready, and Dotty will be going to Ted for a litter of F1's. We are using all different fathers as a bit of a colour experiment to see what colours we get from crossing chocolate roan with the 3 different coloured dads, there are a complete multitude of possibilities as mums could carry sable, chocolate, gold, red or black, all of these with or without the roan/white patches! Watch this space too see if they conceive!
SPOT & DUO HAVE BOTH BEEN BRED AND ARE HOPEFULLY BOTH DUE FOR A LITTER OF F1 & F1b's ON THE SAME DAY; 25th MARCH - FINGERS CROSSED!
10/02/19
The snow has thankfully cleared!
Coco has had a gorgeous litter of sables and red/golds, a large litter of 9 puppies and only 1 boy among them! Born a few days prematurely but thankfully Mum and babies are all doing very well.
Red & Bella's litters are growing well (Red had one very small golden girl which Bella is raising for her as Bella has a much smaller litter, and while small, the puppy is showing consistent and healthy growth). We will make both of these litters available to reserve on the same day, 16th Feb at 7pm.
01/02/19
Well the snow has come down thick and fast over Hallslake again leaving the lane to our farm 6 foot under! Luckily the fire is still roaring away in the kennels keeping all the dogs, & new arrivals toasty and warm. Nutty's puppies all all thriving, 29th Jan saw the arrival of Bella & Ted's litter of chocolates and blacks, and Yesterday (31st Jan) Red & Mr Fox had a huge litter of reds and golds. Both mums are doing brilliantly so far, as are all the puppies. Red is up in the kitchen incase she needs any help with her babies, but so far shes coping very well.
28th Jan 2019
Nutty has had her puppies! Born 26th Jan, she has had a mixture of red and sable puppies, and all are doing very well! These puppies are not yet available to reserve, we will make them available around 14th Feb. Correction - Due to a few requests, we will now make this litter available to reserve from 7pm on Monday 11th Feb 2019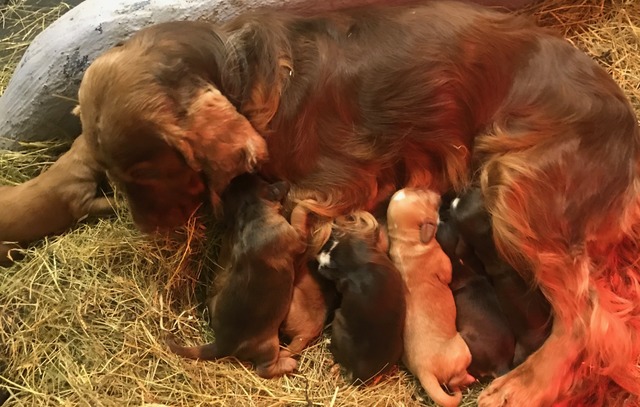 Bella is looking likely to pup in the next 24/48 hours and is nesting well. Red is absolutely huge and looking to be carrying a lot of puppies. Orange sadly does not appear to be in pup after all (and was just fat - haha) but Coco (who we believed was not in pup), infact is! Exciting times ahead!
Graham has finally had his date through for the spinal surgery he has been waiting for. Due to this we will be closing for visits between 13th -25th Feb. Collections that are already arranged will be fine, but we won't be taking any visits during that time I'm afraid.
7th December 2018
Amys (and Pumpkins) puppies are all doing very well! We had a small girl which we feared would not make it, but she is now thriving and we hope through the danger period. We have 7 boys and 4 girls, red, gold, sable and chocolate sable. All being well we hope to make this litter available on Friday 14th December at 6pm. This is a little later than normal as the litter will be nearly 17 day old, but due to them being slightly premature we just want to make double sure they are all in full health.
30th November 2018
Pumpkins puppies become available later tonight on the website! Exciting times!
Amy has had her puppies (on 28th November). She was a few days early so we were a little concerned about the health of the puppies, but she has had 10 and so far they all seem to be doing well. She has had blondes, sables and one of our elusive chocolate and cream sables! They are small puppies and she was struggling with them all a little, so Pumpkin has very kindly taken her 3 biggest ones on as her own and is raising them for her!
As I have mentioned in the past with a big group of females living together, everybody tends to ovulate at the same. This means we end up having eposides of time without any puppies followed by little flurries of 3 or 4 litters together. We have just had one of these flurries and Bella, Uno and Orange are all currently in season. All being well this will mean a few litters due to be born at the begining of Febuary 2019 ready to leave early April.
On a less exciting note, we have started clipping all the dogs in to their winter trousers (short legs and tummies). They have so much outdoor time playing in the muddy puddles this means they stay cleaner, and dry more quickly over the winter. Any visitors from now on will find the dogs looking a little less beautiful than in the summer though...
27/11/2018
Muffins gorgeous litter will be made available tonight at 7pm - Good Luck!
Pumpkin has had her litter, all safe and well.... Very similar to Muffin's litter in colour with 4 boys and 3 girls. More news about their availability date to follow but likely to be 7pm 30th November 2018 !
We would like to announce a successful breeding between Amy and Ted, with a confirmed pregnancy due in the first week of December 2018 with puppies ready to go to new homes around 1st Feb 2019 all being well - Amy is taking her pregnancy VERY seriously and is going for a world record litter size judging by the size of her. She is HUGE!! She's due 2nd Dec but I worry she may pup early due to her size, lets home not!
22/11/18
Muffin has had her Puppies (by Mr fox)! We will make this litter available on 27th November at around 7pm. Born during the day (after 3 nights of sitting up with her) on 8th November. She has Golden and Red in colour, both boys and girls. Mother (first timer) and babies are all doing well! As normal we will not make these available to reserve until they are old enough to be out of the early danger period, and we will give 24 or more hours notice. Please remember for the first 7 days after making the litter available ONLY people who have already visited us are able to ring and reserve the puppies. Pumpkin has also now had her litter, all safe and well.... more news to follow!
13/09/18
Mocha's puppies are doing very well, they all passed their vetting and had their first vaccination, and they are starting to leave for their new homes tomorrow.
We are starting the September flurry of bitches coming in season now, and have so far served Petal, & Muffin (both went to Mr Fox) and Pumpkin should be next, so fingers crossed!
Someone pointed out that I haven't updated the 'Females' page with our younger girls, which is true... I will try to do that this week! We have quite a few lovely young bitches at the moment, some of whom are coming to the age of their first litter now, including Mocha, her litter sister Chino, and Muffin. Some girls who are just over a year old Dotty, Pinky & Purple. Theres Poppy, Billy & Maggie who aren't quite a year yet, and we've kept 5 puppies from Dora's and Mable's litters who are still little! I need to get out with the camera and show them off...
25/07/2018
I'm so sad to have to tell people that after being ill for a few months, Dad passed away on Monday. He was at home with us right until the end, but there is a huge hole in the family at the moment and we are missing him and mourning for him hugely. Life with the animals must continue though, and Mocha's puppies are doing well and growing daily. She has 4 reds and 2 sables and is a brilliant mother. Summer sadly lost one of her puppies, however we have taken pictures of the 6 she has (3 boys and 3 girls) and we will be posting them on the website as open to reserve tomorrow. Zippy's puppies are out romping on the lawn now and are bundles of fluff, curls and fun, and they can't help but cheer you up when you sit with them and they all dive on you for a cuddle!
19/07/2018
Mocha is in labour! We have a long night ahead of us-keep your fingers crossed for a strong and healthy litter!
06/07/2018
Summer has had her puppies! We won't be taking reservations until puppies are around 14-20 days old, and we will give 24 hours notice before posting pictures, details and making the puppies available for reservation. We haven't checked sexes yet, but there are 7 puppies, all golds and blondes and all are looking good and strong so far! Mocha is also settled in to her whelping kennel for her first litter, due in about a week... exciting times!
26/06/18
Things are still a bit fraught here with Dad deteriorating daily, which is hugely upsetting to see. On the bright side, we have today finished foaling
for this season, we have had a fabulous crop of foals, including 1 donkey foal!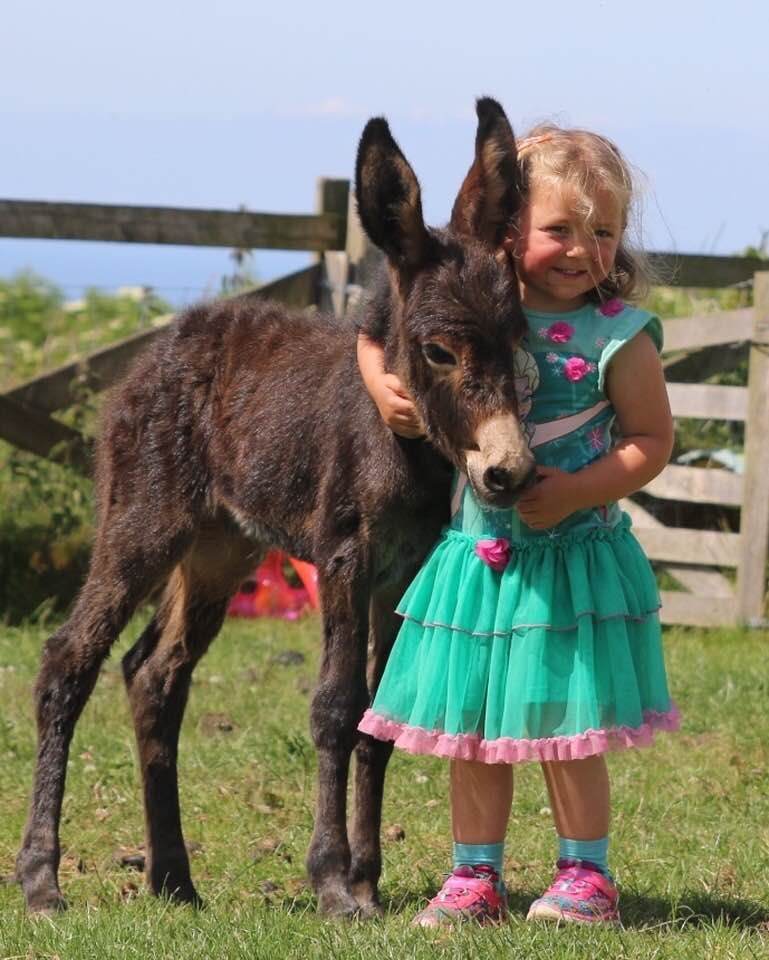 Summer is definitely pregnant, although she isn't huge so we don't expect a very large litter (last time she had 12!), and Mocha (who is one of our home bred girls, a STUNNING chocolate sable who I haven't yet added to the females page) is also confirmed in pup to Mr Fox!
30/05/18
Things are all systems go here at the moment... foaling is in full swing with 6 foals born and 4 left to go. Lots of late nights!
Dad is still hanging on, but is sadly so poorly now that he isn't able to walk without assistance, so we are trying to make the most of the time we have left together.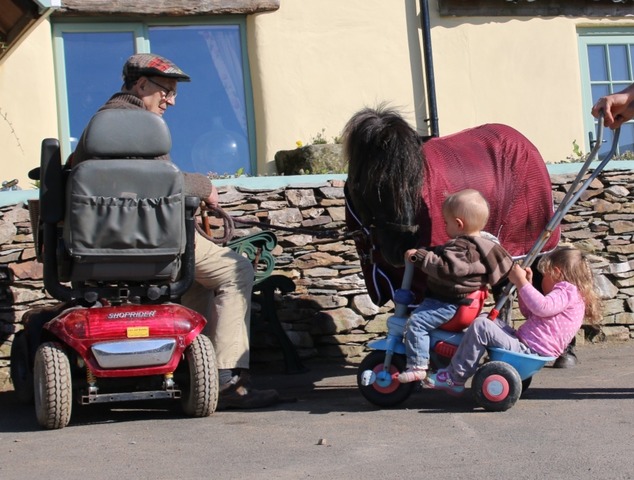 The 2 little boys from Jingles litter (Goldie & Elliot) who are going abroad at 4 months old are doing very well in their socialisation and are now happily walking out on the lead and spending a lot of time in the house.
14/05/18
Mable has had 9 puppies!!! 4 girls and 5 boys, orange roan (like Dad) and blue roan & tan (like Mum). They are all doing very well so far with none looking small or weak. We will ad some pictures of the litter at about 14 days old when they will be open for reservation. We will be keeping a couple of the girls for ourselves though.
11/05/18
Mable STILL hasn't had her puppies! We had the vet scan her yesterday just to confirm all was OK, and all is fine.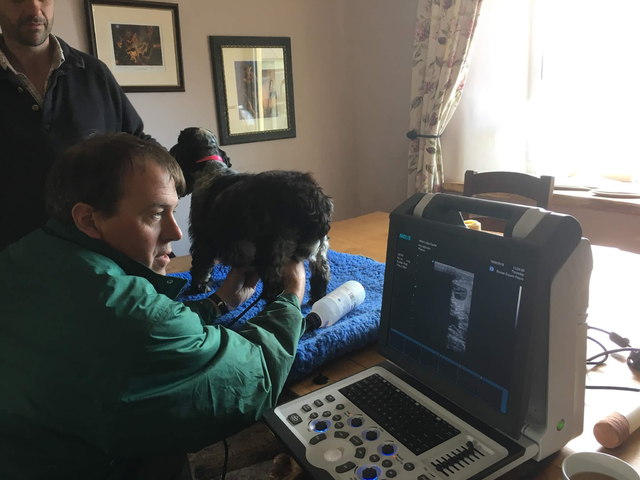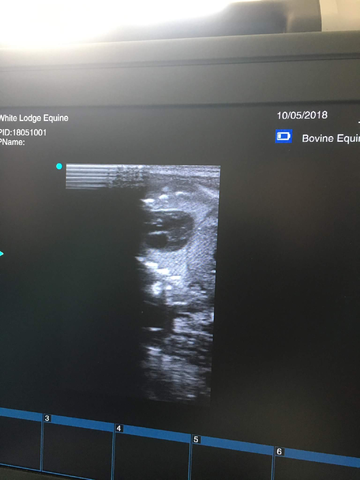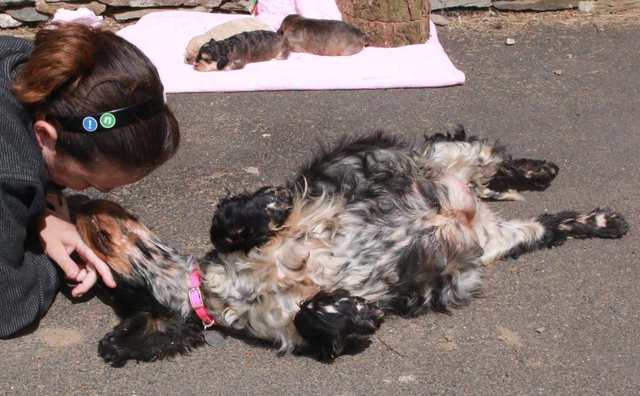 Dora's puppies have FINALLY started eating solid food (Natural Instinct Weaning Paste)! After 3 weeks of bottle rearing (and very sadly loosing 2 puppies) I think the remaining 5 puppies are now on the home straight!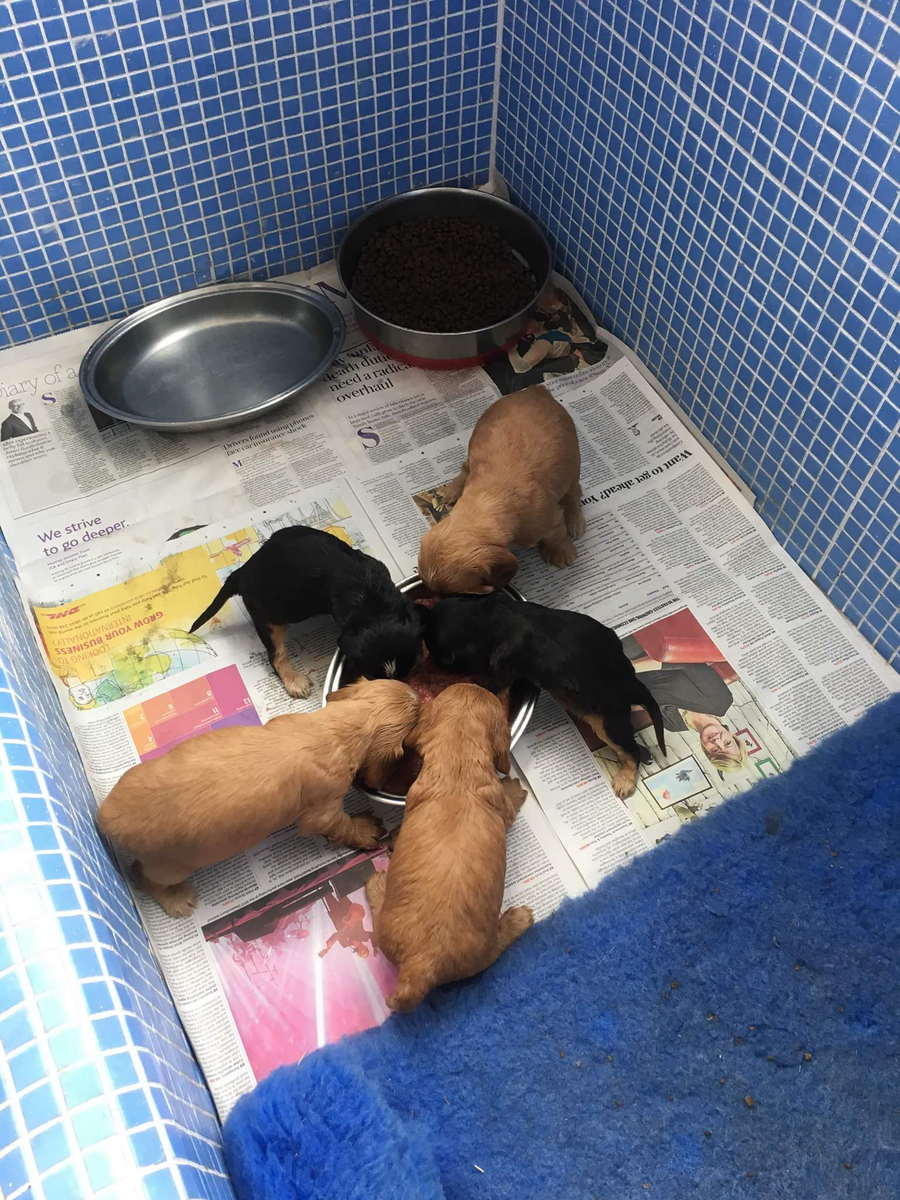 25/04/2018
Dad is still hanging in there but very poorly, and with regular trips in and out of hospital our time is very short at the moment. We have just finished lambing which went well, our mares have started foaling with 3 born so far and another 8 to go, and Purdey celebrated her first borthday last week, so it's busy times.
Dora had had her puppies, but unfortunately her teets were completely flat (they usually poke down as the milk comes) and her puppies were unable to latch on to her properly, meaning much stress, and bottle feeding, and getting up through the night for both Graham and myself. From a litter of 7 we devistatingly lost 2 puppies in the first week, but Dora's teets have finlly dropped enough that she can feed the puppies herself, so we are hopeful for the remaining 5 puppies. 2 red girls which we will keep, a sable girl (the weakest of the remaining 5), a strong gold boy and a sable boy with a lovely white blaze.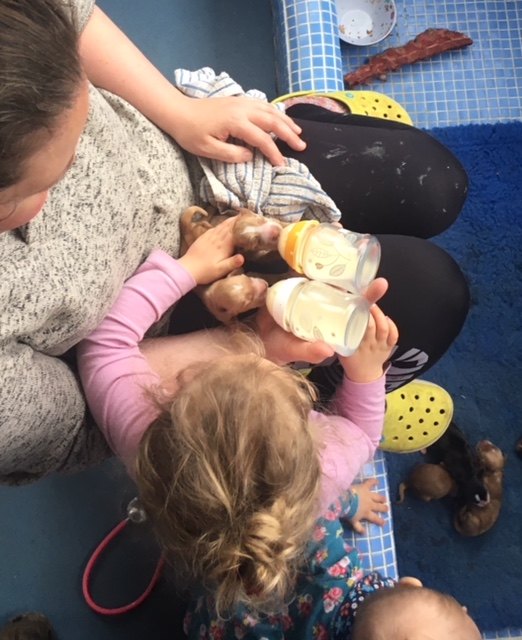 4/4/2018 - Very sorry for the lack of email replys...
Most of you who have visited us here at Hallslake will have met 'Dad' who's 90 & lives with us and works with us most days. Unfortunatley he has had a major health scare this past couple of weeks, and is trying his best to die at the moment, and we are trying to talk him out of it! I've been flat out looking after him at home, so just not had a chance to sit at the computer for long (hence the lack of reply to emails - sorry about that). He has sadly now been taken in to hospital for full medical care (heart faliure), but we are really hoping that the doctors can perform a miracle on him and he can be back with us soon. Life here without him just wouldn't be the same.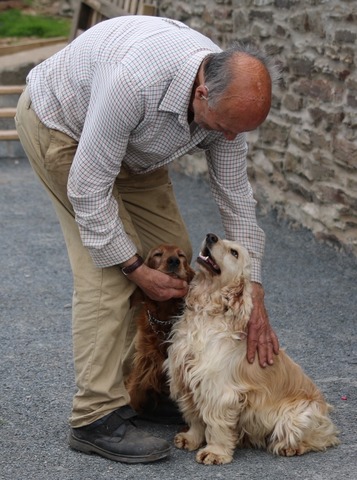 21/03/2018 - The snow is just starting to thaw...
I'm afraid our internet went down with all the snow, but it's back up now so I'll try to catch up with all the emails I haven't been able to answer. All the dogs are absolutely fine and loving the snow, particularly as the underfloor heating in the kennels is on 24 hours a day at the moment, so no body wants to get out of bed!