17/03/2020
Coronavirus
We are in a time of declared Global Health Emergency, so sadly we are not allowing visits to the farm at this time.
We are still happy for puppies to to be reserved and will be open to conducting telephone interviews or video calls instead of visits for the time being. We hope very much that the situation will soon be controlled and things will return to normal.
In the mean time, if you already have a puppy reserved we will work hard to keep the website pictures regularly updated, and will happily arrange contactless collection, or a professional pet courier delivery.
07/03/2020
Pinky has had her litter of pure Cocker Spaniels, she has 7 gorgeous chocolate, and chocolate & tan puppies. Coco has also produced a stunning and large litter of F1 cockapoos in sable and yellow (I use the term yellow to cover all the various shades of blonde, gold, red, etc) puppies.We plan on making both these litters available for the normal reservation process (see the 'Reservations Process' page), by posting pictures on-line around 10th March, and putting them to be reserved on 14th March, 7pm.
03/03/2020.
We have bred a few of the girls, including Petal for a litter of pure bred Cockers to Rudi. These should be orange/lemon roan puppies, and we will be keeping the girls from this cross if it is successful. We have bred Nutty to Paddy, hopefully for red or chocolate (possibility of golds or blacks also) F1 cockapoos. We have also given our new young lad Willy Wonka a chance to father his first litter on our cockapoo girl Duo. It is by no means a certainty as quite often the first breeding can lack mobility, but if Duo does conceive she would have a very exciting litter of chocolate, and chocolate sable F1b's. Which would be a first for us!
Have a look at the news page for updates on current litter that have been born-exciting stuff!
21/02/2020 10.30am
Breaking News....! Coco is having her puppies right now!! :) And very thoughtfully-through the day time! What a good girl x
19/02/2020
We have puppies!! Pumpkin has had her babies (14/2/20), a good litter of various shades of yellow, mostly boys, all good and strong puppies. Mum is very proud of herself and is doing a great job with them. Pictures to follow soon!
Coco, Spot & Pinky are growing by the day and should all have their litters with in the next few weeks. We used an outside stud dog called Zulu to breed to Pinky, for a litter of pure Cockers, but we liked the dog so much (when you tickle his tummy he stands up on his back legs and walks around like a bear!) we have actually managed to acquire him to join us here at Hallslake! So he will be here to meet with his puppies. He's a beautiful Chocolate and Tan boy, and also quite small compared to Breed Standard, which we like. The puppies produced by the cross of Zulu and Pinky should be absolutely smashing. They should be quite small & petite, various combinations of chocolate, chocolate roan, chocolate & tan, and should exceptionally beautiful as well as having the MOST fabulous temperaments.
Zippy has been bred to Paddy for a litter of F1b's which will be due mid April. These should be lovely gold & red curly, fluffy bundles of fun!
Just a small thing on a different note.....We are auctioning an 'original' artwork made by daughters (aged 2 and 4 years old). It is being sold to raise money for children who are not lucky enough to being able to enjoy the happiness and fun a healthy childhood should bring. 100% of what we make will be donated to Children with Cancer UK to help tackle the thing every parent lives in terror of, and no child deserves. We have put it on eBay and the link is attached, just copy and paste it in to your address bar.
APPARENTLY THE LINK WASN'T WORKING SO I'VE UPDATED IT... PLEASE DO BID, IT FINISHES TOMORROW AND THE GIRLS WILL BE VERY SAD IF IT DOESN'T MAKE MUCH :'(
https://www.ebay.co.uk/itm/Original-artwork-children-s-feet-signed-For-Children-with-Cancer-UK/233491273284?hash=item365d2a1644:g:qakAAOSwqOdeQW3l
Bidding ends 20th Feb 9.30pm. Any bids would be very much appreciated!
Breeding which have taken place (including unconfirmed pregnancies).
We will look to making Rio & Mr Fox's puppies available for reservation around the 15th January. We will post photos of the litter a few days in advance of that date, with colours & sexes listed under different collar colours. Please make sure you have a good read of our Reservations Process page if you are not already familliar with it.
Spot & Paddy; Due early March 2020
Pinky & outside stud dog 'Zulu' for PURE COCKERS due early March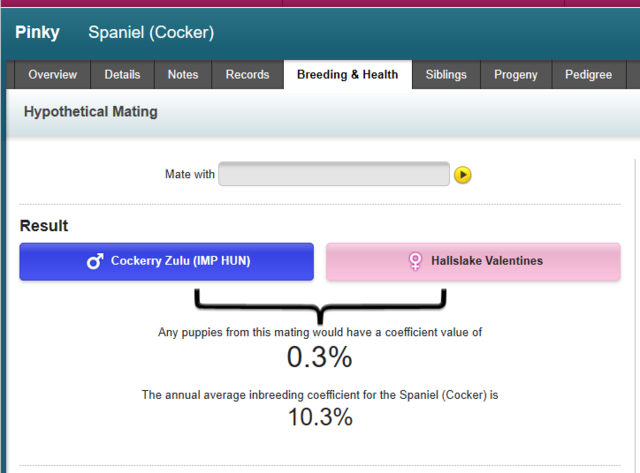 Coco & Mr Fox; Due late Feb
Pumpkin x Paddy; Due 19th Feb 2020. We would expect gold & red from this mating.
Rio x Mr Fox; Due Christmas Eve! Born Christmas Eve-Eve! A lovely litter including Deep Red & Gold from this pairing!
We will post pictures of this litter around the 15th Jan and will make them available for reservations at 7pm Saturday 18th January. If you haven't already done so, please make sure you are familiar with the reservations process before then.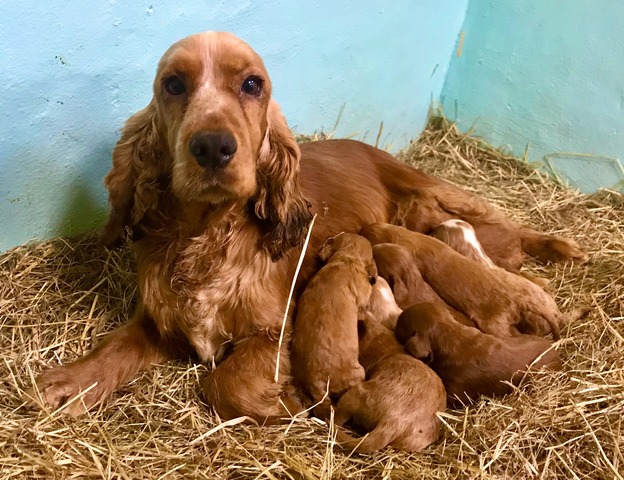 12/06/2019
We are all systems go here at the moment, I think it's all the sunshine recently! We have had a HUGE litter of pure Cockers from Dora, too many for her to rear by herself so we are helping with bottles of milk every 2 hours and hoping for the best, they are very tiny, and we are very tired! We are also able to confirm that we are expecting F1b puppies from Trio fairly soon, She's looking very round. We aren't too sure about Chino yet, but possibly expecting a litter of F1's in a few weeks from her. We have also bred both Ginger (for F1's due in about a month) and Billy (for F1's due in around 7 weeks) to Mr Fox, and Mable to Rudi for a repeat of her last years litter of pure Cockers (3 of which we have retained - see Mimi (Bounty & Crunchie still need photo's) on the FEMALES page).
14/05/2019
We have had a couple of recent matings, the most recent of which being Chino & Mr Fox. This will be Chino's first litter, but she is full sister to Mocha, and is absolutely identical to her. We are hoping for a similar litter to the stunning litter Mocha produced with Mr Fox, which can be seen on the previous litters page. Trio our F1 cockapoo (who many of you will have met - she is a real character and we originally intended to train her as a therapy dog - which she would have been awesome at) has also been bred to Mr Fox for a litter of F1b's.
30/04/2019
Purple has had her puppies!
After a long and drawn out labour (Purple didn't want to push!) we have a lovey litter of puppies, 1 blonde and 6 black. A mix of boys and girls. More info to follow as they grow up, but Purple is being a very good mum and the puppies are all tucking in to their first milk very well!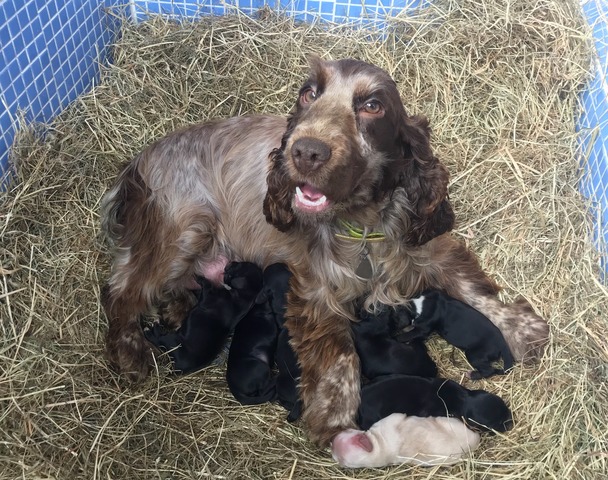 Appologise for the lack of reply to emails lately, our internet went down last week and has only just come back on. Also I will try to take some pictures of Spot & Duo's litters today and post later....
09/04/2019
We will be making BOTH Spot & Duo's litters available for reservation on the 13th April at 7pm. We will post photographs at around lunch time on Saturday 13th to be viewed before making them available to be reserved at exactly (and not before) 7pm (please read the reservations process page).
31/03/19
Purple and Pinky are hopefully in pup, and will both be due in early May for Purple (F1 to Mr Fox) & Pinky (pure Cockers). Dotty is still to come in season. We have also now bred sisters Frazzle & Jingle for what will be their final litters which will be due mid to end of May, both in pup to Mr Fox. I'm excited to say that our lovely Dora is coming in season & will hopefully be bred within the next fortnight. Dora will be breeding pure Cockers as we adore her personality so much we want to keep her line going in our breeding mothers for generations to come, her puppies are absolutely perfect for children, especially those who might be slightly nervous, or with special needs.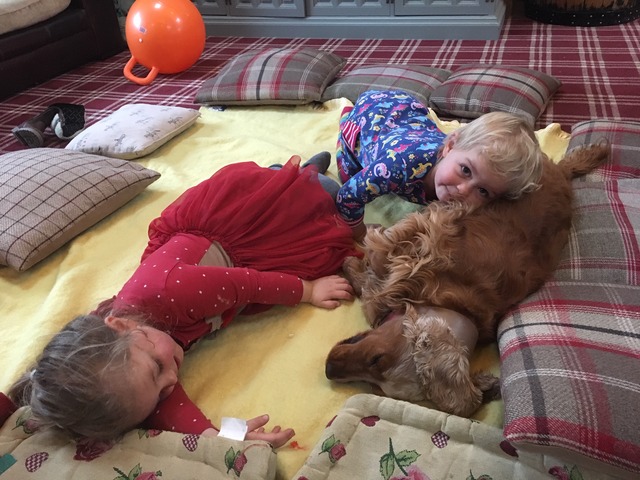 28/02/19
Our chocolate sisters Purple, Pinky are all coming in to season. Purple is the earliest and has (yesterday) been served by Mr Fox for a hopeful litter of F1's, Pinky will be going to Rudi for a pedigree litter of Cocker Spaniels when shes ready, and Dotty will be going to Ted for a litter of F1's. We are using all different fathers as a bit of a colour experiment to see what colours we get from crossing chocolate roan with the 3 different coloured dads, there are a complete multitude of possibilities as mums could carry sable, chocolate, gold, red or black, all of these with or without the roan/white patches! Watch this space too see if they conceive!
Coco (& Mr Fox) have had a gorgeous litter of sables and red/golds, a large litter of 9 puppies and only 1 boy among them! Born a few days prematurely but thankfully Mum and babies are all doing very well... this litter will be made available on the website on the 20th Feb 2019 at 7pm
Litters we hope to be due in 2019 so far include;
SPOT & DUO HAVE BOTH BEEN BRED AND ARE HOPEFULLY BOTH DUE FOR A LITTER OF F1 & F1b's ON THE SAME DAY; 25th MARCH - FINGERS CROSSED!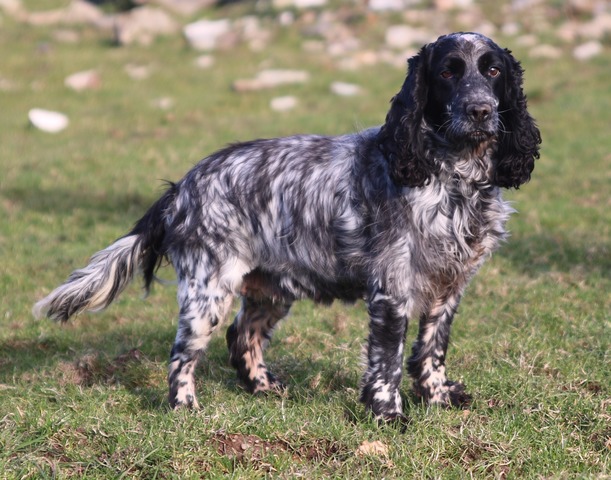 Spot (F1)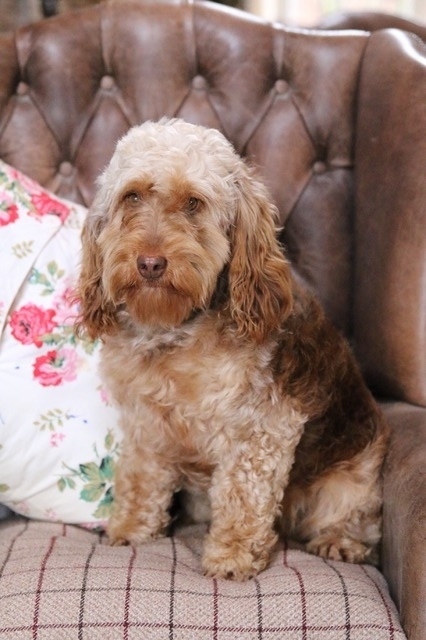 Duo (F1b)
___________________________________________________________________________________________________________________________________________________________________