04/07/2019
Dora's huge litter of pure cockers are mostly doing well. 9 are 100% but there are still a few more which are still small and struggling that we are doing a lot of hand rearing with, that aren't quite out of the woods yet. We will take pictures of the 9 strong puppies later today or tomorrow and will make them available for reserving DATE CHANGE - FRIDAY 12TH JULY AT 7PM (we have been so busy baling and geting the hay in with this fine weather that we have not had a chance to take pitures yet I'm afraid, so we have changed the reservation date from 9th to the 12th July), the weaker ones we will keep hold of until they are a bit stronger. There will only be boys available to be reserved from this litter (sadly for us they were almost all boys).
Breeding which have taken place (including unconfirmed pregnancies) due JUNE, JULY & AUGUST 2019;
Trio x Mr Fox BORN 5/7/19! Tiny litter of only 3 (2 sable and a gold) but mum and puppies doing very well.
Chino x Mr Fox (F1s) due 6-10th July 2019
Orange x Mr Fox (F1s) due 8-12th July 2019
Billy x Mr Fox (F1s) due 3rd - 7th Aug
Mable x Rudi (KC Cockers) due 3rd - 7th Aug
Peppa x Mr Fox (F1s) due 22nd - 26th Aug
Uno x Mr Fox (F1bs) due 25th - 29th Aug
12/06/2019
We are all systems go here at the moment, I think it's all the sunshine recently! We have had a HUGE litter of pure Cockers from Dora, too many for her to rear by herself so we are helping with bottles of milk every 2 hours and hoping for the best, they are very tiny, and we are very tired! We are also able to confirm that we are expecting F1b puppies from Trio fairly soon, She's looking very round. We aren't too sure about Chino yet, but possibly expecting a litter of F1's in a few weeks from her. We have also bred both Ginger (for F1's due in about a month) and Billy (for F1's due in around 7 weeks) to Mr Fox, and Mable to Rudi for a repeat of her last years litter of pure Cockers (3 of which we have retained - see Mimi (Bounty & Crunchie still need photo's) on the FEMALES page).
14/05/2019
We have had a couple of recent matings, the most recent of which being Chino & Mr Fox. This will be Chino's first litter, but she is full sister to Mocha, and is absolutely identical to her. We are hoping for a similar litter to the stunning litter Mocha produced with Mr Fox, which can be seen on the previous litters page. Trio our F1 cockapoo (who many of you will have met - she is a real character and we originally intended to train her as a therapy dog - which she would have been awesome at) has also been bred to Mr Fox for a litter of F1b's.
30/04/2019
Purple has had her puppies!
After a long and drawn out labour (Purple didn't want to push!) we have a lovey litter of puppies, 1 blonde and 6 black. A mix of boys and girls. More info to follow as they grow up, but Purple is being a very good mum and the puppies are all tucking in to their first milk very well!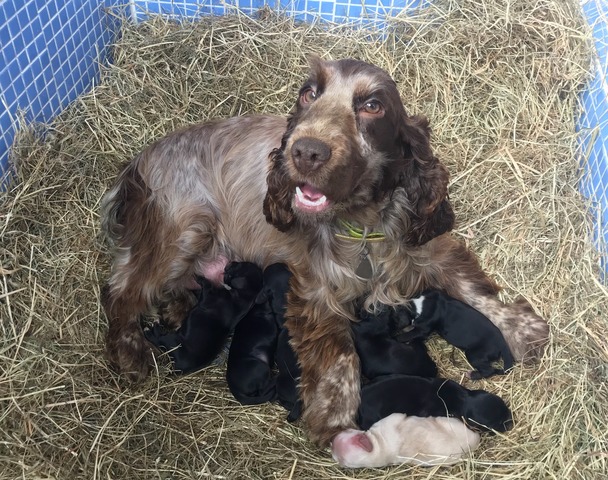 Appologise for the lack of reply to emails lately, our internet went down last week and has only just come back on. Also I will try to take some pictures of Spot & Duo's litters today and post later....
09/04/2019
We will be making BOTH Spot & Duo's litters available for reservation on the 13th April at 7pm. We will post photographs at around lunch time on Saturday 13th to be viewed before making them available to be reserved at exactly (and not before) 7pm (please read the reservations process page).
31/03/19
Purple and Pinky are hopefully in pup, and will both be due in early May for Purple (F1 to Mr Fox) & Pinky (pure Cockers). Dotty is still to come in season. We have also now bred sisters Frazzle & Jingle for what will be their final litters which will be due mid to end of May, both in pup to Mr Fox. I'm excited to say that our lovely Dora is coming in season & will hopefully be bred within the next fortnight. Dora will be breeding pure Cockers as we adore her personality so much we want to keep her line going in our breeding mothers for generations to come, her puppies are absolutely perfect for children, especially those who might be slightly nervous, or with special needs.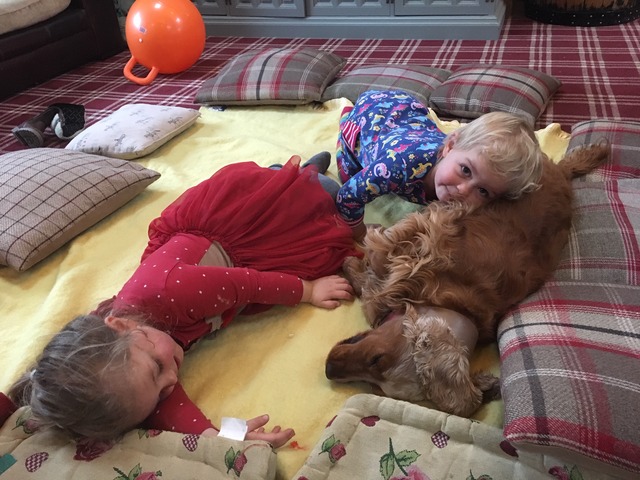 28/02/19
Our chocolate sisters Purple, Pinky are all coming in to season. Purple is the earliest and has (yesterday) been served by Mr Fox for a hopeful litter of F1's, Pinky will be going to Rudi for a pedigree litter of Cocker Spaniels when shes ready, and Dotty will be going to Ted for a litter of F1's. We are using all different fathers as a bit of a colour experiment to see what colours we get from crossing chocolate roan with the 3 different coloured dads, there are a complete multitude of possibilities as mums could carry sable, chocolate, gold, red or black, all of these with or without the roan/white patches! Watch this space too see if they conceive!
Coco (& Mr Fox) have had a gorgeous litter of sables and red/golds, a large litter of 9 puppies and only 1 boy among them! Born a few days prematurely but thankfully Mum and babies are all doing very well... this litter will be made available on the website on the 20th Feb 2019 at 7pm
Litters we hope to be due in 2019 so far include;
SPOT & DUO HAVE BOTH BEEN BRED AND ARE HOPEFULLY BOTH DUE FOR A LITTER OF F1 & F1b's ON THE SAME DAY; 25th MARCH - FINGERS CROSSED!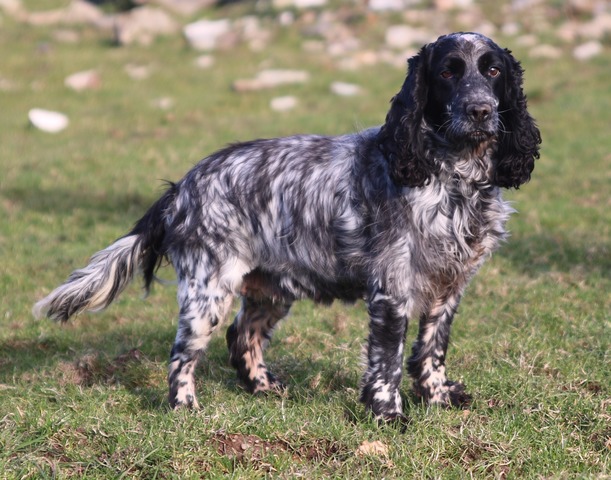 Spot (F1)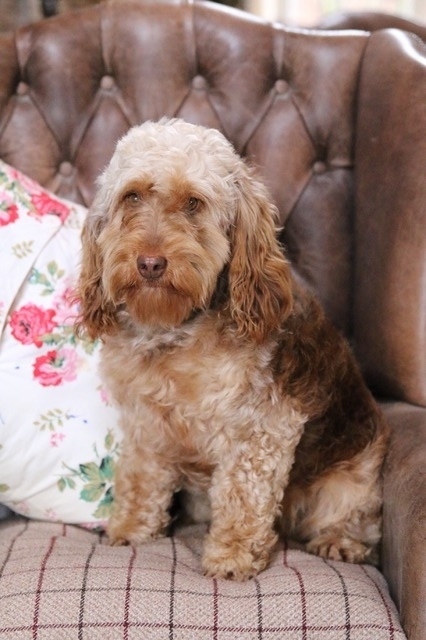 Duo (F1b)
___________________________________________________________________________________________________________________________________________________________________